Your catalog is at the heart of your store.
One of the peculiarities of online sales, is that your customers cannot touch or handle your products, so you need to make sure they can visualize them as best as possible. Completing your product pages properly using visuals, clear and detailed information will therefore be essential, to make your customer want to buy what you're offering.
Your product pages will also be an integral part of your search engine positioning. You will therefore need to think SEO when you write them.
💡 The keywords you use in your product pages will be very important for your SEO, so don't hesitate to use online tools to find good keywords (see How can I find good keywords for my website?)
To create your first product, go to the Products section, then click Add a product.
Your product page will have to contain different types of information. Some information will be mandatory, other information will be optional:


The required information will constitute the elements necessary for the product to be published on your store.
The optional information will allow you to build a more complex product (with variations in size, colors, or a customizable product), and to optimize your product page for better SEO.
You can follow your page completion rate in the top right corner of the page :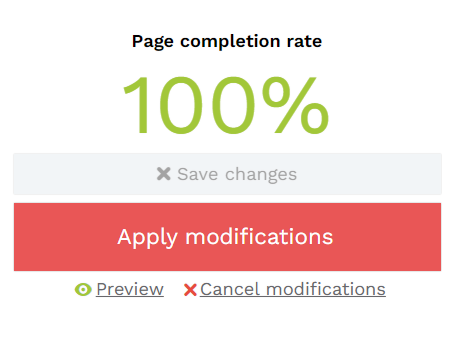 The Save changes button will allow you to save your changes and stay on the product page, while the Save draft / Apply modifications button will redirect you to the list of products once your changes have been saved. Cancel modifications will remove the last changes you made, and Preview will allow you to view your product page directly on your store.
REQUIRED INFORMATION
DETAILS
Now let's see how to fill in the main details of your product:
Product name
Enter a short name that will allow your visitor to quickly and correctly identify your product.
Reference
The reference allows you to track your stock more easily and it allows your regular customers to search your product directly by reference. It is limited to 40 characters and must be made up of numbers, letters, - and _ only.
The Display other reference criteria drop-down section will allow you to enter a supplier reference, an EAN 13 code or barcode (mandatory for some marketplaces, like Amazon) and an ISBN code for book sales. The supplier's name can also be entered if needed, from an existing list if you have already added suppliers, or by creating a new one.
All this information will allow you to create product segments to perform mass actions. For example: set a discount on all the products of the same supplier.
Product category
A product must always be associated to a main category. If your category does not yet exist, you can create it directly from the product page. By default, any new category created is a category. If you want to create a sub-category, simply choose via the drop-down menu in which category you want to add it.
You can also associate your products to a secondary category, so that it can be reached from several categories.
Product brand
The brand of your product can be added from the drop-down menu if it already exists. Otherwise, you can create a new one directly from the product page. As with the References section above, adding the brand name of your product will facilitate mass actions on your catalog. For example: add a shipping option to all your products of the same brand.
💡 Useful Tip
If you have not yet registered a brand for your products, feel free to temporarily fill in the name of your store.
Short description
The short description should be as concise and attractive as possible. It should not exceed one or two sentences. It is a description that will be visible in your product page, but also in Google search results.
Long description
The long description will be the section that contains the most details about your product. It will only be visible in your product page. It must be thorough and precise, to provide all the necessary information to your visitor. Its formatting must be neat for a pleasant reading. Do not hesitate to use titles, bullets, bold, italics, paragraphs, etc. You should also avoid copy/pasted text at all costs (within the short description and the long description, but also from other product pages) to stay away from duplicate content, which is disastrous for your SEO.
Search filters
Filters allow you to guide your visitor in his search on your site. They will suggest products and categories that match their search.
👉 Learn more about search filters
Product characteristics
The characteristics allow you to detail the technical information of your product: size, material, dimensions, etc. This is an optional section to fill in if you did not fill in this information in the long description.
Keywords
Keywords are a crucial step in the creation of your product page, because they feed the internal search engine of your store. It is recommended to associate the same keywords for equivalent products. Do not hesitate to create a list as complete as possible, with simple and complex keywords (long tail).
PRICE & STOCK
Let's see now how to fill in the price and stock of your product:
Purchasing price (optional)
This section will allow you to enter a purchasing price, with or without taxes. This is an optional section, but it will allow you to calculate a commercial margin for your product. Note that the purchasing price is unique, it is not possible to define different prices according to variants.
Product price
Your product price must be entered either with or without taxes as well. This information is mandatory.
Your selling price can be calculated according to your purchasing price, within a specific margin. It can then be left as it is, rounded up to the unit or to the superior half, rounded up to the unit or to the superior half minus 1 cent, rounded up to the unit or to the superior half minus 5 cents.
If your selling price is not calculated according to your purchasing price, you will simply have to enter a selling price and the applicable VAT rate.
Special offers, flash sales and decreasing prices
This section allows you to set a discount on the selling price of your product. (👉 Note that this operation can be done in bulk from your product list).
For special offers, sales and flash sales, you will have to enter the amount of the discount incl. taxes, a start and end date, and choose the display mode of the discount, in €/$ or in %.
As for volume discount, it can be useful if your product has a large stock. You can choose to display the disocunt in €/$ or in %, and then set the applicable discounts according to the quantity purchased. The price per unit displayed below will allow you to check that your price remains profitable.
Stock
In this section, you will first activate or deactivate stock management. If you decide to manage stock, all you have to do is enter the current stock of your product, then decide which stock setup to use.
The general setup is the rules you have established in your general stock setup.
Each product's own setup will allow you to decide whether your products remain visible on your website when it is out of stock, or to set it to Unavailable status. The Unavailable status means that the product will not be displayed in the category pages or the menu, but it will remain accessible via its URL. This option allows you to avoid harming your SEO by preventing search engines from indexing empty pages or 404 pages. A product that is "not visible/not diplayed" will generate a 404 error. If one of your products is discontinued, you need to redirect the page to a similar product or the corresponding category. 👉 Manage my redirections
You can then choose whether or not to display a particular sentence on products that are out of stock. And this sentence can be customized.
And if your product has variants, the stock rules will have to be set up in the Variants tab of the product page.
DELIVERY
In this section, you can set the delivery parameters of your product.
Product weight: Here you can enter the weight of your product, in grams or in kilograms, which will then automatically calculate its delivery cost.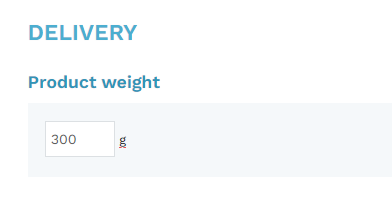 Delivery: Our system will automatically list all the delivery methods that you have configured in Settings (cogwheel) > Manage my delivery options, and calculate the shipping costs according to the weight or the total price of your product (see Setting up my delivery options). You can deselect options or choose others for that particular product, and also disable shipping costs if they are not applicable for that product. Be careful, this does not mean that the shipping costs will be free, it means that your product cannot be sent physically.

PHOTOS
The image manager will allow you to upload images from your computer, import them from another category or import them from the web. 👉 The image manager

We recommend having several photos of the product (3 or 4) in various positions or situations and naming them clearly.
👉 Our tutorials for creating beautiful product visuals

OPTIONAL INFORMATION
VARIANTS
Product variants allow you to offer on a single product page various versions of the same reference (for example, different sizes or different colors). Our tutorials on variant management
CUSTOMIZATION
Decide whether your product can be customized. For example, a towel embroidered with your customer's name or a mug customized with a photo. Our tutorial on customization
SEO
Optimize your product page SEO to bring traffic to your website. Our tutorial on product SEO
ADVANCED OPTIONS
Add badges, promote your products, offer complementary products and bundles!

💬 Feel free to contact your Business Coaches if you have any questions!