What are WiziBlocks? Well, they're an innovative layout system that doesn't exist with any other e-commerce solution! It's a system that will allow you to completely customize your homepage and your informative pages, and structure them as you wish. You'll be able to let your creativity run free!

How do I access WiziBlocks?
You can access WiziBlocks in Content > Homepage content and in Content > Your pages.

How do I use WiziBlocks?
Go to the left menu of your page, in the List of Wiziblocks.
Each of the WiziBlocks will be available in different layouts
Once your layout has been chosen, you'll find in all WiziBlocks the same buttons allowing you to access the customization options: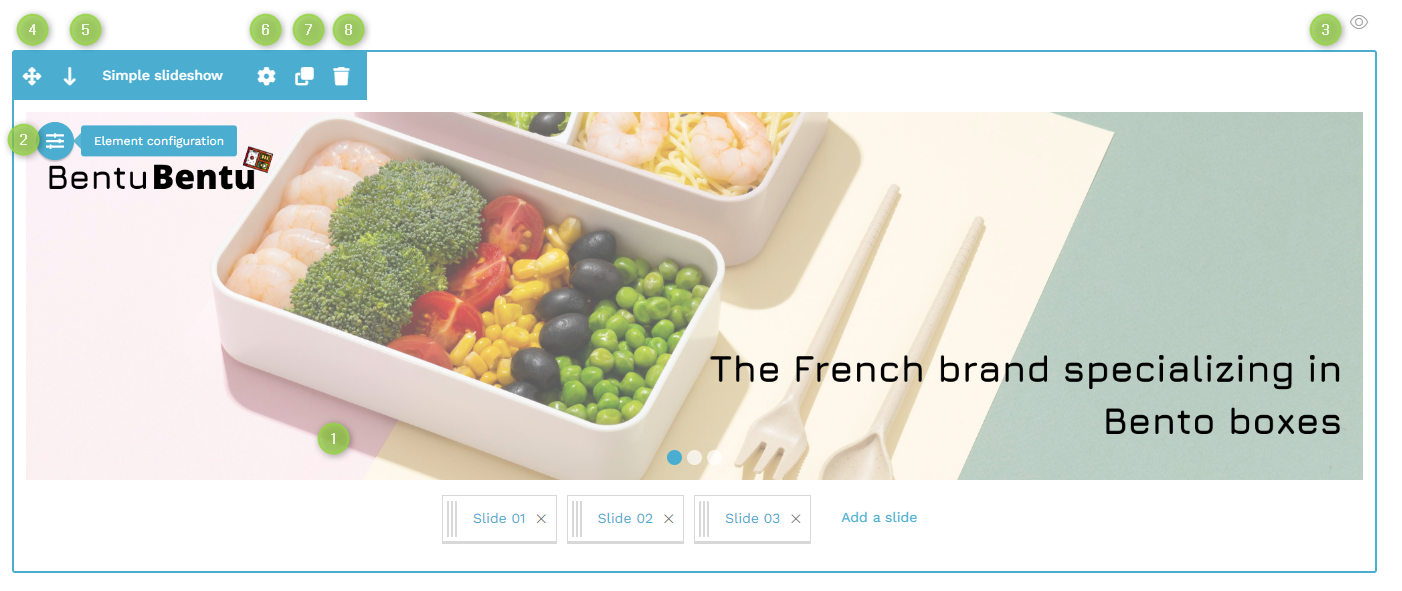 ( 1 ) In the images blocks, you can upload your images directly by clicking on the block.
( 2 ) The Element configuration button will add, depending on the component, a title, button, link or product selection to the block.
( 3 ) The Quick preview button will allow you to preview all the added elements at a glance.
( 4 ) The Move WiziBlock button at the top left of each element will be used to drag-and-drop your blocks up and down.
( 5 ) The Up and Down arrows will also allow you to move your blocks, to place them above or below the neighboring block.
( 6 ) The WiziBlock Configuration button, depending on the block, will allow you to configure various options, such as the background color of the block, the dimensions, a full page display, the text font, etc. Each block will also have a Hide block option that will allow you to temporarily hide your block from your store.
( 7 ) Each of the blocks can be duplicated using the Duplicate button.
( 8 ) The Hold to delete button will delete the block. To confirm the deletion, click and hold until the button turns red.
( 9 ) Depending on the block, different options will be available under the customization block to make your component unique.
The specifics of certain components
Blocks with images
The ideal dimensions of the image to be uploaded, according to your template and the width of your website, must be observed in order to obtain an optimal display.

Blocks with texts
The text blocks will be customizable using a layout bar, which will allow you to change the font, colors, centering of the text, add links, quotes, HTML, etc. This bar will be accessible by clicking directly in the entry fields of the block.

Blocks with videos
In order for them to be displayed correctly, the videos you want to add must be hosted on YouTube or Vimeo before being uploaded to your store. Also note that our system automatically crops videos to hide the default control buttons (the video is slightly zoomed). This cropping must be taken into consideration when uploading your videos.
👉 Resources
Find all of our WiziBlocks tutorials here!

💬 Feel free to contact your Business Coaches if you have any questions!