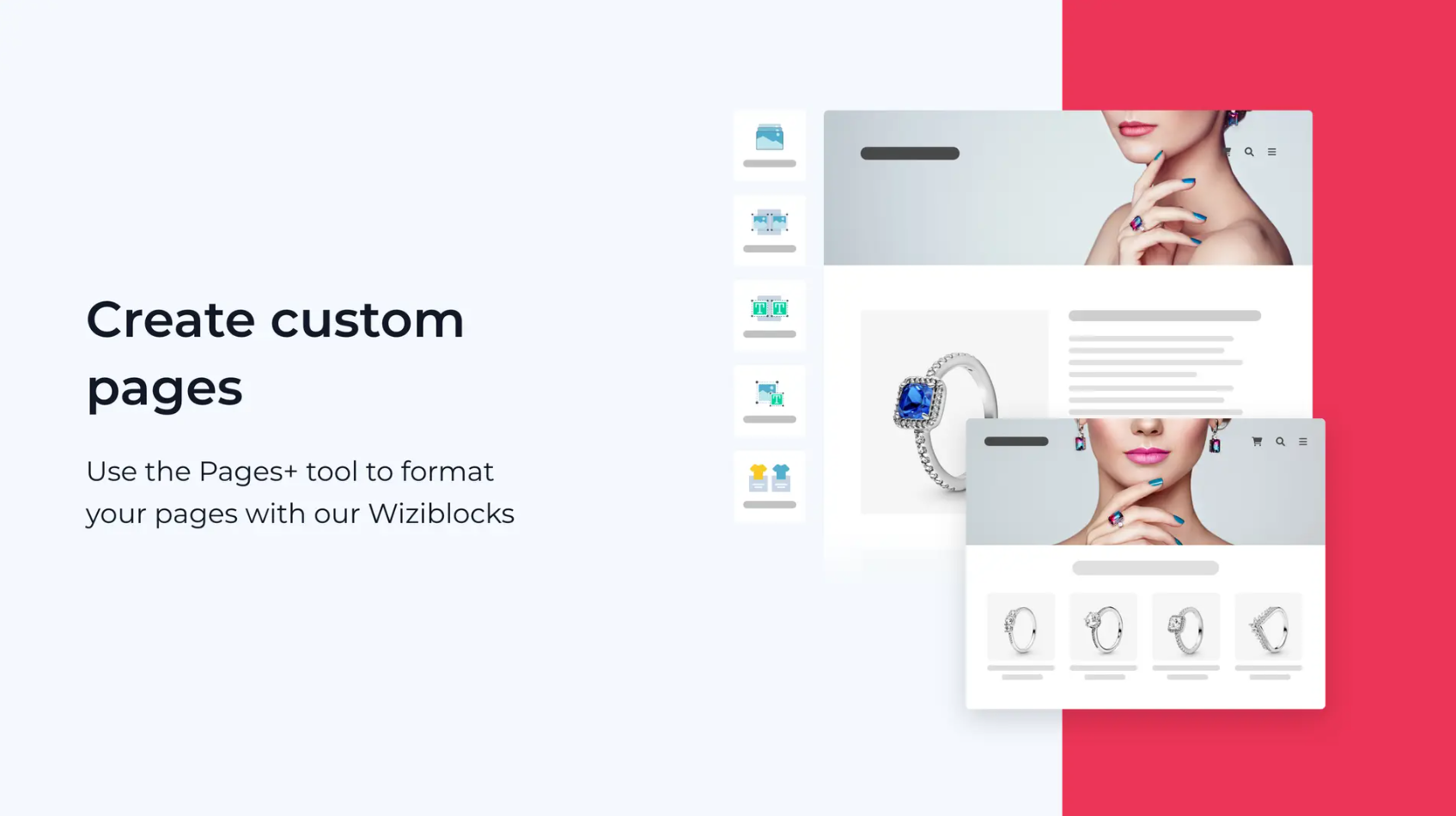 The informative pages (Pages+) allow you to present any type of content, essential in the good development of your online store. The "About Us" page is, for example, an informative page.
It is very important, when launching an online store, to create this type of page for your future customers. You can explain in a few paragraphs the philosophy of the company, reassure the customer with clear information on the terms of delivery for example, possibly present a FAQ (Frequently Asked Questions), etc.
How do I create a Page+?

Go to Content > Your pages and click on "Create a page".
You can now configure your page in 3 steps :
Via the Page Creation tab, create the body of your informative page by configuring the WiziBlocks which will allow you to structure your page. Go to the left of your page, in the WiziBlocks List. Find all of our WiziBlocks tutorials here!
Via the Configuration/SEO tab, you can manage both the configuration of your Page + (title, location, publication date) and its SEO (URL, meta-description, etc.). Find our tutorial dedicated to optimizing your Pages+ here.
Publish your page by clicking on the "Publish" button, or, if you don't want to publish it immediately, save it by clicking on "Save"
How do I modify a Page+?
Have you created your page and want to modify it? To modify your page, go to Content > Your pages and click on the button to the right of the "Status" column.
You will be able to:
modify the body of the page (WiziBlocks and configuration)
publish it (or unpublish it)
duplicate it
preview it
delete it
define it as the default STC. Defining a default Sales Terms & Conditions page means that you indicate to our system that this is the page which contains your STC. When you define a page as the default STC, it is automatically associated with your ordering process and allows your customers to be able to consult your STC before confirming their order. Once your page has been defined as the default STC, you will no longer be able to delete it, and you will not be able to define another page as the STC. Any change to your STC must be done on this page.
Examples of Pages+
Below you will find various examples of informative pages. This is of course a non-exhaustive list.
"Who are we?"
"Size guide".
"Our concept".
"Our Commitments". Present the commitments of your brand or/and store (social, associative, sustainable development, etc.)
"Our delivery methods". Present the different delivery methods you offer, the related prices, the delivery times and the order tracking.
"Our payment methods". Present the different payment methods you offer.
"Our loyalty program". See the article Reward your loyal customers ! And the tutorial Parametrer des remises fidélité (Set up loyalty discounts) which will allow you to configure your discount program from your administrator space.
"Site map". A site map provides an overview of the structure of your store. The site map allows you to list all or part of your store's categories, subcategories and information pages in the form of a map. It can be used as a navigation marker for visitors and help them easily find the page or section of the site they are looking for. This way, your visitor immediately sees where they can find a certain type of content.
"Gift Card". This is a great place to inform your visitors about your gift certificates (in addition to your category pages). In addition, it is sometimes difficult for a buyer or recipient of a gift certificate to obtain information on how it works and its benefits. This will allow them to find the answers to their questions. See also the tutorial related to Creating a gift card (digital or paper)
"Recruitment" or "Join us". Present your needs and announcements of available positions in internship or other. Don't forget to include a form so that the candidate can directly add his resume.
"Newsletter: subscribe!". Present your newsletter service in 2 or 3 sentences. Don't forget to add the WiziBlock: The newsletter.
"Follow my order". This page is a form where the customer enters his name and order number and allows your customers to contact you to know the status of their order. This can be useful and reassuring for customers, especially in the case of a dropshipping business, because the customer does not usually receive a tracking code. In order to create a page of this type, all you need to do is create the "order tracking" form (see example below, and consult the tutorial Creating a form on my store), then activate the WiziBlock: Form on your Page+.

💬 Feel free to contact your Business Coaches if you have any questions!