Via the Content section > Your forms, you can create up to 5 customized forms, to be inserted in one (or more) informative page(s).
This form is intended to collect information (or requests) from your potential customers/customers.
To do this, once in this section:

Click on "Create a form"
(1) Give your form a name (example: first contact, partnership request, etc.)
(2) Create an "Add question" block for each question the potential customer/customer will answer before submitting the form.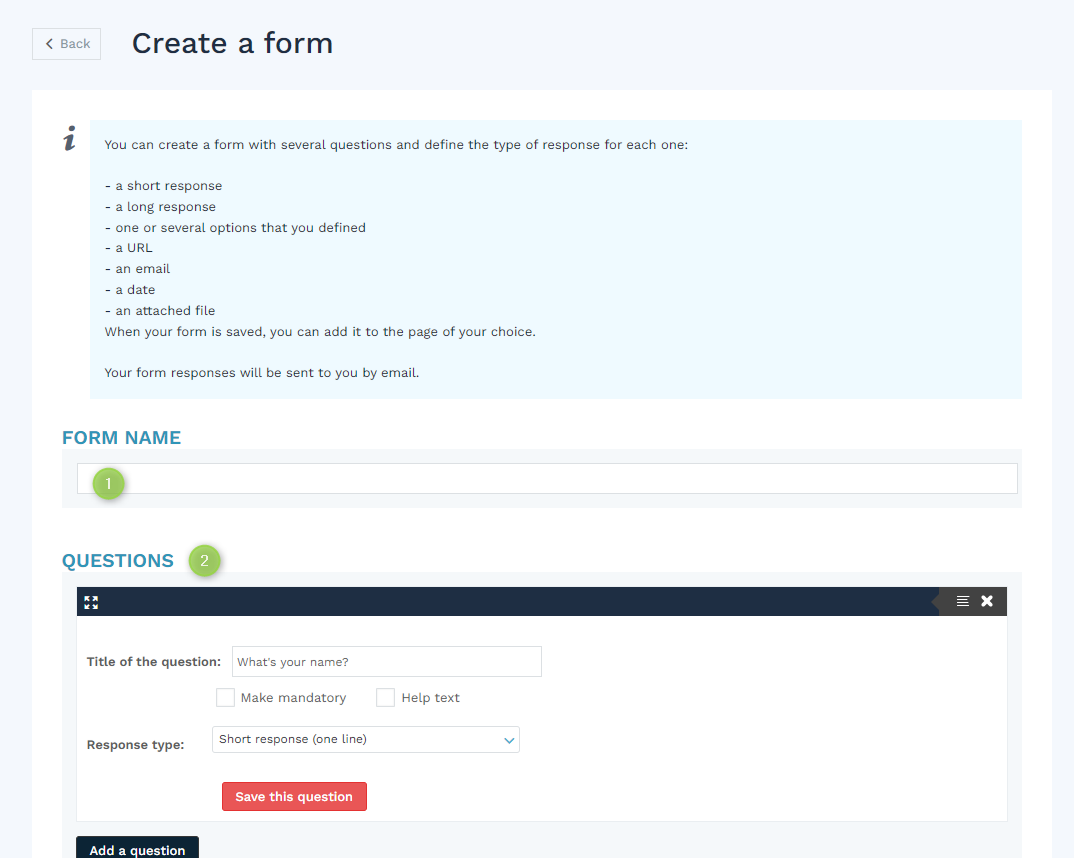 Various configurations are possible for your questions:
Your questions may or may not be mandatory
Your questions may have a help text, to guide the potential customer/customer in the answer they must give you
Your questions can have more than one type of answer:
- Short answer (one line)
- Long answer (one paragraph)
- Single choice (drop-down menu and list of choices that you establish beforehand)
- Single choice (radio button and list of choices that you establish beforehand)
- Multiple choice (checkboxes and list of choices that you establish beforehand)
- File to send
- Date
- Email
- Website address

Once your form is set up, don't hesitate to check its Advanced Options, in order to:


Edit the thank you text that will appear once the form is complete and validated by the potential customer/customer
Edit the email address that will receive all responses to this form
Edit the name of the send button (by default this is "Send")

Finally, when you create/edit a free page, you will have the possibility - in addition to the text and/or image blocks already offered - to add one of your forms.

💡 Useful Tip
Feel free to test your form directly on your online store to adjust it, if necessary.

💬 Feel free to contact your Business Coaches if you have any questions!