With Evolup, you have the ability to promote products in affiliation with the partner of your choice, in addition to Amazon Associates.
At this point, note that you have to manually manage the update of prices, stocks and ongoing promotions of your products, unless you opt for an API interface to automatically synchronize your products with your advertising partners.
Setting up your affiliate account
The first step is to create an affiliate account on the platform of your choice.
You can choose between different affiliation platforms, for example: Etsy, eBay, C-discount, Fnac, Rakuten, etc
Do not hesitate to contact the support of these platforms for all the information you need to create and operate your affiliate account.
Connect to the affiliate program of your choice
With your

product niche

already defined, search and choose one of the products you want to sell on your Evolup affiliate store
Copy the URL of the product you want to import to your Evolup affiliate store by adding your tracking ID
👉 Resources
Top 12 affiliate marketing programs you should know about in 2023
Import of the product on your Evolup store
In your Evolup administration space, go to Products > Add a product.
Fill in the name of the affiliate program for the product you want to import. Here we will take the example of Etsy. Add Etsy manually in the list of affiliate programs and click on "Add":
Paste the tracked URL of the chosen product: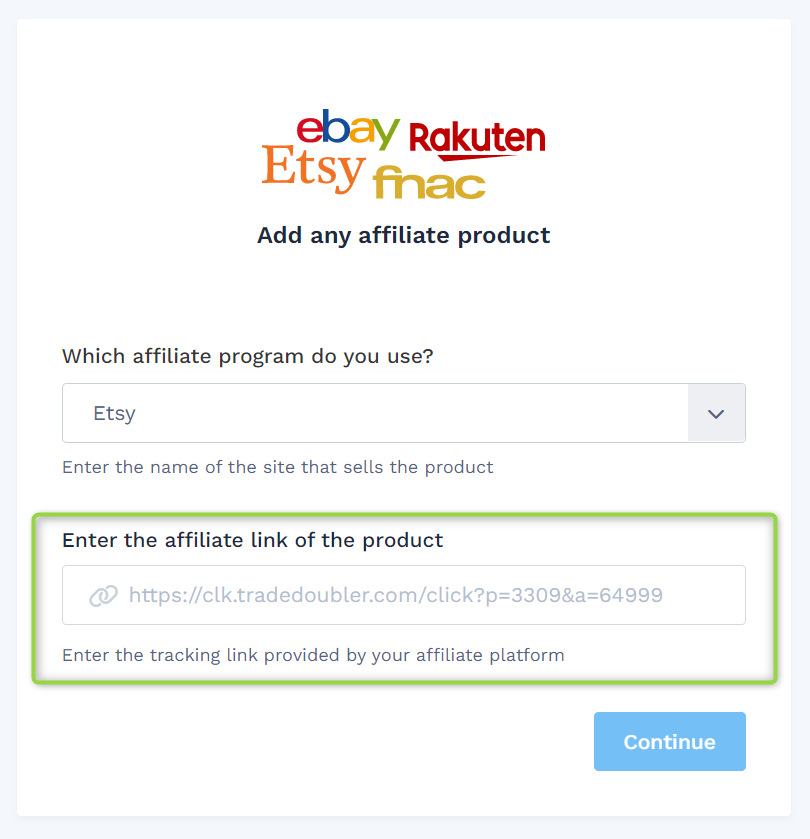 ☝️ Good to know
You always have the option of bulk importing your products via a CSV file.
To carry out a catalog import, go to Products > Product imports.
Finalize your Evolup product listing
Once imported on your store, the product sheet must be optimized to offer a unique content to your visitors. It is necessary to create a complete and optimized product sheet.
Do not hesitate to use our artificial intelligence to rewrite your content!
👉 Resources
Check out our blog articles !
💬 Feel free to contact your Business Coaches if you have any questions!