Pages+ is Wizishop's new system for creating dynamic informative pages. With Pages+, you can now configure WiziBlocks on your informative pages. Have you never heard of WiziBlocks and want to know more? Find our section dedicated to WiziBlocks here.
How do I create a Page+?

Go to Content > Your pages and click on "Create a page".

You can now configure your page in 3 steps (see the screenshot below):


Via the Page Creation tab (1), create the body of your informative page by configuring the WiziBlocks which will allow you to structure your page. Go to the left of your page, in the WiziBlocks List. Find all of our WiziBlocks tutorials here!
Via the Configuration/SEO tab (2), you can manage both the configuration of your Page + (title, location, publication date) and its SEO (URL, meta-description, etc.). Find our tutorial dedicated to optimizing your Pages+ here.
Publish your page by clicking on the "Publish" button, or, if you don't want to publish it immediately, save it by clicking on "Save"


How do I modify a Page+?

Have you created your page and want to modify it? To modify your page, go to Content > Your pages and click on the button to the right of the "status" column (see the screenshot below).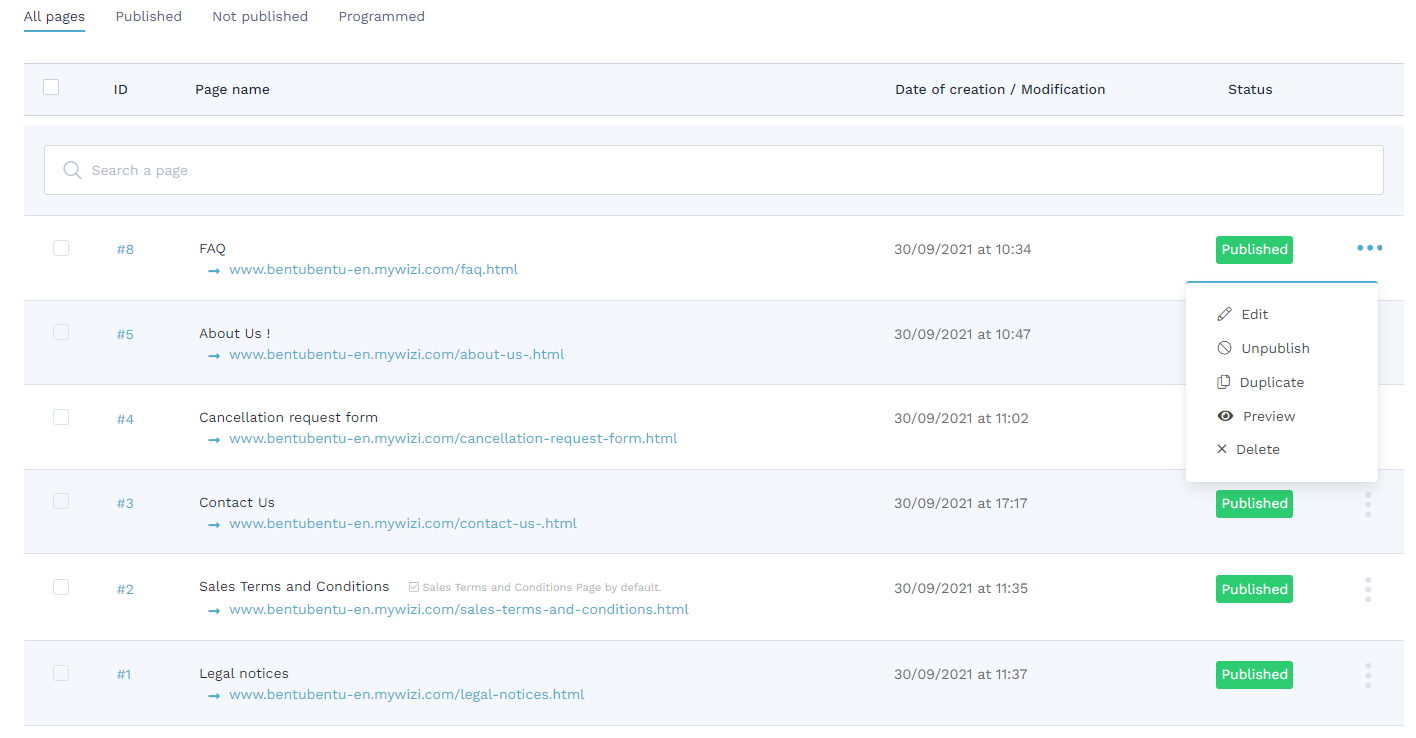 You will be able to:


modify the body of the page (WiziBlocks and configuration)
publish it (or unpublish it)
duplicate it
preview it
define it as the default STC*
delete it

* Defining a default Sales Terms & Conditions page means that you indicate to our system that this is the page which contains your STC. When you define a page as the default STC, it is automatically associated with your ordering process and allows your customers to be able to consult your STC before confirming their order:





Once your page has been defined as the default STC, you will no longer be able to delete it and you will not be able to define another page as the STC:





Any change to your STC must be done on this page.

💬 Feel free to contact your Business Coaches if you have any questions!