Once you have signed up for the Amazon Associates Program, follow this tutorial to add your Amazon products to your Evolup affiliate store.
Setting up your Amazon Partners account
Log in to your Amazon Partners account
With your

product niche

already defined, search and choose one of the products you want to sell on your Evolup affiliate store
Simply copy the URL of the product you want to import to your Evolup affiliate store
Import of the product on your Evolup store
In your Evolup administration space, go to Products > Add a product.
In the "Amazon" section: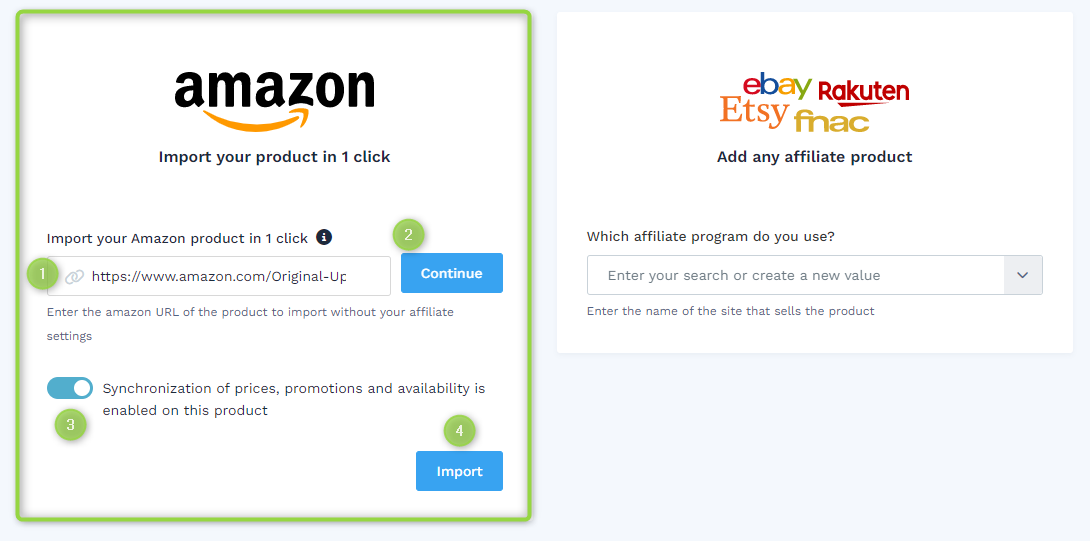 (1) Copy/Paste the URL of your Amazon product
(2) Click on "Continue"
(3) Choose whether you want the synchronization of the product
(4) Click on "Import"
☝️ Good to know
The automatic synchronization with Amazon is done every week (Sunday at 2am France CET local time) and updates the price, stock and current promotions of your product.
You can import 50 new Amazon products into your Evolup store each month.
With the classic Evolup subscription, the synchronization is performed on 50 Amazon products per month.
If you want to synchronize more than 50 Amazon products per month, activate the Amazon synchronization option for $5 / month

You always have the option of bulk importing your products via a CSV file. To carry out a catalog import, go to Products > Product imports. It's important to note that with this type of import, you must manage product updates yourself: prices, availability, discounts, etc.
Finalize your Amazon product listing
Once imported on your store, the product sheet must be optimized to offer a unique content to your visitors. It is necessary to create a complete and optimized product sheet.
Do not hesitate to use our artificial intelligence to rewrite your content!
💡 Useful tip
You can track the number of products synchronized and imported from Amazon at any time via Products > Tools > Amazon Synchronization

👉 Resources
Check out our blog articles !
💬 Feel free to contact your Business Coaches if you have any questions!