To start promoting Amazon affiliate products, here are the steps you need to take to join the Amazon Partner Program.
Step 1: Create your Amazon Associates account
Go to the Amazon Associates page and click on "Sign Up" to start creating your affiliate account. You will need to fill in several pieces of information:
Your account information where you will need to provide your identity
The list of websites and mobile applications where you have to provide the URL of your Evolup affiliate store
Your Amazon affiliate profile where you need to determine your Amazon Partner ID and the business area of your affiliate store
Once you have completed this information, find your ID (to keep) on the Start Using the Associate Club tab. Your Amazon Associates account is created!
Once you have accumulated three qualifying sales, the Amazon Associates team will review your Evolup affiliate store to ensure that you are in compliance with the Amazon EU Associates Program Terms and Conditions of Membership.
Once you have logged into your new Amazon Associates account, you will find all the information related to your registration and sales tracking such as :
(1) Your Amazon Partner ID
(2) The country you selected
(3) Access to your account settings
(4) Your earnings and clicks for the last 30 days
(5) Your clicks, orders and earnings for the current month
👉 Resources
For more information on the Amazon Associates Program, please refer to the following resources:
Step 2: Configure your affiliate settings in your Evolup administration area
Once you have registered for the Amazon Partner Program, go to the Configuration (Cogwheel) > Store settings > Affiliate setup section to make the necessary settings on your Evolup store:
General settings
You can choose to hide or show the "My Account" and "Shopping Cart" icons. By default, these icons are hidden on your Evolup affiliate store.
By choosing to display them, you give visitors the impression that this is an online store. This can improve conversion and your SEO.
Amazon Settings
Mandatory mention on the product sheets : As part of their partner program, Amazon requires a statement when you promote their products. This phrase will be added automatically on all product sheets with a link to Amazon. You can customize this phrase to suit your needs. However, it remains mandatory.

Choice of Order button : On your product pages, you can choose between 2 types of "Order" buttons for your Amazon affiliate products:


Amazon Partner ID : This ID must be filled in to be able to link your affiliate store and your products. Once you have registered with Amazon Partners, you will find your Partner ID in the top right-hand corner of your interface or directly in your Amazon Associate account, under the heading "Manage your Tracking Ids".
💡 Useful tip
You can track the number of products synchronized and imported from Amazon at any time via Products > Tools > Amazon Synchronization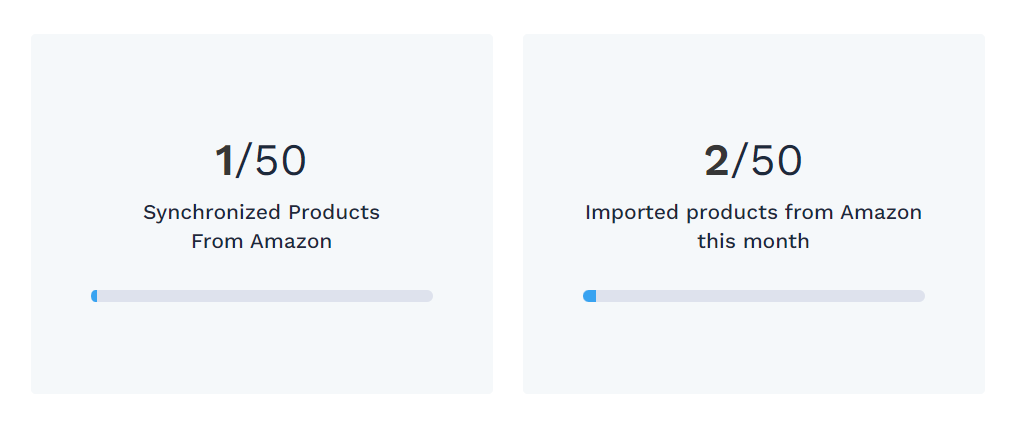 You can also subscribe to the Amazon synchronization option, which allows you to add and synchronize up to 500 products per month.
👉 Resources
Check out our blog articles !
💬 Feel free to contact your Business Coaches if you have any questions!