☝️ Good to know
The Elements of reassurance WiziBlock is independent of the general reassurance elements.
To avoid duplicates, you can disable your general reassurance elements in Appearance > Elements of reassurance.

In the side menu, click on the Elements of reassurance WiziBlock :

Choose your layout :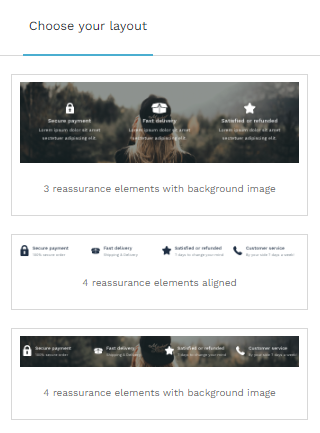 WiziBlock configuration

Click on the cogwheel in the top-left corner of the block. In the side menu, various options will allow you to set up the space before the following block, the maximum size (1) of the WiziBlock, whether the block is hidden (2) and other options specific to each block (background color, parallax effects, styles, etc.)
(1) The Maximum size of the WiziBlock is the maximum width your block will have.
The Small size corresponds to a width of 1024 px
The Medium size to a width of 1440 px
The Large size to a width of 1920 px
The Full screen size will display your block in full width.
Note, however, that depending on the viewer's screen resolution and the type of block, some exceptions may apply. For example, text blocks will not be displayed in full-screen mode. They will automatically be displayed in Large size. Similarly, on very large screens, it is possible that the Full screen size is not adapted, and your block will automatically be switched to Large size for ergonomic reasons.
(2) The Hide block option allows you to temporarily hide the block. You can continue to configure it when it is hidden, and then decide to display it on your page when it's ready.
The next options in the menu will allow you to choose the color of your pictograms, add a link to them and decide whether this link will open in a new tab or not.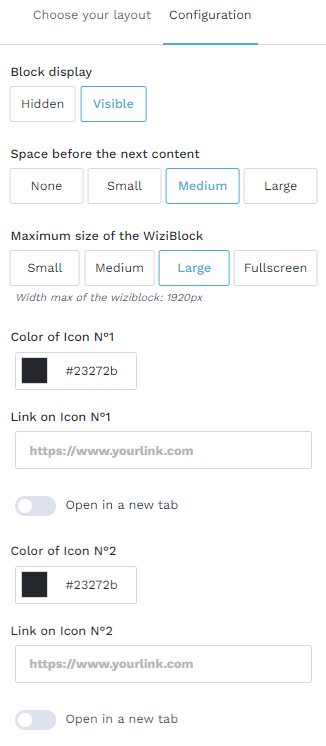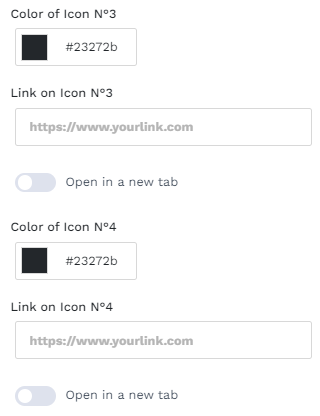 On layouts with a background image, once your image has been added (be sure to upload an image within the recommended sizes for optimal display), you will be able to choose (1) the reassurance pictograms to add via the search bar in the FontAwesome database or choose (2) the image of your choice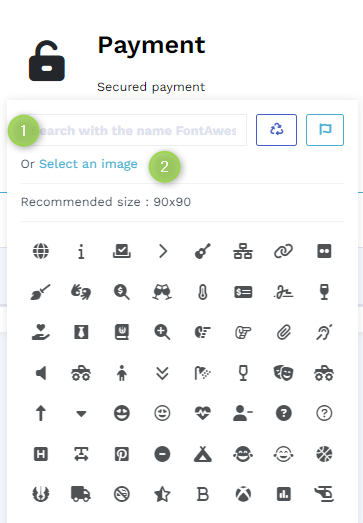 Finally, customize the text of your reassurance element directly in the block:
Once your block is complete, click the Preview button at the top of the page to see the result, then click Publish to add your reassurance items to your page!

💬 Feel free to contact your Business Coaches if you have any questions!