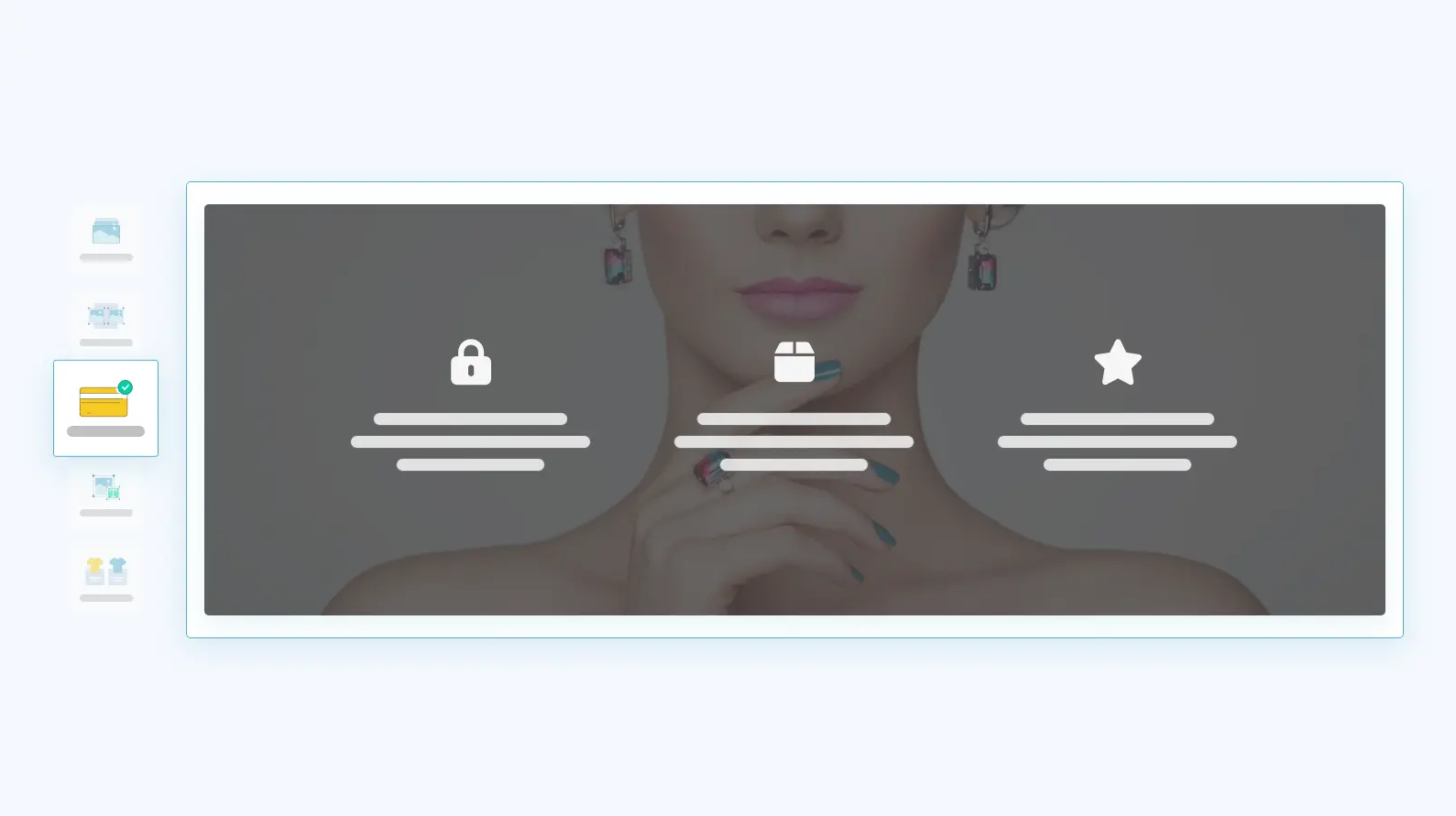 The elements of reassurance, as their name suggests, allow you to reassure your customers by providing them with useful information related, for example, to your after-sales service, your payment and delivery terms, your customer service, your social networks, etc.
These elements of reassurance appear on all the pages of your store, above the footer:

☝️ Good to know
The configuration of the reassurance elements mentioned in this tutorial is independent of the WiziBlocks reassurance elements, which can be used on certain pages only.
To avoid duplicate displays, you can disable your default reassurance elements in the Appearance > Reassurance section or disable your WiziBlocks on the relevant pages.
Activate/Deactivate your elements of reassurance
To access your elements of reassurance, go to Appearance > Elements of reassurance.
You will then have the option to enable or disable them: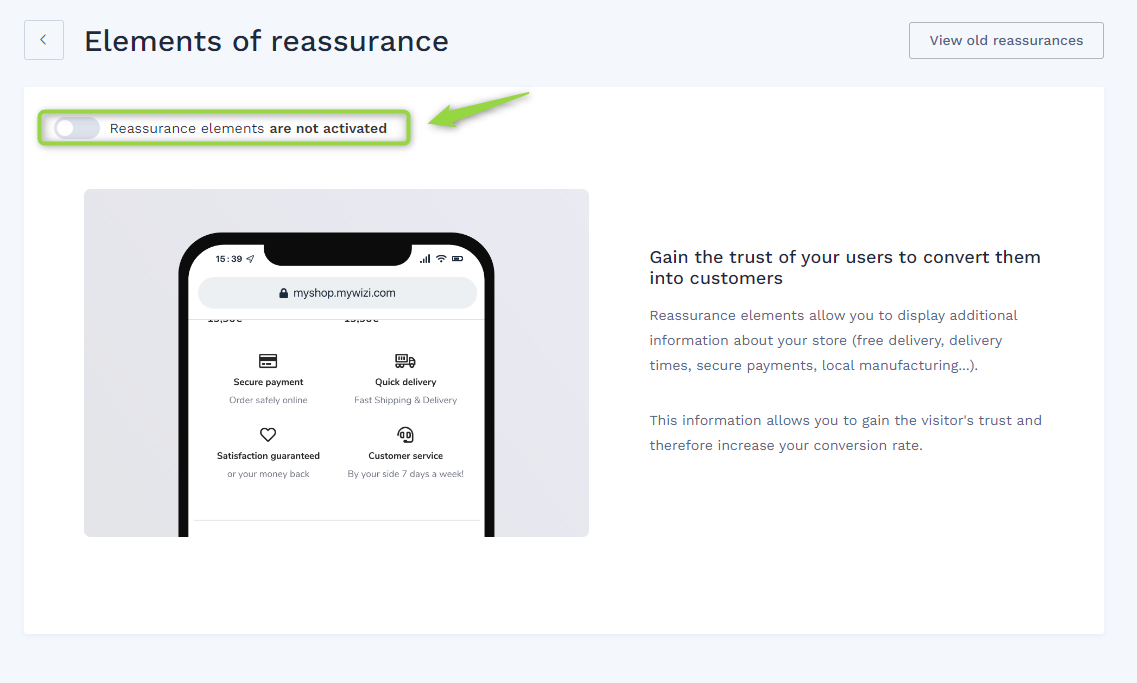 You will also be able to hide/activate the reassurance elements, individually: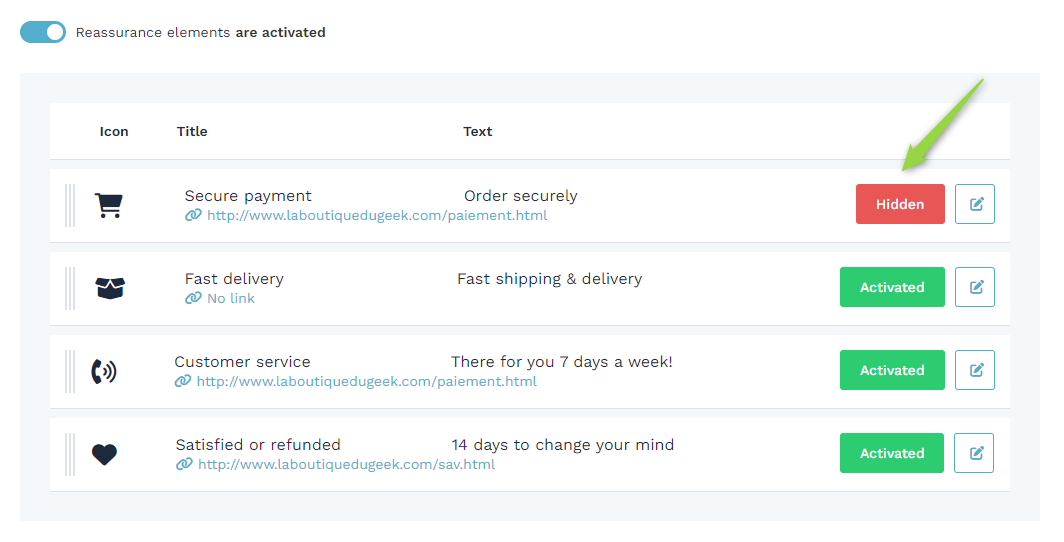 ☝️ Good to know
You can display up to 4 elements of reassurance on your store.
Personalize your elements of reassurance
By default, 4 reassurance elements are displayed on your store:
On the WiziShop solution:

Secure payment
Quick delivery
Customer service
Satisfaction guaranteed

On the Evolup solution:

Best deals
Our partners
Expertise
At your service
It is strongly advised to customize them according to the information and assets you wish to put forward on your store.
To edit the content of an element of reassurance, click on the Edit button: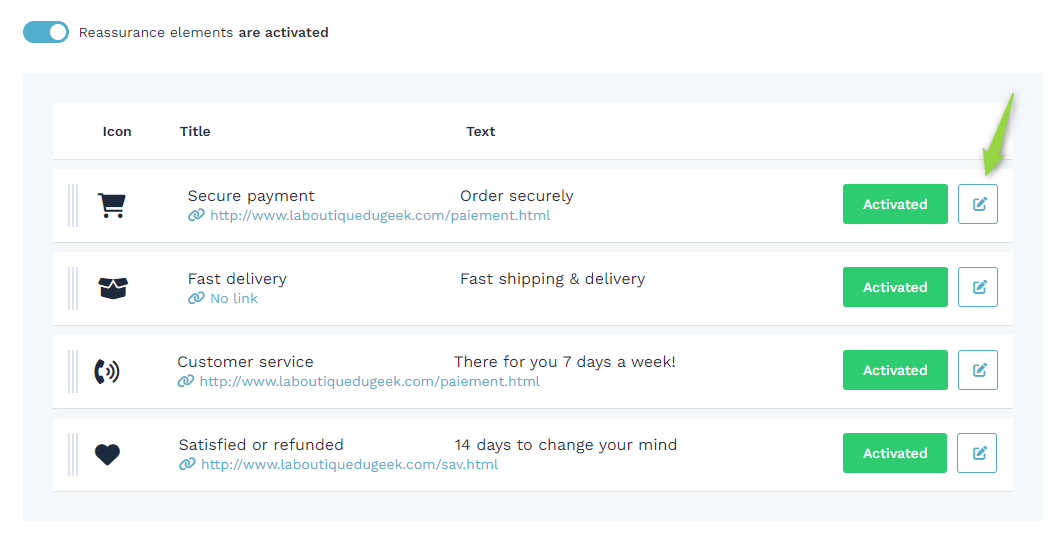 Personalize the pictogram
By clicking on the existing pictogram (1), a wide choice of pictograms is offered to you. Simply select the one that best illustrates the theme of your element of reassurance to apply it: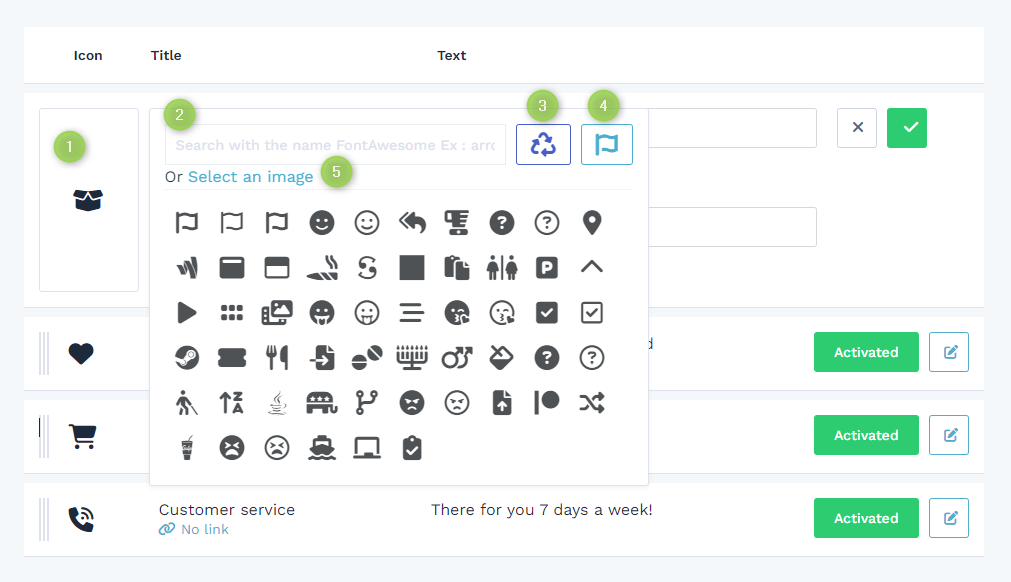 You can also search for a pictogram by FontAwesome name (2), randomly generate new pictogram proposals (3) and/or go directly to the official FontAwesome library(4) to discover many pictograms.
You can also add your own images (5), note that the ideal size for these images is 50 x 50 pixels.
Personalize the title
Let your imagination run wild by editing the title of your elements of reassurance via the dedicated frame: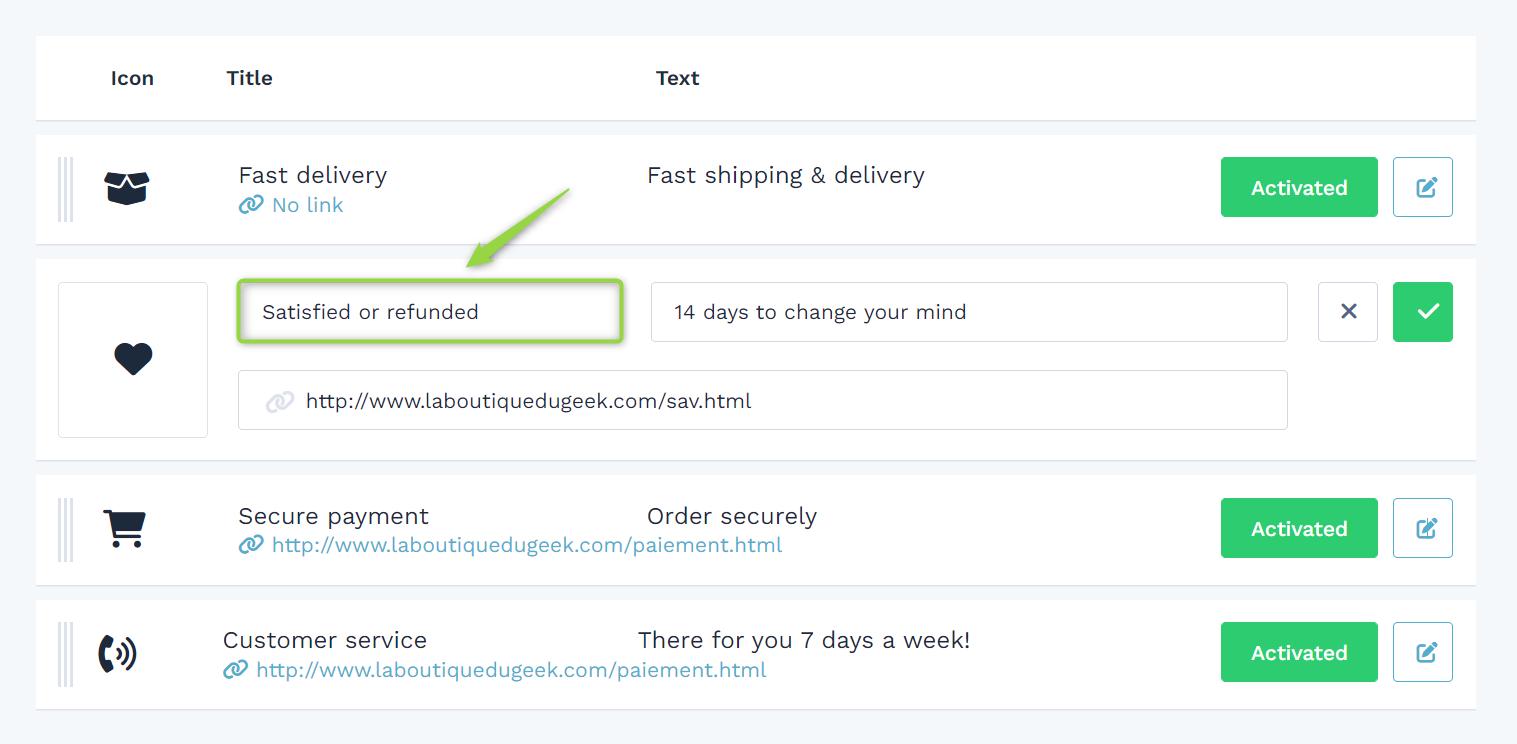 Personalize the text
Edit also the descriptive text of your element of reassurance, to bring more details: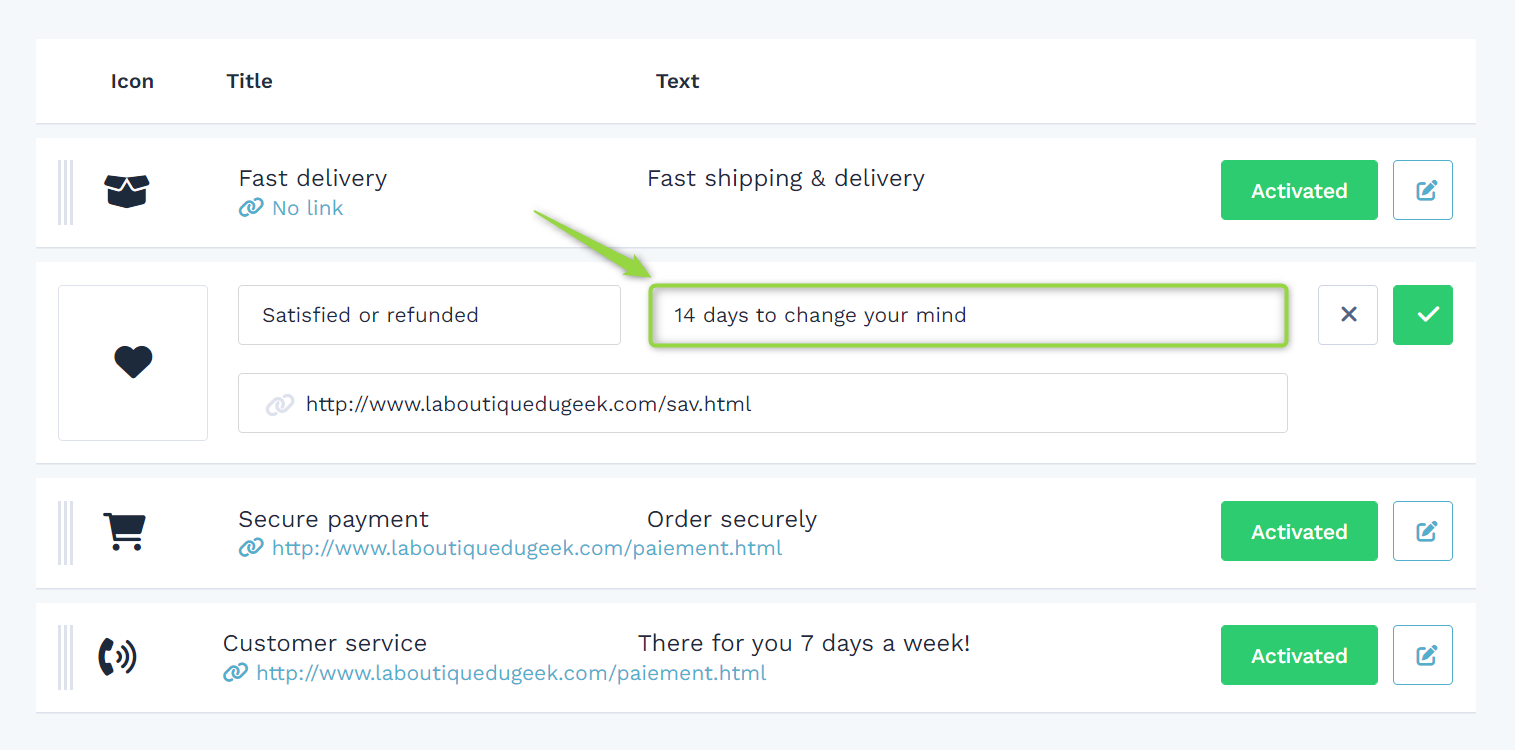 For the UX of displaying your elements of reassurance, favor short sentences that are safe for Internet users.
Add a redirection link
By creating an informative page, you can provide additional information on your elements of reassurance and allow visitors to learn more. For example, provide more details about your returns and refunds, refer your visitors to your contact page, etc.
The URL of the concerned page can be easily added in the dedicated frame: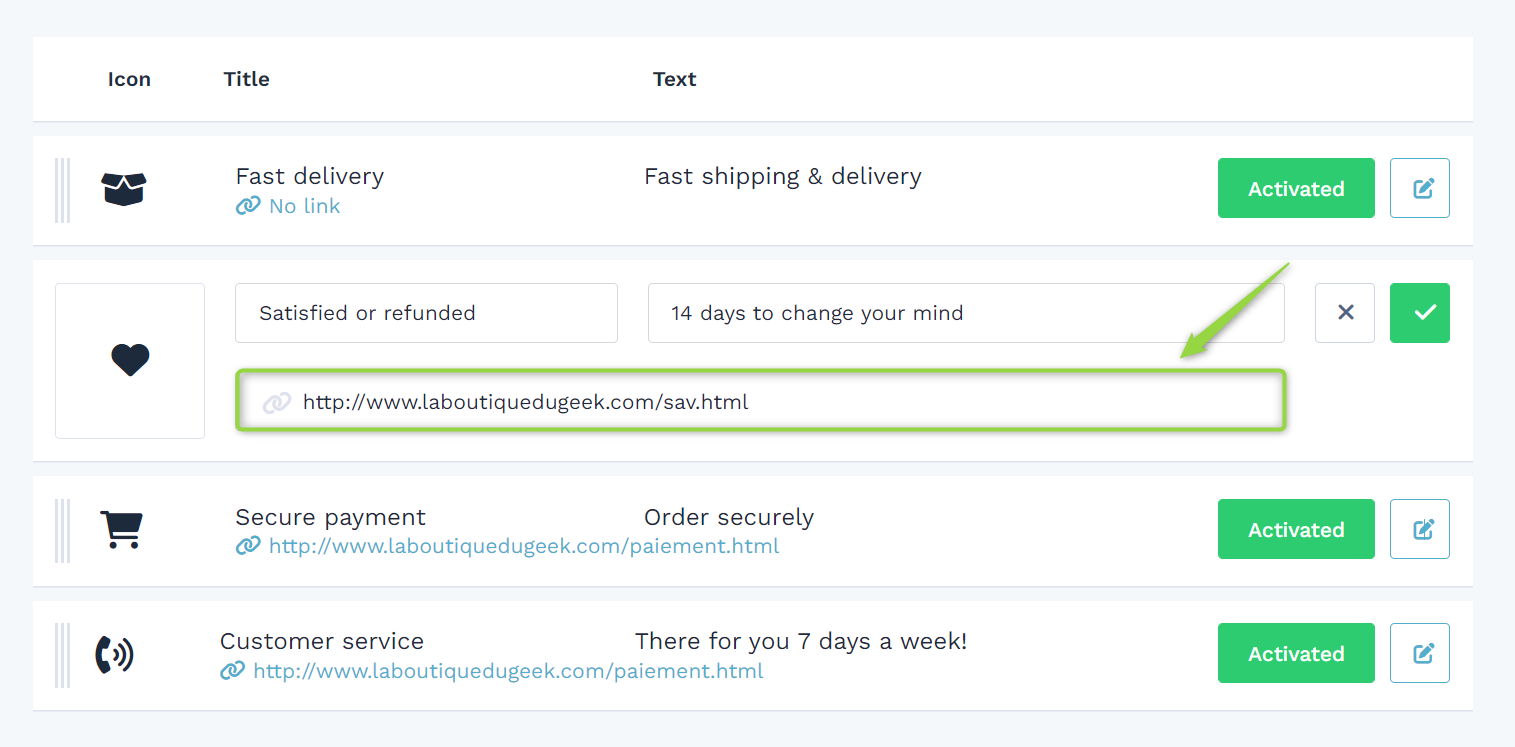 Change the display order
Small gray handles on the left of each item allow you to "drag and drop" your elements of reassurance to change their display order.
The order from top to bottom corresponds to a display from left to right on your store, and you can preview the rendering in "Overview of your reassurance elements" :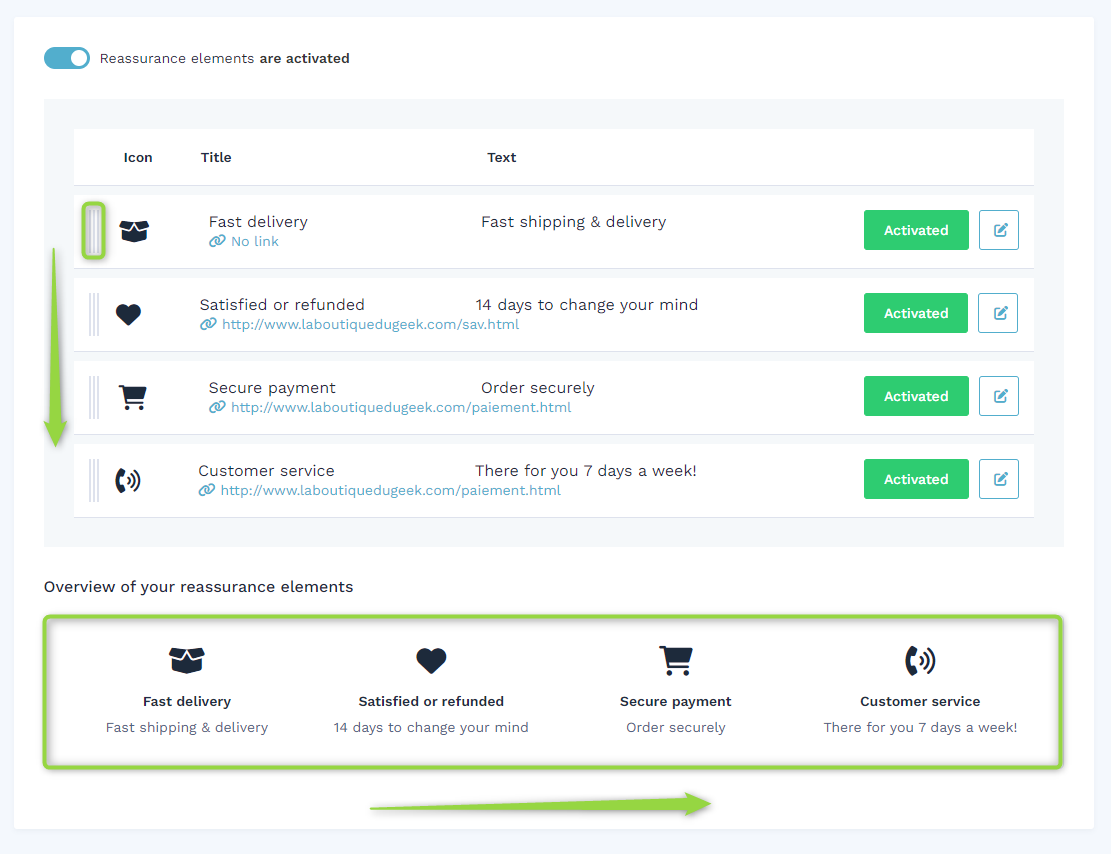 💬 Feel free to contact your Business Coaches if you have any questions!