Would you like to add a pop-up on your store to collect your visitors' emails? There are many external services that will enable you to do that for free!
In this tutorial, we will look at the example of Sumo. You can use this tool to add a pop-up on your store for free.
☝️ Please note: This tool is written in English, but you don't need to worry as we will provide you with comprehensive guidance throughout the tutorial.

1. Set up your account on Sumo
Creating an account is quick and easy. You will simply need to provide your website URL, your email address and a password.
👉 Create my Sumo account here.

2. Create your pop-up

Once you have signed into your account, you can go to Forms.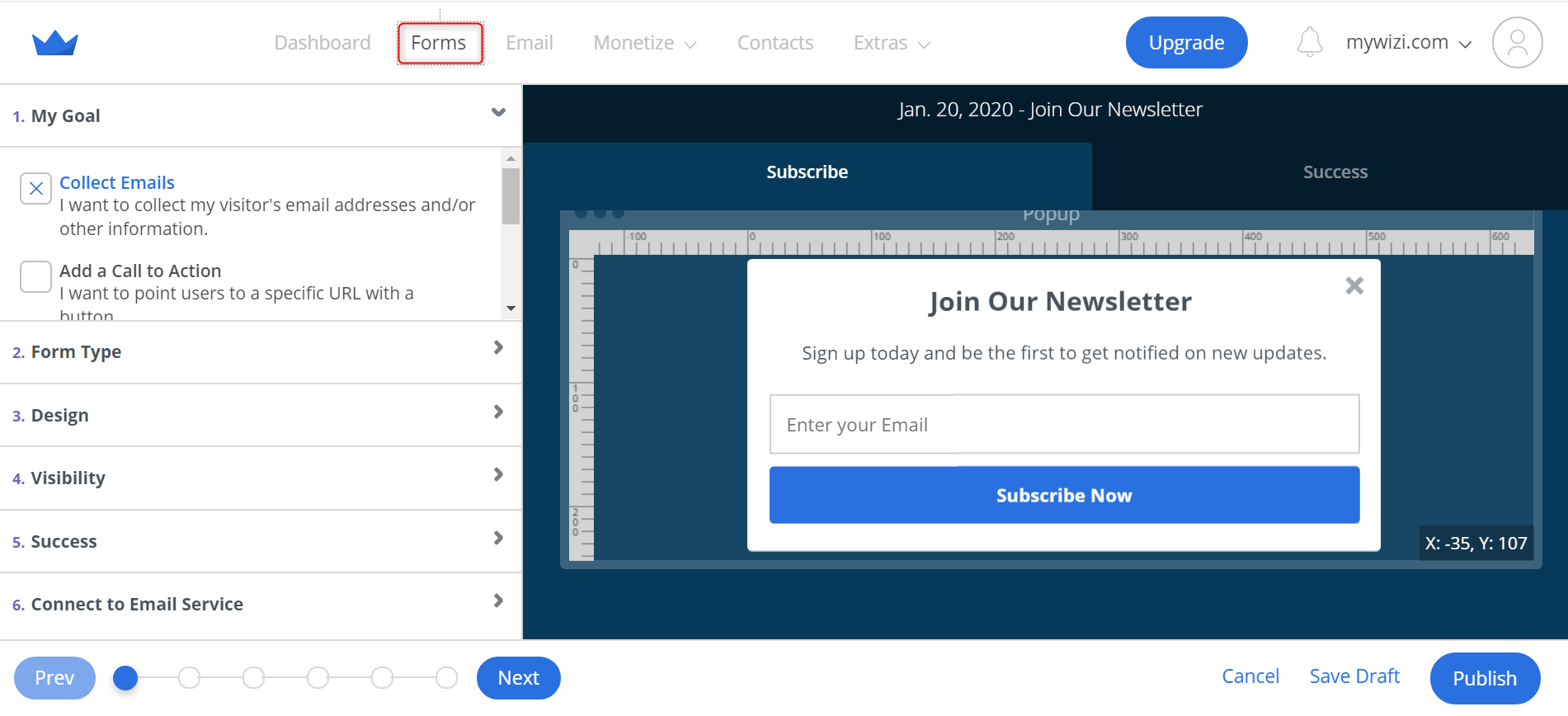 Once in Forms, you can fully set up your pop-up.
1. My goal

There are several possible goals:
Collect Emails: to collect your visitors' emails.
Add a Call To Action: to redirect your visitors to a particular URL
Get Social Shares: allows you to redirect your visitors to your social networks.
Collect info with custom code: create your own pop-up display via HTML to collect your visitors' details and email addresses.

☝️ In this tutorial, we have selected the Collect Emails goal.
2. Form Type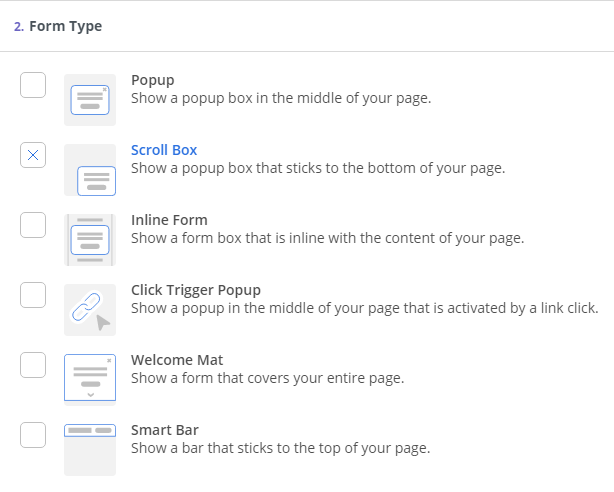 Popup: displays a pop-up in the middle of your page.
Scroll Box: displays a pop-up at the bottom of your page.
Inline Form: displays a pop-up within your content.
Click Trigger Pop-up: displays a link on your website, which opens a pop-up in the middle of your page.
Welcome Mat: displays a form that covers the entire page of your website.
Smart Bar: displays a horizontal bar at the top of your website.

You are free to select the display method of your choice. In this tutorial, we have chosen the Scroll Box display.

3. Design
The only version that is free of charge is the standard design, which you can personalize.
When you personalize your pop-up, two tables will appear: Subscribe and Success.


Subscribe defines the pop-up that will be displayed on your website, to invite visitors to subscribe and provide their email address.
Success defines the confirmation pop-up, once the visitor has subscribed.
a. Setting up the SUBSCRIBE pop-up

You can personalize each of the elements of the pop-up, simply by clicking on them. A personalization window will open on the left in the modifications column and you will be able to add your own content here.



Change the image: click on the image and download your choice of image in the left-hand column.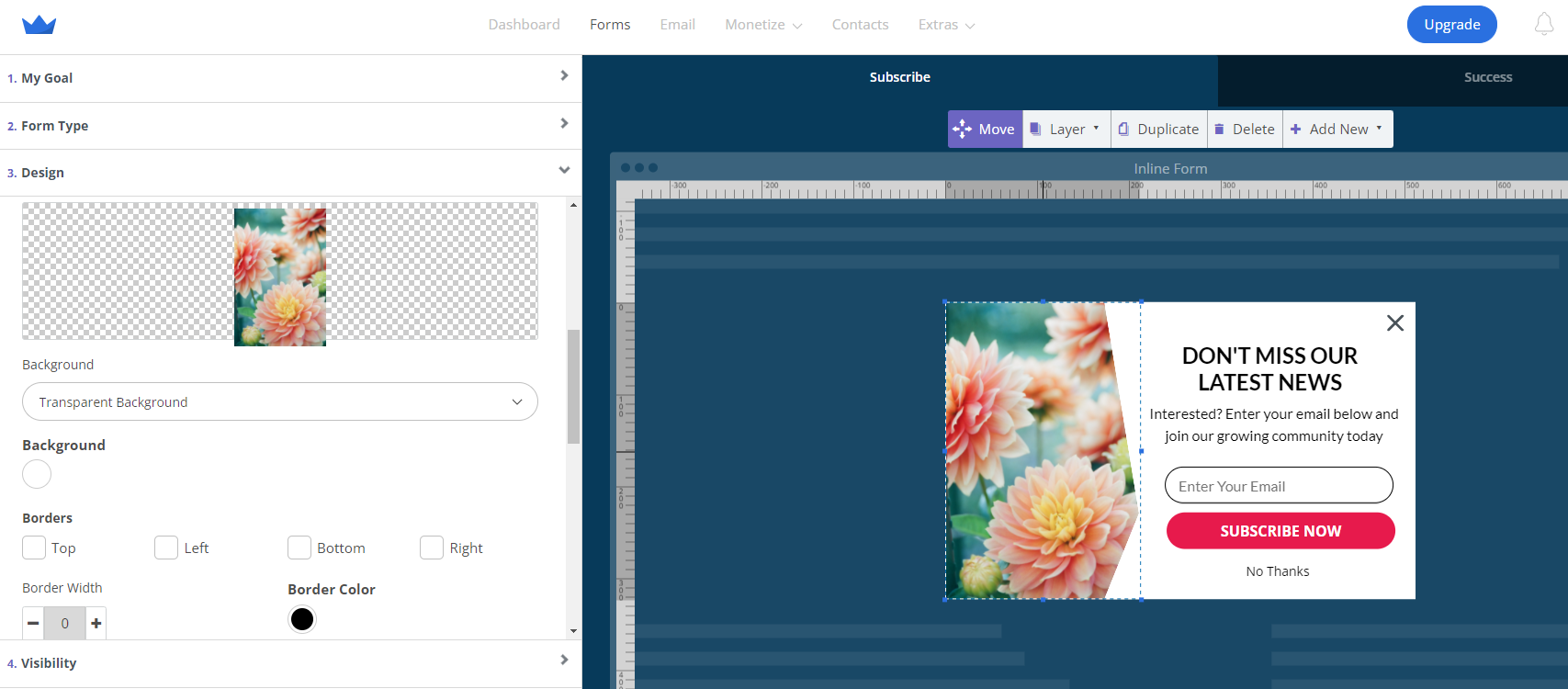 Change the text: click on the text and add your personalized text in the left-hand column.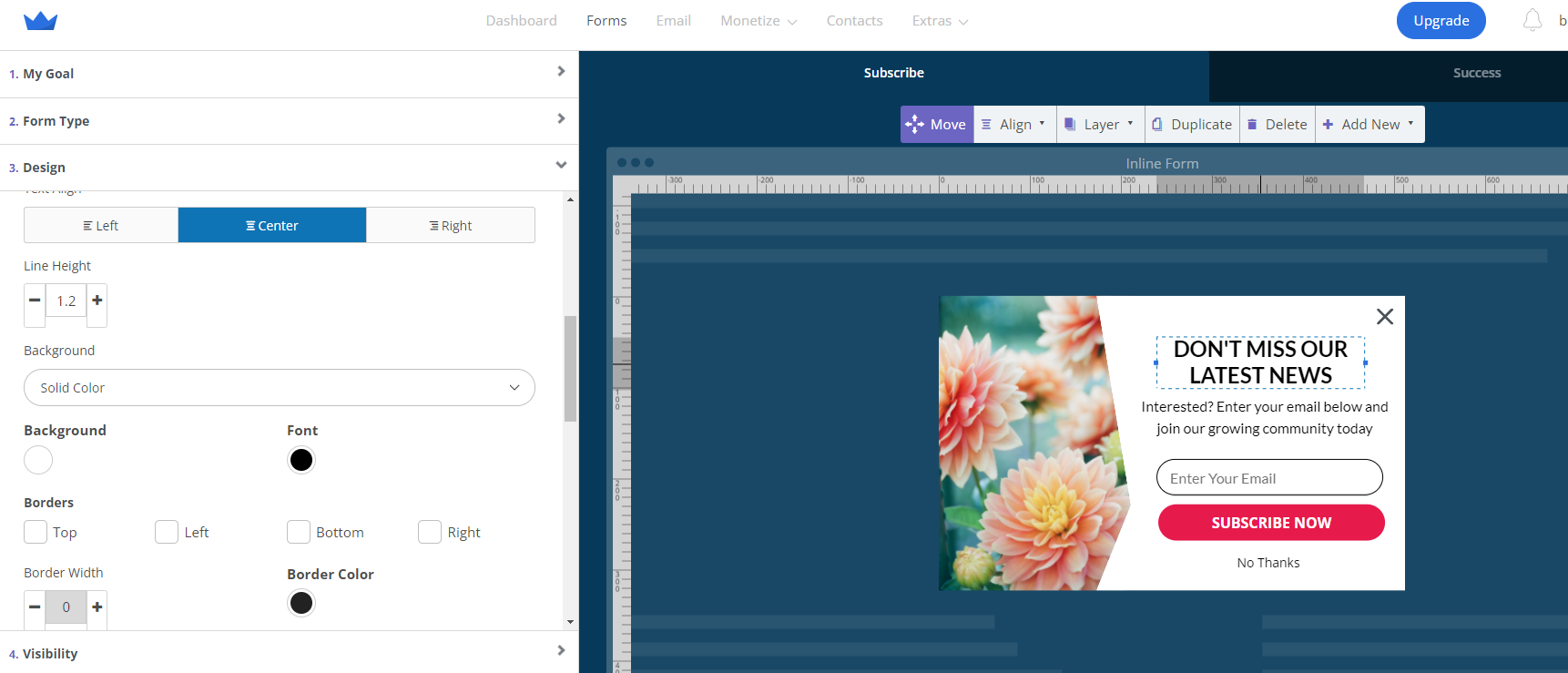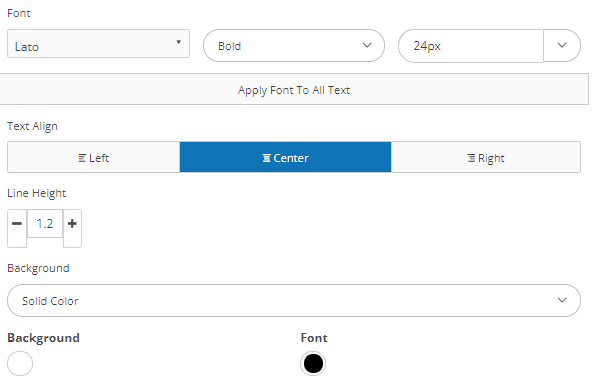 For each text, you can define the font, the character type (Bold…) and the size of text.
You can also set the colour of the font, from the colour palette in Font.


Change the button: click on the button, add your text and set the background colour.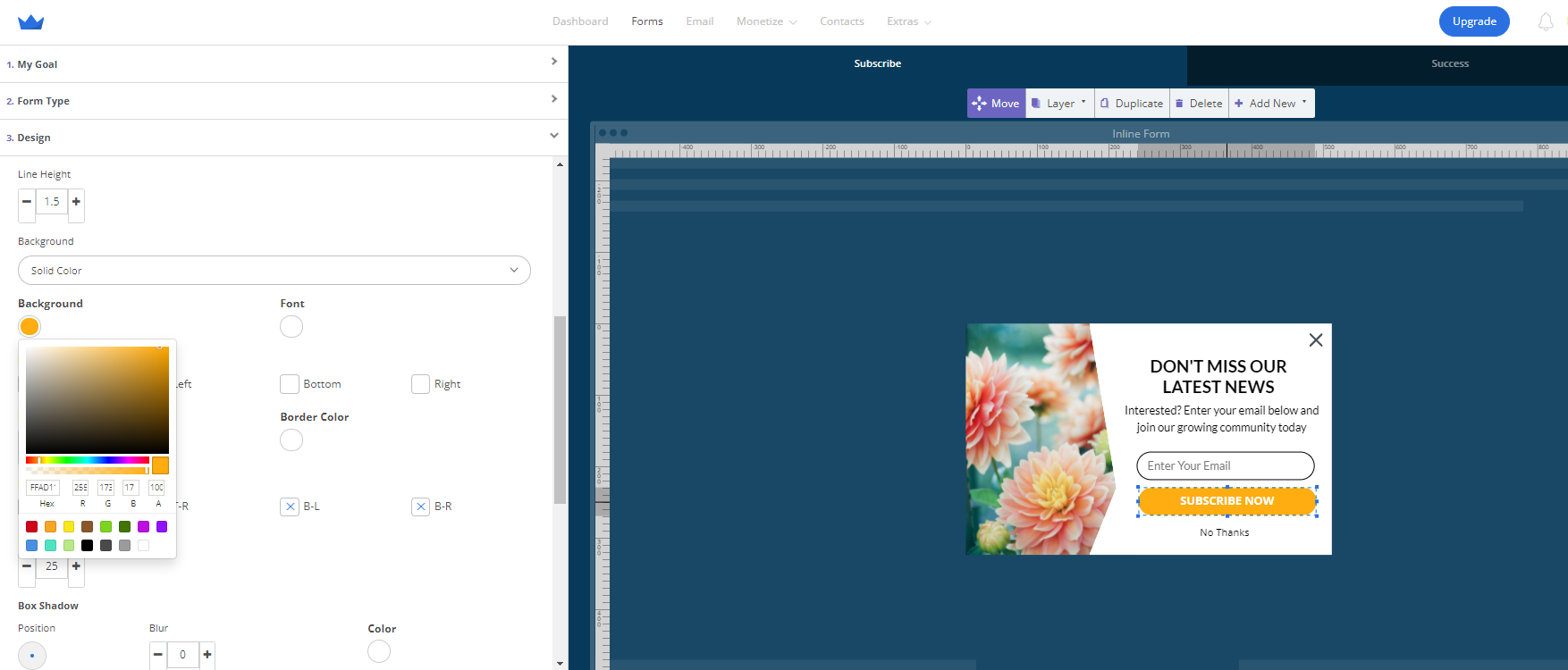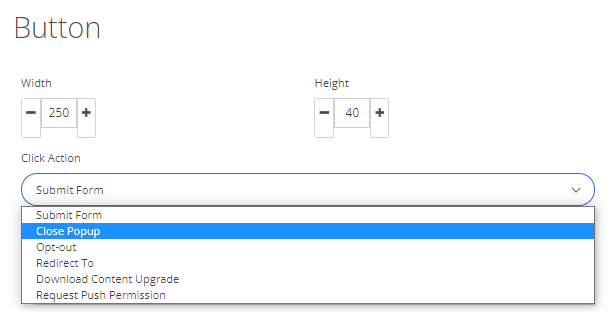 When creating your button you will need to set the action to take by clicking on the button. In order to collect emails, click on Submit Form.
Your SUBSCRIBE pop-up is now personalized: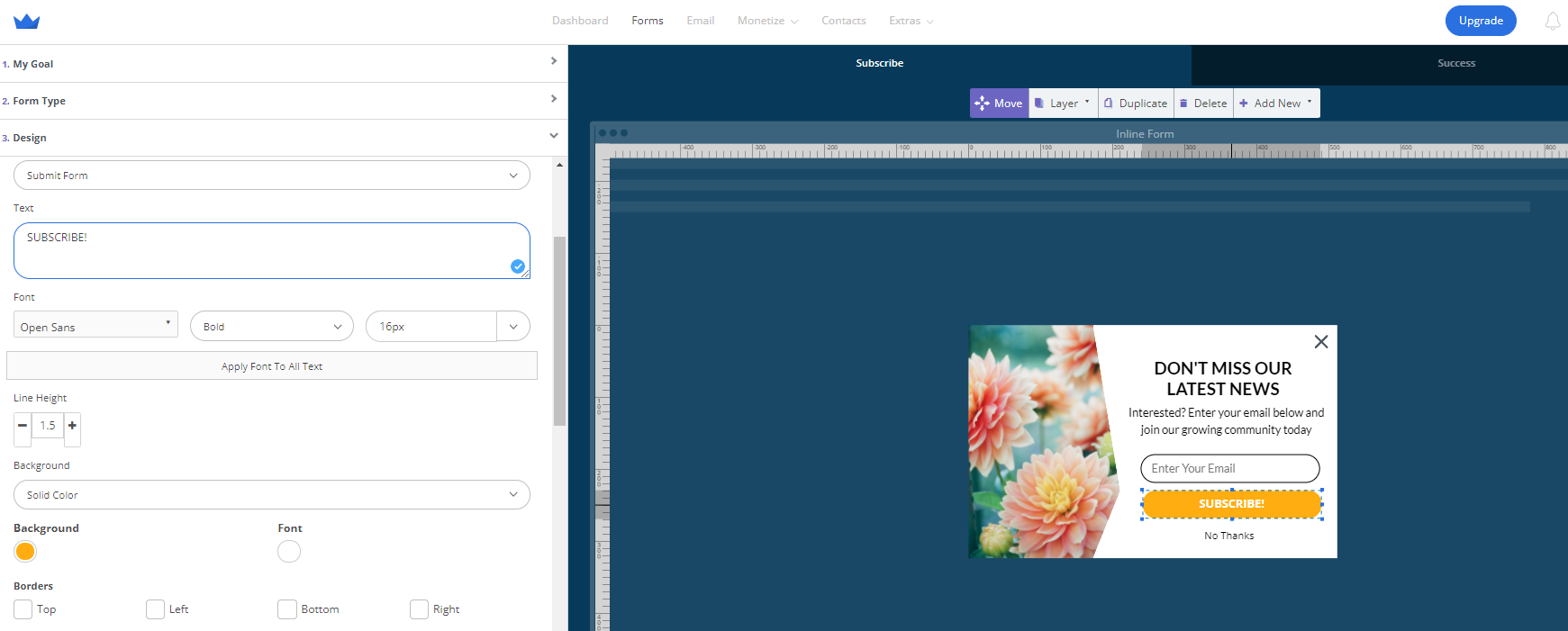 In order to encourage visitors to register for the Newsletter and provide their email address, we offer a promo code. This is just one of many other marketing strategies, and you can decide on your own strategy.
b.Setting up the SUCCESS pop-up

Go to the SUCCESS tab.



To personalize this pop-up, simply follow the same steps as for the previous pop-up.
You can add a background image and personalize the wording.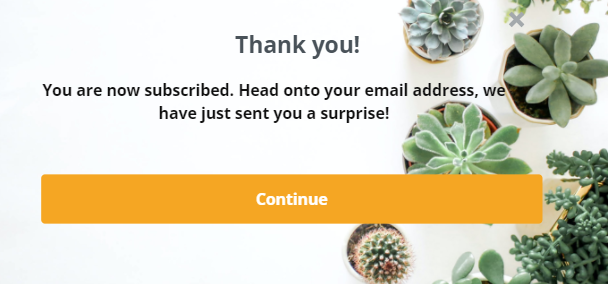 4. Visibility

You can set the frequency of your pop-up's appearance on your store.
Two modes are available: Smart Mode and Manual Mode.
Smart Mode selects the best moment to display the pop-up to your visitor.
Manual Mode allows you to choose when and where you would like to display the pop-up.


5. Success

This step will allow you to set up a confirmation email that will be sent to all the visitors who sign up to your form.




3 email templates are available. For this tutorial we have selected the Coupon Code Template, but you can of course test and select another one. As the template is in English by default, you will need to draft your text in your choice of language.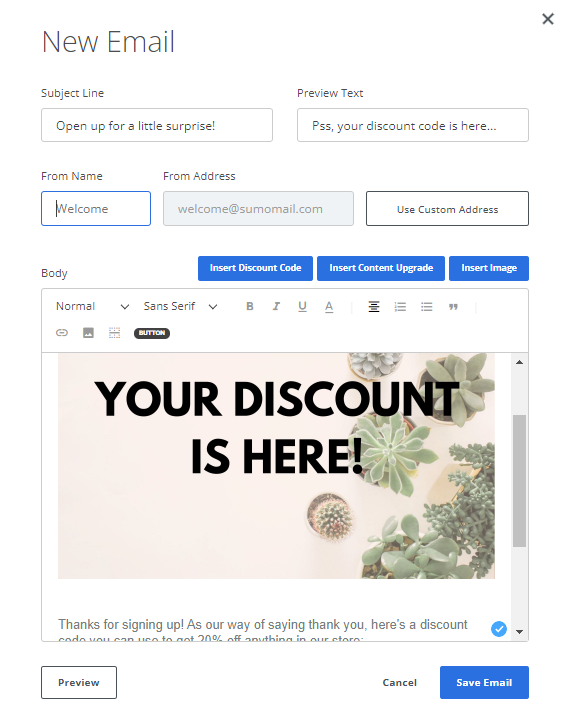 ☝️ If you decide to offer a promotion code for newsletter subscriptions, you will need to create your promo code from your administration area in Marketing > Manage Your Promo Codes.
Refer to our tutorial on creating promo codes: How to set up promo codes?

6. Settings
In order to comply with GDPR standards on collecting personal data, you should activate the double opt-in:


When a visitor registers on your pop-up, they will receive an email confirmation asking them to confirm their subscription. Please note that this email will be in English: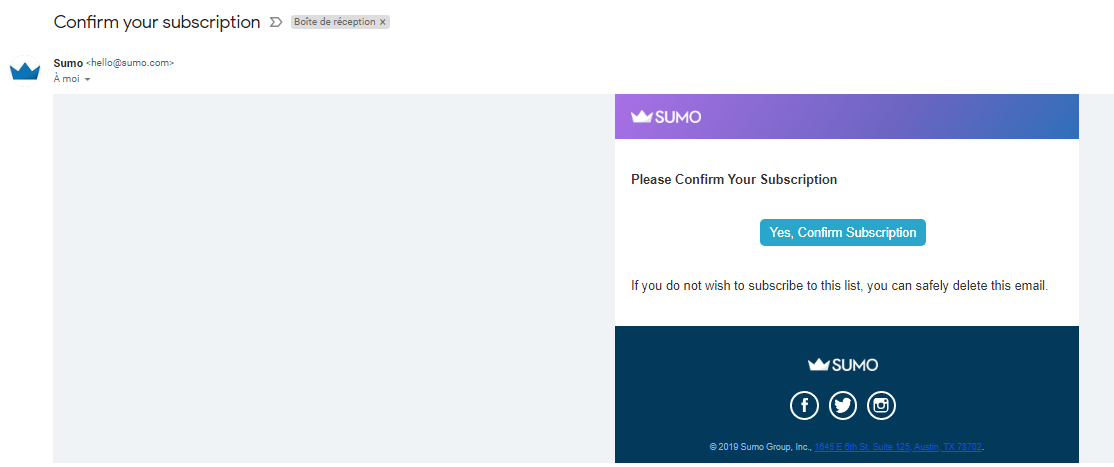 You will only receive the email addresses of visitors who have confirmed their subscriptions.

3. Installing your pop-up on your store

Go to this URL: sumo.com/sites
The account you create will be displayed, along with your website details.
Click on Manage View Install code.





Copy the code displayed in the box.


Simply click on the block to copy the code.




Go to your WiziShop account, under Configuration > Tags And External Services > Scripts Free.
Add a new script and paste the code you have copied. Choose where to place it At the beginning of the content (body).







Make sure you leave the "Scripts.ManualScript.script.scriptRGPD" box unticked.



To function properly, the Sumo script needs to track the action and data of the users that visit your store. In accordance with GDPR provisions, your visitors can now choose not to share this information with the third party services that you use. 👉 Find out more.

Your pop-up has now been installed on your store.


4. How do I retrieve the emails that have been collected?

Once a visitor subscribes to your newsletter and confirms their subscription, their email address will be registered on your Sumo account, in Contacts: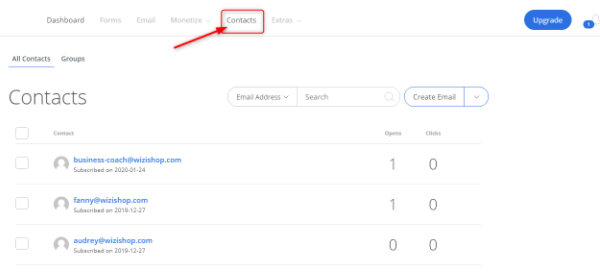 You will be able to cvs export the collected emails, by clicking on the scrolling menu, then Export CSV:




You can now import this subscriber database on to your Wizishop account, so that you can include them in your emailing campaigns. This tutorial explains how to import a subscriber database:
👉Can I import a subscriber file to my WiziShop "Newsletter subscribers" database?

Please do not hesitate to contact Sumo for any further information.