The product catalog import/export tool, available in the administration area (Products > Export Productsand Products > Import Products) allows you to:
Backup your entire product catalog
Export your entire product catalog.
Import a product catalog (migration from another platform or import from your supplier's catalog).
Easily update certain settings of your catalog (such as the description, price of your products, keywords, etc.)
Export the product catalog
To export your current catalog, go to the Products > Export Products section.
(Please note, if you want to export your catalog to a price comparison or buying guide, preferably use the tools available in the Marketing > Product Export Tools.)

The first step is to choose the products you want to export (all or a selection) from the Product choices section.


If you want to export only a selection of your products, you can search by name, reference, category or brand:



You can also make a selection by directly checking the products of your choice in the preview of your catalog:



Once your products have been selected, it is now a matter of choosing the information you want to export. This information is classified into subsections, which can be selected or deselected in one go:



Here we will only select the product ID, the product reference and the product name.
(Note that if you intend to update your catalog, the product ID and the reference must be selected during your export.)

After clicking on the Export button at the bottom of the page, a background task will be generated and a CSV file will be available for download:




Once your CSV file has been downloaded, you will need to open it with an appropriate software, like Excel (in our example, we are using Libre Office). You will now be able to make the desired changes to your catalog in the corresponding columns.


Finally, save your file, still in CSV format:

Import a catalog
To import a catalog (or update your existing catalog), go to the Products > Import Products.
You can only import a CSV file here (5 MBor 500 lines maximum), with semicolon separators and Western European encoding (ISO-8859-1):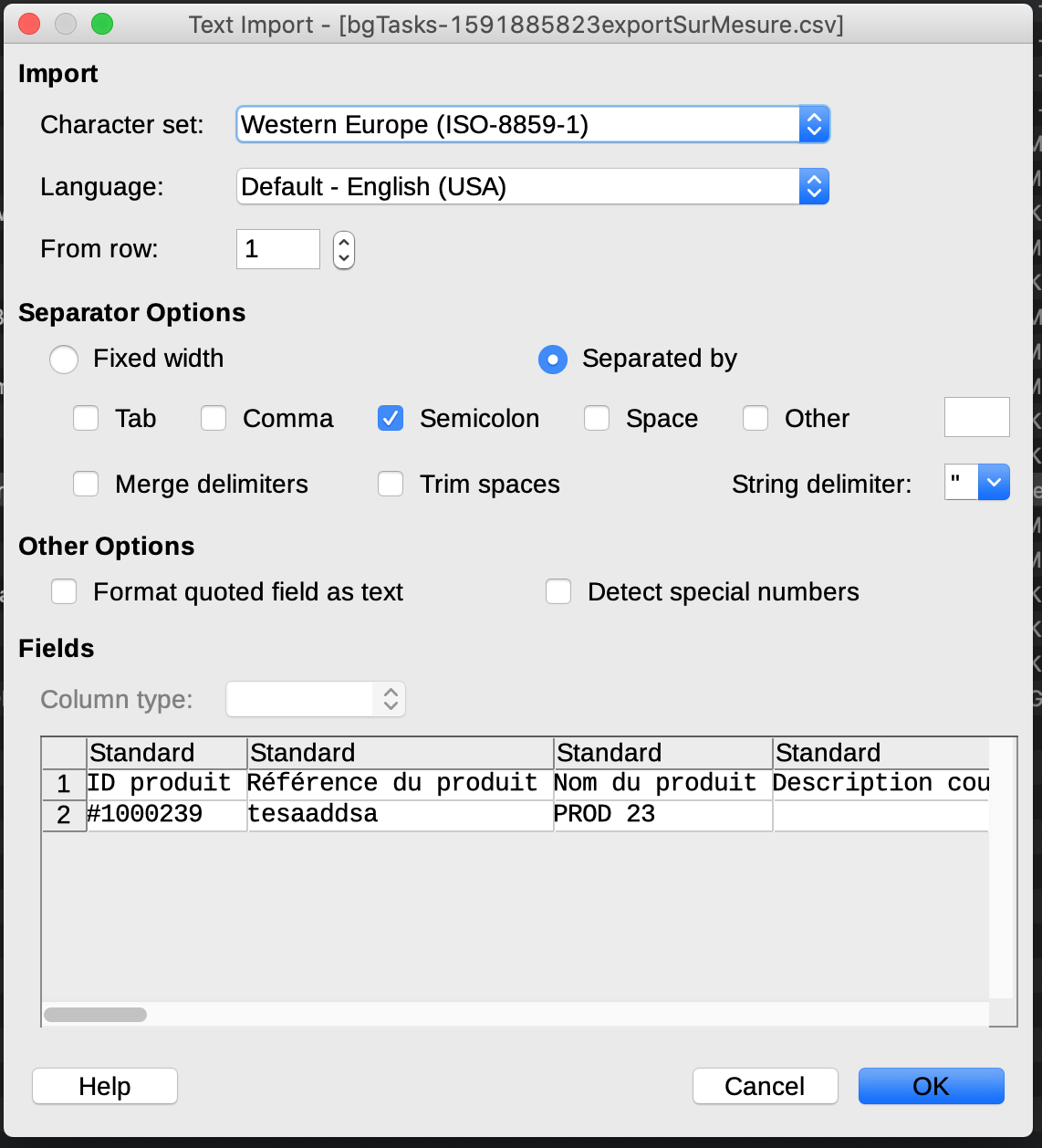 It is important to note that the first line of your file must be dedicated to the names of the information, classified by column : brand, price incl. tax, etc. If you have already achieved an export, the downloaded file can be used as a template.
Also note that if the references or IDs (unique identification number) of your products to be imported already exist, the existing products will be updated. New products will be created automatically if this is not the case.
Click on the Upload button and upload your import file:
Once your file has been loaded, you can define which columns to import and what information they correspond to.

Click on Import data. Before the final import, you will be presented with a preview of your file. You can check if all the information is correctly associated.




💬 Don't hesitate to contact your Business Coaches if you have any questions!