On WiziShop, you can purchase a domain name with the following extensions: .com, .fr, .shop, .store, .be, .ch, .de, .nl, .pt or .re. Everything is made easier so that you don't have to do any complex configuration. Your domain name is automatically set up on your WiziShop store, and each domain name is purchased in your name, so you remain the owner. To purchase your domaine name, go to the Configuration (cogwheel) > Domain name section :

Step 1: Choosing your domain name and checking its availability
Are you hesitating on what domain name to purchase? 👉 See our tutorial Choosing the right domain name. Once you have chosen your domain name, type it into the Purchase a domain name for your store section, and choose an extension in the drop-down menu :

Check the confirmation box and click on Order now!
Step 2: Confirming your purchase and renewal settings.


The padlock will let you know if your security certificate is activated.
The circular arrow lets you know whether the automatic renewal of your domain name is activated and the annual date on which it will be renewed.
The bin allows you to delete your domain name from your WiziShop store (only to be used if you no longer want your domain name to be associated with your store!)


Step 3: Creation of your free email addresses
Once your domain name is purchased and active, you can order up to 5 free email addresses from the Emails tab.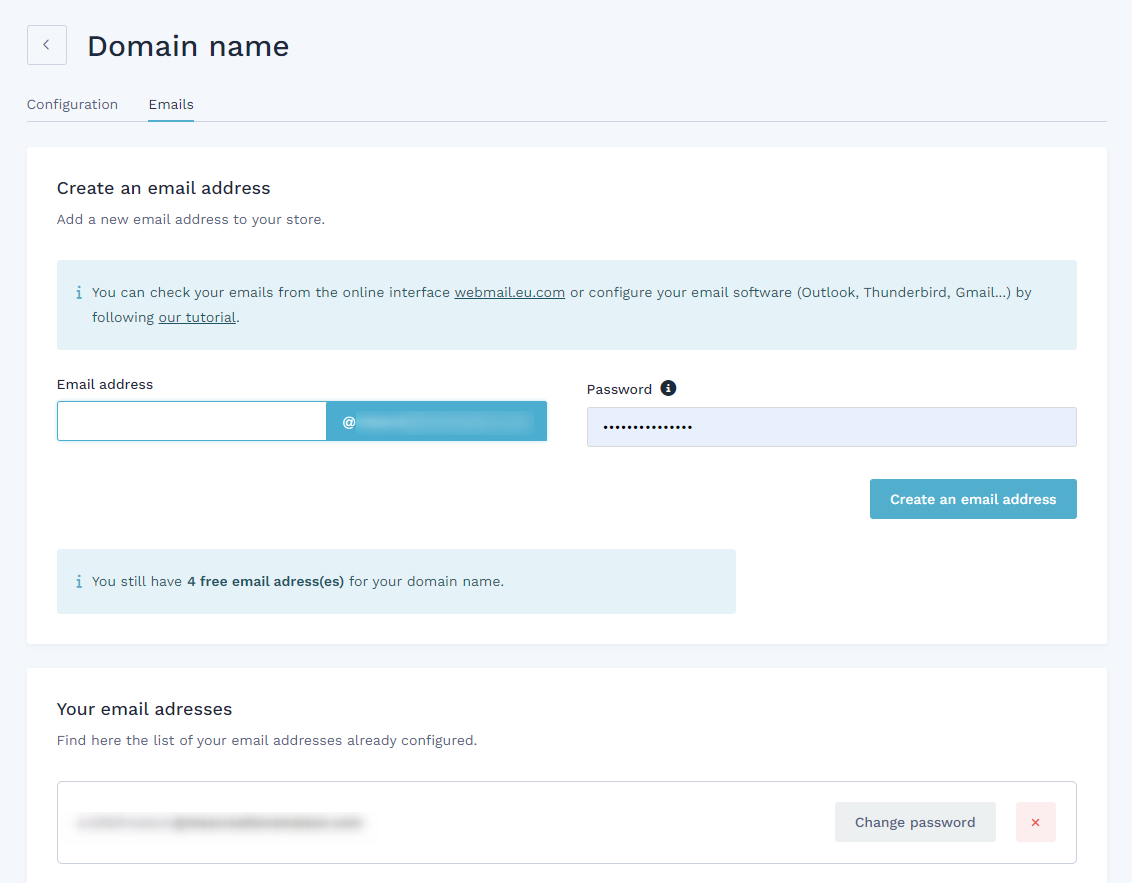 In the Email field, enter the name that you want to give to your email address (example: contact@my-wizishop-store.com), then enter a password.
⚠️ Please note that words found in a dictionary are not sufficiently secure and will not be accepted as your password, example: store. Use complex passwords with capital letters, numbers and letters. Your password can be changed later.
Click on Create an email address to confirm
Once your address is created, you can set it up and view your emails directly from the WebMail Roundcube platform (for optimal operation, be sure to use Roundcube and not Sogo).
👉 NB: If already have a domain name, see our dedicated tutorial to configure it on your store.

💬 Don't hesitate to contact your Business Coaches if you have any questions!