In Store Settings > Manage my payment method you will find two PayPal payment modules:

PayPal Integral: PayPal Integral is the standard version of the PayPal payment module.

PayPal Integral Evolution: PayPal Integral Evolution is a premium version of the standard PayPal payment method. It accepts all bank cards and PayPal accounts, and you can personalize your payment page and, especially, enjoy an enhanced version of Seller Protection program.
PayPal Express Checkout: PayPal Express Checkout can help increase the conversion rate by reducing number of steps in the ordering process. An "Express Checkout" button appears on your shopping cart page. The user is redirected to PayPal without going through the standard ordering process.

Please contact PayPal's customer services directly for more detailed terms and to set up your seller account: Set up a PayPal account


Once you have set up your business account and chosen the version of the module, you will simply need to follow these following few steps to set up you PayPal payment module on your store:


Go to your PayPal seller account and click on "Activity" and then on "API Access":


Select "NVP/SOAP API Integration (classic)"



On the new page, click on "Ask for an API signature"
Next, copy the three items of information required to set up the module on your store
In another window or tab of your browser, go to Store Settings > Manage my payment method and select the PayPal payment module to which you have subscribed and paste the PayPal API login details: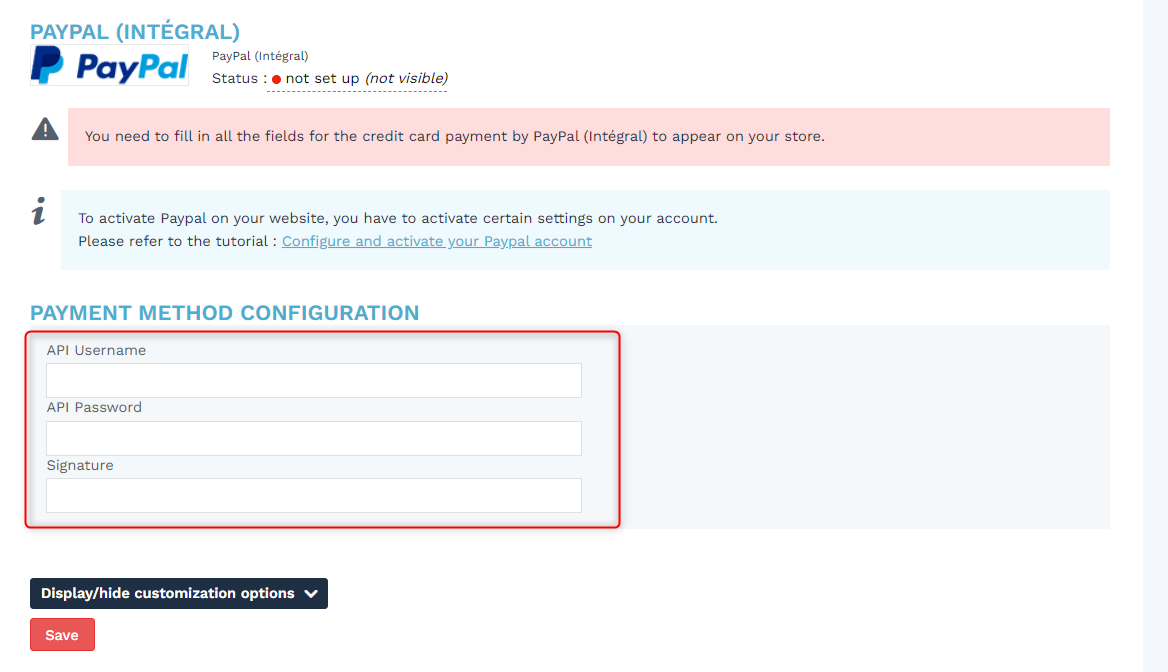 Save your payment module.

The payment module will be in "test" mode. Do carry out a test order on your store to ensure that you are redirected to PayPal's payment page.


If you receive an error message when testing the PayPal payment module, there are two possible reasons:
You have not set up the correct PayPal payment module. In Store Settings > Manage my payment method, you can choose from three PayPal modules: Express Checkout, Integral and Integral Evolution. Make sure you have signed up to the right type of contract.
Your username or password are incorrect. Check that you have entered the right API login details and Signature.

Finally, in Store Settings > Manage my payment methods and editing your payment module, you can set your PayPal module to "active" for everyone: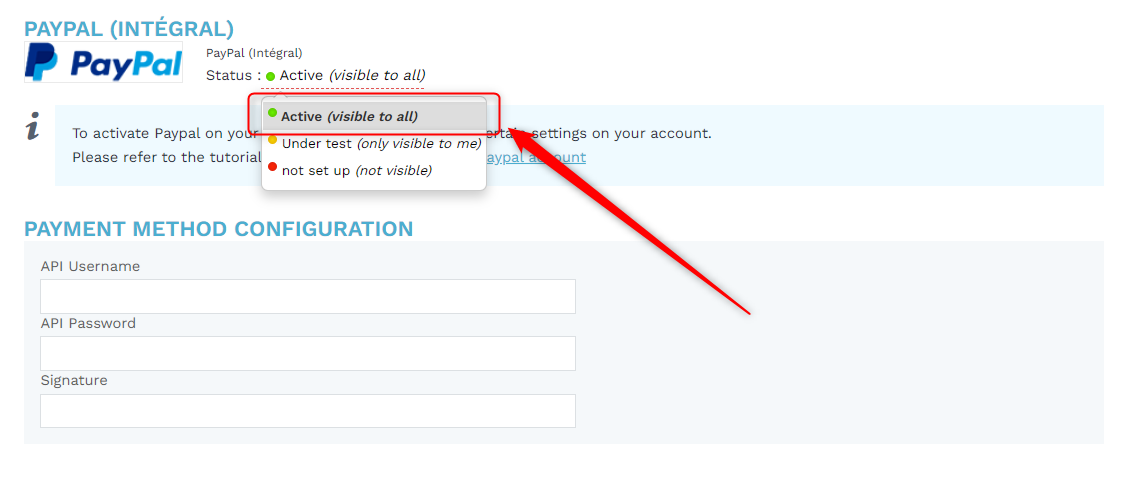 Do not forget to save the Payment option:



💬 Please do not hesitate to contact your Business Coaches should you have any questions!