Setup of Chrono Relais
Thanks to the technical integration already included in your subscription, offer your customers to select the relay point of their choice for the delivery of their order.
Chrono Relay is a parcel delivery option that allows recipients to pick up their parcel at a relay point near their home. This delivery option is very convenient for people who cannot be delivered to their home or who are not available to receive their parcel at home.
In addition to simplifying the life of your customers, with Chrono Relay, you can easily manage your parcels thanks to :
The automatic generation of your parcel labels via the Orders > View all orders section and the change of the order to "delivery in progress".
The tracking number automatically sent to your customer in the order tracking
How to set up your Chrono Relay delivery mode ?
You don't have a professional account on Chrono Relay yet?
👉 Go here to start your registration.
You can find the Chrono Relay delivery by heading to Configuration (cogwheel) > Manage my delivery options, by adding a new delivery method and by going to the tab "Delivery to collection point" :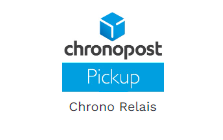 Once you have selected Chrono Relay, you can fill in the information required to activate the module. To interface your account with your store, you will have to fill in the following fields:

(1) Account ID or Account Number: Data accessible directly from your Chrono Relay account or via your Chronopost contact person. This ID is composed of numbers only.
(2) Password: Data accessible directly from your Chrono Relais account or via your Chronopost contact.
(3) Parcel tracking service: If the parcel tracking option is activated, the update of the status of the order and thus the change from "in progress" to "delivered" will be automatic.
Depending on the type of Chrono Relay delivery you wish to offer to your customers, make your choice in the drop-down menu: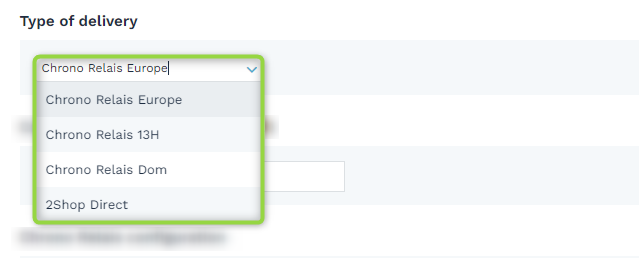 Europe
13h : delivery before 1pm
DOM
2Shop
For more information and details, you can check their offers directly
💡 Useful tip
If you have selected several or all types of delivery in your Chrono Relay contract, you will have to create a separate delivery methods for each type of delivery.
For more information and details, you can contact Chrono Relay support directly
☝️ Good to know
You can generate your labels directly from your WiziShop order list.
After the validation of the order, you have access to the relay point selected by your customer. When you place your order in "Delivery in progress", you can adjust the weight of the package, generate the label and print it afterwards.
💬 Feel free to contact your Business Coaches if you have any questions!