Link obfuscation is an advanced SEO strategy. Altering these settings without having any knowledge in the field can have a negative impact on the SEO of your store. Please ensure that you are fully aware of these settings before making any changes using this tool.
Link obfuscation is an advanced SEO technique to optimize your store's internal linking.
This method will allow you to distribute the SEO power of your store on relevant pages only.
Obfuscation will allow you to hide a link from search engine robots like Google while maintaining it available for the visitor.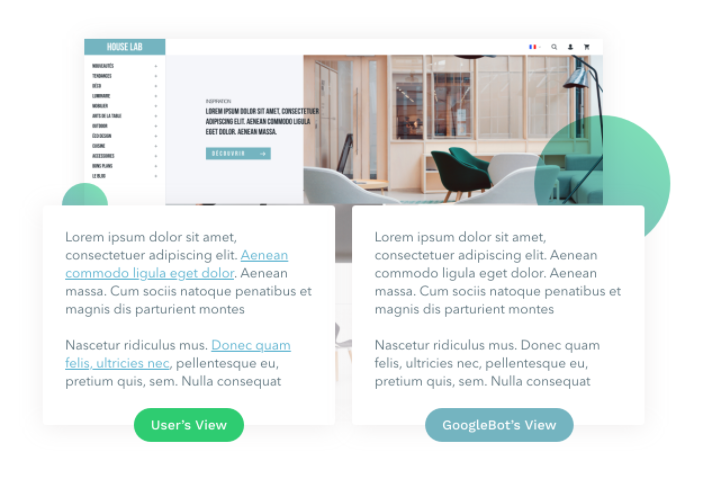 For example, it is interesting to obfuscate your links to the shopping cart and your customer accounts because even if your store needs these links to operate, these pages are not interesting in terms of SEO power.
The different link obfuscations available
You can obfuscate your links via two sections:
Via the SEO > Link Obfuscation tab, it is possible to obfuscate all of your links towards or coming from a specific page.
☝️ Good to know
Obfuscation is not compatible with the AMP format. If you want to use this feature, you will have to disable the AMP format on your store. See our tutorial on The AMP format
Obfuscate your links via the Configuration tab
Head onto the SEO > Link Obfuscation
In this section, you can modify the :
Visibility of links to shopping cart and account

Visibility of links to social networks

Visibility of links in column 2 of the footer

Visibility of links to the "reviews" page
To obfuscate your links, select Obfuscate on all pages or Obfuscate on all pages except the homepage.
Obfuscate individual links via the WiziBlocks system
You can choose to obfuscate one or several links using the WiziBlocks system available on your homepage and Pages + configuration.
Link obfuscation is available on each of our WiziBlocks where a text field is available:
Text with background image
Image and text
One or several texts
Form
Product list (title only)
Product zoom (title only)
Elements of reassurance
Newsletter
Testimonials
Quote
Countdown
Code
FAQ
Once your WiziBlock is selected :
You can simply add your text and select it to add your link.
In this same section, you will be able to obfuscate that link.
Thus, you can obfuscate as many links as you want via your WiziBlocks using this method.
☝️ Good to know
Link obfuscation follows all the rules required by search engines. The pages remain unchanged for the user and for the search engines. This SEO technique does not mislead the robots by any means.
👉 Resources
URL obfuscation in SEO: Definition, advantages, and WiziShop feature
💬 Feel free to contact your Business Coaches if you have any questions!