Would you like to offer in-store pick-up to your customers?

Go to the Configuration section > Manage my delivery options, then click on Add a delivery option. Then go to the Click & Collect tab and select the Click and Collect option.





Then fill in the requested information in the module (title, description, etc.):


Use "Click and Collect" or "In-store pick-up" as the title, for example.
Fill in the countries where this option is available:


Please note that you can limit this delivery method to certain postal codes, in order to only offer collection to certain areas.





To do this, you just need to fill in the dedicated field, adding the postal codes concerned by this delivery (separated by a semi-colon). Example: 06000;06100;06200;06300;06340
Only customers who have entered this postal code in their delivery address will be able to choose in-store pick-up when they place an order. (see tutorial: How do I limit my delivery to certain postal codes?).


Method of calculating shipping costs



If you offer free on-site pick-up, simply check the box "This method is free".

Note: Once your module has been saved, it will no longer be possible to change your method of calculating shipping costs. Don't hesitate to double-check the information you entered. If you need to change the way your shipping costs are are calculated but you've already saved your changes, you'll need to delete this delivery method and recreate it.


Applying on-site pick-up to your products

This is where you will define the scope of in-store pick-up on your catalog:





Note: If you've got a lot of products and you only want to exclude a few products from your Click and Collect catalog, don't hesitate to go directly through your product list to dissociate the products concerned more easily: How do I add or remove a delivery method for several products?


Delivery times

You can then define the period during which the product will be available for collection in store




Note here that the calculation is done in working days, weekends and public holidays are not taken into account: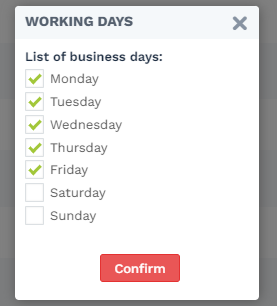 By clicking on "working days", you can include Saturday and Sunday if your delivery method so requires.

Adding the logo

Here, you can customize the Click and Collect logo if you so wish (note that each module has a default logo).




Tax settings

Define the VAT applicable to your delivery method here




Free service settings

If you want to charge for on-site pick-up, here you can define whether you still offer a free service from a certain purchase amount





Once all of this information has been entered, click on the Save delivery option button:




💡 Good to know:
This mode will not be displayed in your customer's shopping cart reminder (screenshot below).
It will only appear when the order is confirmed, when choosing the delivery method and payment method.


Promote your Click and Collect service

Don't hesitate to highlight the fact that you offer on-site pick-up via:

💬 Feel free to contact your Business Coaches if you have any questions!