Packlink Pro is a centralized management tool for parcel shipments that allows you to compare carriers' rates. To set up Packlink Pro on your store, go to the heading Settings (cogwheel) > Manage my delivery options, then click on Create your account in the Packlink Pro module.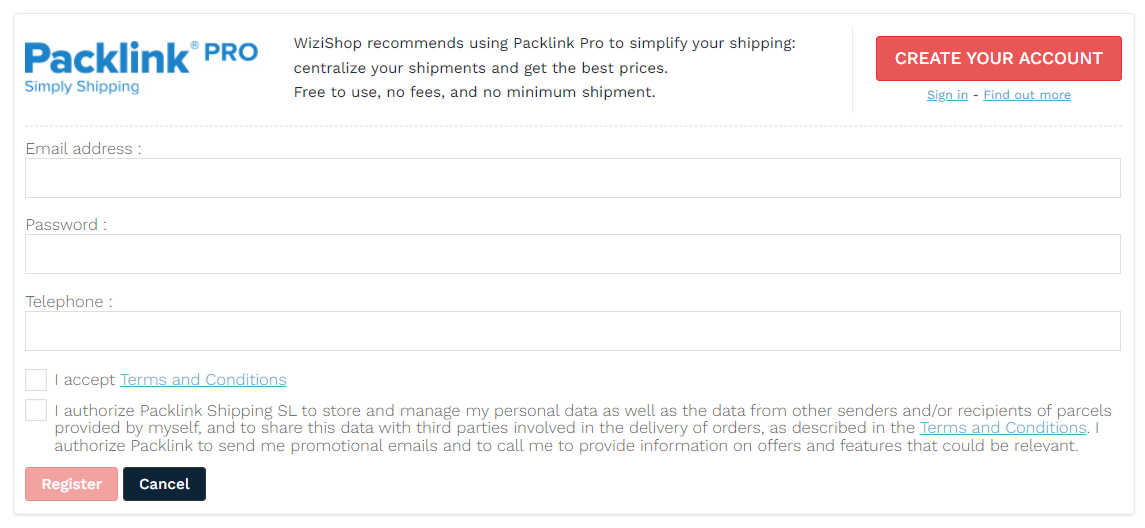 Fill in your email address, a password and your phone number. Then check the boxes to accept the terms and conditions and the privacy policy, and click on Register. You will then receive a link by email to log into your Packlink Pro account.
Now all you have to do is decide which carriers you want to work with. The Packlink Pro Help Center lists in detail the services and options offered by each carrier:
Do not hesitate to contact Packlink's support for any question related to the carriers.
Once you have made your choice, simply set up the chosen carriers on your store. Go to Settings (cogwheel) > Manage my delivery options, and click on Add a delivery option. In the Packlink Pro tab, select the first carrier you want to add (you will have to do the following operations for each carrier):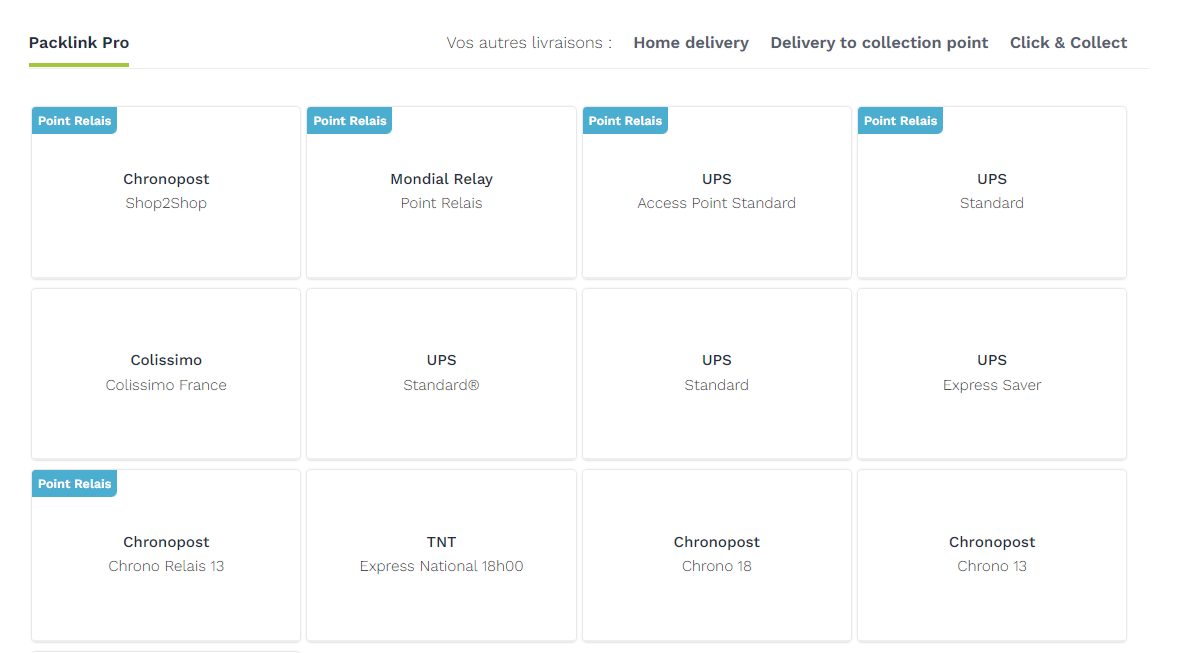 Next, fill in the requested information (title, description, etc.):


Enter your carrier's name as a title
Fill in the carrier code if required (this field is optional, it is only used if you sell your products through marketplaces. It allows marketplaces to know which delivery option to associate with each product, in order to give it a reference number)
Write a short description of your delivery option (and add the average delivery times and applicable shipping fees, for example)
Select the country or countries of delivery
If you only offer delivery to one country and want to limit delivery to certain areas within that country, list the corresponding postcodes
Next, specify how you calculate your shipping fees:
Select which of your products will be delivered by this carrier:
Note: If you have numerous products, and there are only a few that you don't want to ship using this carrier, apply the delivery method to all your products, and then go through your list of products to exclude them from this specific delivery option: 👉 Add or delete a delivery method from several products
Set your shipping time, and choose whether it will be displayed in your ordering process and in the order confirmation emails:
💡 The delivery time calculation is based on business days. Weekends and bank holidays are not included.


Click on "business days" to include Saturday and Sunday if needed.
You can customize the logo of your delivery option (each option comes with a default logo).
Next, specify the applicable VAT:
Then, choose whether you offer free delivery over a certain purchase value:
Next, click on Set up shipping costs and specify your price brackets. We recommend that you base these on Packlink Pro's rates.
Repeat these settings up for each Packlink carrier you want to use, and your set-up is done!
The orders completed with these new carriers on your store will automatically go through to your Packlink dashboard, and you will be able to process them directly on your account.
👉 Learn more about managing shipments with Packlink.

💬 Feel free to contact your Business Coaches if you have any questions!