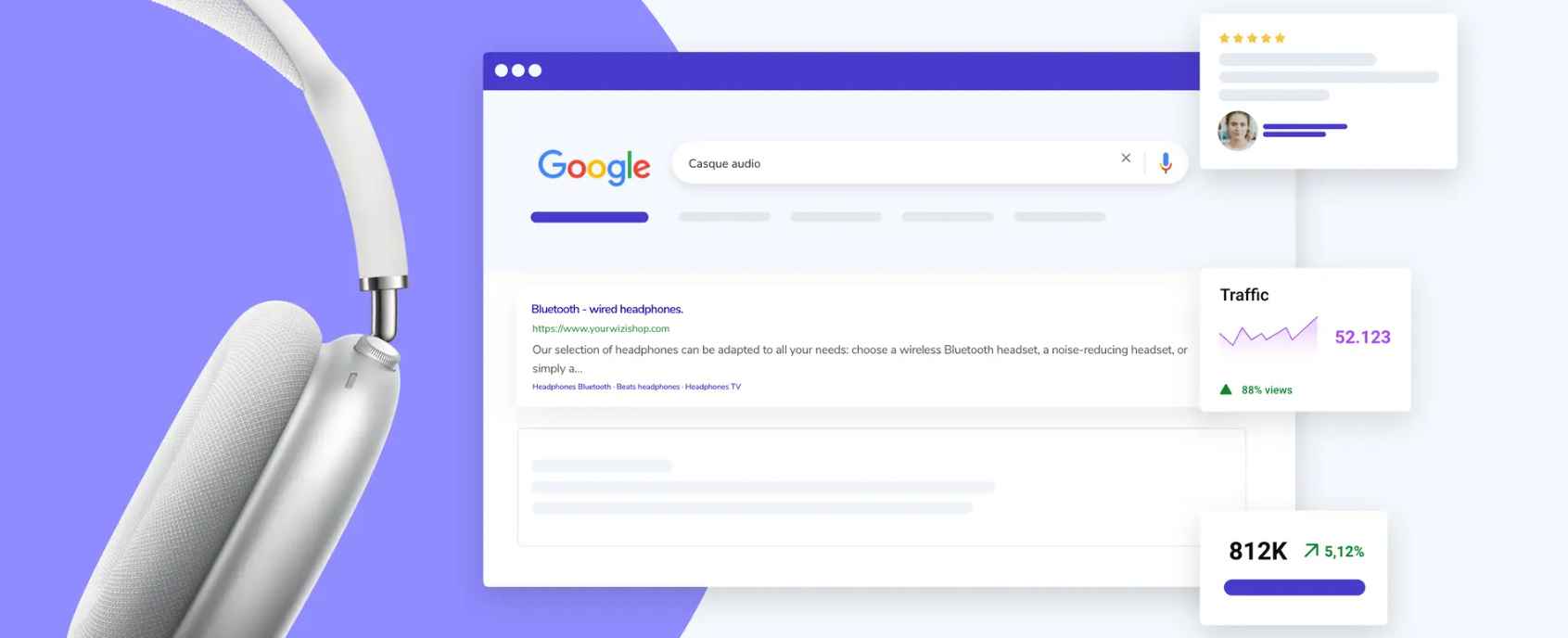 We will explain here how to validate the ownership of your site on Google Search Console and submit your sitemap.
This manipulation aims to optimize your visibility on search engines and to accelerate your entry.
To follow the steps of this tutorial, connect to your Google Search Console account, or create an account at Google if you do not already have one.
👉 Access your Google Search Console account
Validate your ownership on the Google Search Console
Step 1: Link your store to your Google account
Once signed in to your Google account, go to the Search Console. In the type of property, select URL prefix and enter your store's URL.
☝️ Good to know
To find your URL on your administration area, click on the View my website button in the top right corner.
Step 2: Get the HTML file name
Once your domain name has been pasted into the Search Console, you'll be offered various verification methods.
We will choose the HTML file verification method.
Download the HTML file by clicking on the button.
Once you've downloaded your file, open it. Copy the googlexxxx element, without the .html.
Step 3: Activate Google Search Console on your administration space
In Settings > Tags & external services, click on the "Activate the service" button of the Google Search Console module.
Activate the module and paste your file into the Name of the page field.
Then simply click outside the entry field to validate (no button here).
Step 4: Validate your ownership on Google Search Console
Back on the Google Search Console, click on the "Verify" button. Your store is now linked to your Google Account! Note that data processing time is necessary, you will have to wait a few days here before seeing the data sent by Google.
☝️ Good to know
If you encounter an error message when validating your store ownership on Google Search Console.
This is due to the fact that Google's services take longer than expected to retrieve the HTML file at the root of your site.
It is therefore necessary to wait a few days (72 hours at least) and validate the property again so that Google does what is necessary.
This is not at all problematic for the proper development of your store and to begin to make you known.
Submit your SiteMap file to Search Console
The sitemap is a map of your site containing all the pages with an order of priority. It is a file that search engines consult regularly to get a complete view of your site and index new pages. It is therefore a very important element to improve your natural referencing, since you will directly help Google to know your store better.
By default, our solution automatically creates a sitemap file updated in real time and available from the root of your domain name. It is presented in this form:
https://www.nameofmystore.com/sitemap.xml
Once your site is verified, go to the Sitemaps tab on your Google Search Console account.
In the section "Add a sitemap", simply fill in /sitemap.xml and click on "Submit".
☝️ Good to know
The recording of your data can take several days, and it is possible that your Search Console temporarily displays the message "Unable to retrieve the sitemap".
💬 Feel free to check out the dedicated Google help section if you encounter any difficulties.