If you have already reserved your domain name with another registrar (Gandi, 1&1, OVH, LWS, etc.), here's the procedure to follow.

In the tab Your domains names, from Settings >Domain name, click on Add a customized domain name.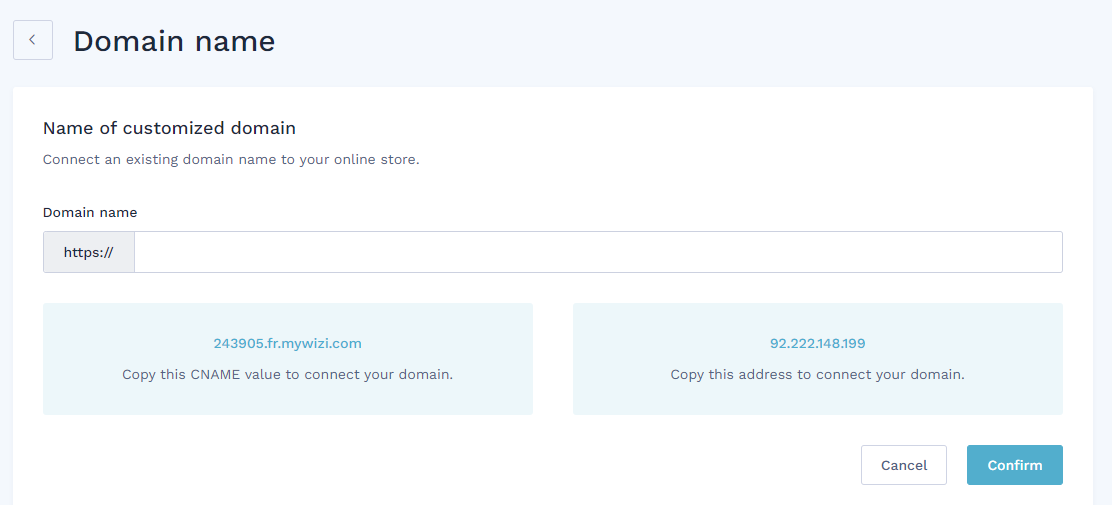 In this pop-up, it is important to remember:
1️⃣ Your Shop ID, which is the number before .en.mywizi.com
2️⃣ Your IP Address, which you might have to enter in your A type entry

Settings with your registrar
Ask your registrar to apply a CNAME to www, which will be in the following format : "xxx.fr.mywizi.com." ("xxx" is to be replaced by your Shop ID, the period at the end is often required). This configuration can be done by you if needed.
This configuration is often found in a "DNS" or "DNS Zone" section. To apply a CNAME, it is sometimes necessary to go through the advanced options.
The line you need to find should look like this:
www CNAME xxx.fr.mywizi.com. (xxx to be replaced by your Shop ID)
Finally, also consider setting up a permanent web redirect from the domain name (without "www") to the domain name (with "www") if this is necessary according to your registrar.
Once this configuration is done, you have to wait at least 2 hours for it to propagate on the Internet (so that all servers register the change).
Configuration in your WiziShop administration area
In the Your domain names tab, click on Add a customized domain name. The customization of the domain name is automatically registered. Allow between 24 and 48 hours for it to take effect.
Enter your domain name in the field as follows: www.myonlineshop.com

💬 Don't hesitate to contact your Business Coaches if you have any questions!