Are you going to favor certain categories rather than others in order to provide a clear and simplified rendering? Or organize your products into different categories and sub-categories, in order to be as specific as possible and best guide your visitor?
These are questions you should ask yourself before setting up your store.
If you want to simulate a 3rd level of category or have the enriched menu, the article reserved for the enhanced menu is accessible here
General points
The organization of your menu must be thought out in advance. For example, you can diagram the tree structure of your menu on a separate piece of paper or file. The idea is to put yourself in the shoes of the visitor to your website and imagine how they will navigate your store, as they would for example in a physical store.
💡 Useful tip
Mindmeister can be a very good thinking aid
Create a primary or secondary category
Go to the Products section > Categories:
Here you'll access the main page for managing your categories with 3 tabs.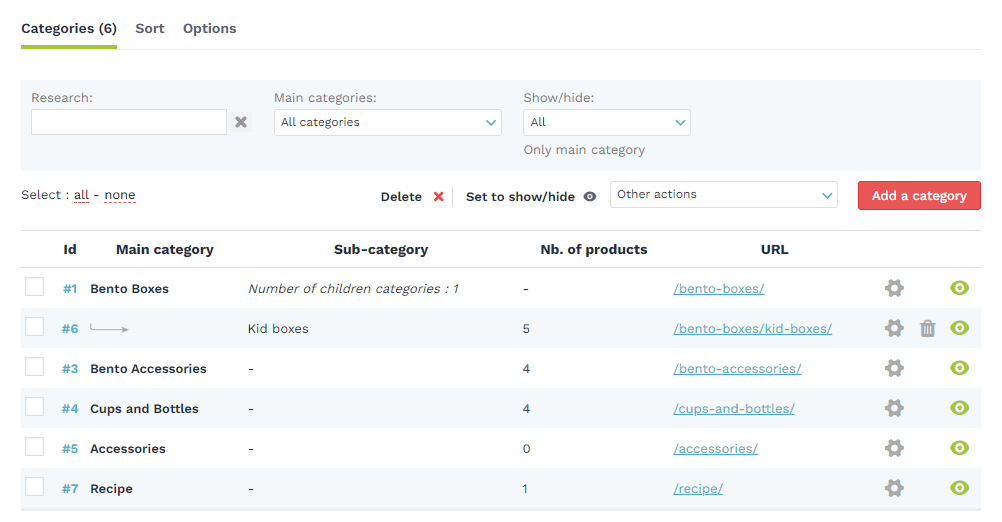 Categories: lists all your categories in order to modify them, to make them visible/invisible
Sort: change the order in which they are displayed on your store
Options: lets you determine the number of products displayed on your category page on the store
To create a new category, click on "Add a category"
This is where you will enter the category name.
You have two choices:
Create a primary category
Simply click on the OK button to create a primary category.
Create a secondary category
Click on the drop-down menu to select its parent category. The created category will then become a secondary category associated with the primary category you have selected.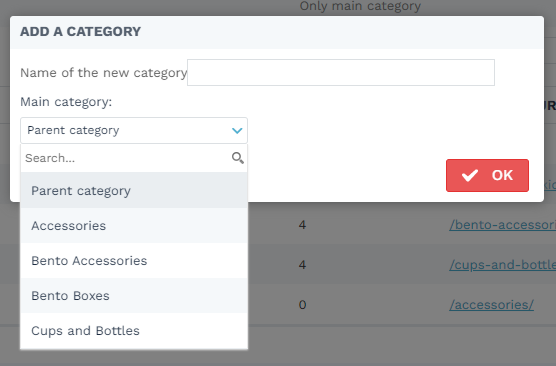 How do I make my categories visible in my store?
In order for a category to be displayed on your store, a product that is 100% complete and with "Display" status must be associated with it.
How do I customize a category?

From the category management page, click on the cogwheel next to the category concerned.



You can add different blocks of text and/or image to highlight your category. This will improve its SEO and make your category page more attractive.



The advanced options will allow you to modify the name of the category, its association with a primary category, as well as its meta-description.

How do I sort my categories?

You have the option, via the dedicated tab, to determine the display order of your categories.

Set the number of products displayed

The last "Options" tab will allow you to determine the number of products you want to display on the category page. This number must be between 5 and 40.





💬 Feel free to contact your Business Coaches if you have any questions!