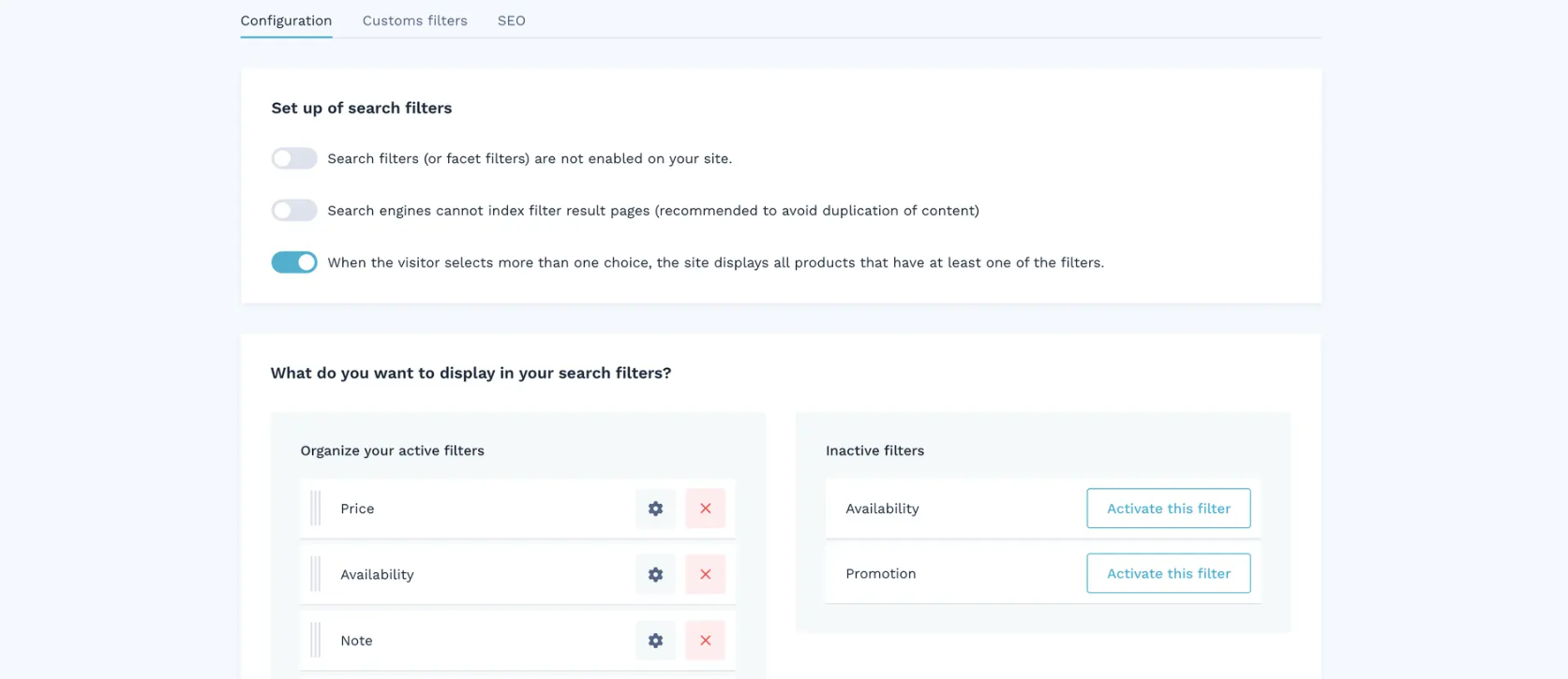 With the search filters, your clients can filter their searches according to numerous predefined criteria:
Price
Brands
Categories
Availability
Scores
Discounts
etc.
These filters, when associated with predictive research, allow you to double your conversion rate depending on the products you sell.
Your clients will be able to find a product easily and speed up their research. You will give more depth to your product catalog, and it may help you sell products that were not until now visible enough on your store.
You can activate the option on your store via Settings > Predictive research & Filters.
Setting up filters
For default filters, you have nothing to do, your products are automatically classified by price, brand, availability, etc.
Only the filter "Price" can be configured. You can edit it, after activating it, by clicking on the Settings button (cogwheel)
You can also create customized filters. To do so, go to Your custom filters tab and :
click on Add a filter
When your filter is created, click it to open and enter the different values that will later be linked to the corresponding products
The last step consists on applying the filter values to your products. There are two methods:

Method 1: Via the menu Other actions > Apply a search filter in the product list.
Method 2: Via the product page, in the Information > Search filters tab
You can at any time choose to activate or deactivate a filter.
Filters and SEO
Search filters should be used with caution when it comes to SEO. They create thousands of different URLs that do not add any real value and often propose a lot of duplicated content, that Google visits instead of focusing on your important pages.
To make sure that using filters does not create difficulties, these pages are not indexed on our solution.
☝️ Good to know
Depending on the offer on which you operate, you can set up:
2 filters in a Standard plan
8 filters in a Pro plan
20 filters in an Advanced plan
💬 Feel free to contact your Business Coaches if you have any questions!