In this tutorial, we'll see how to add and configure a payment option.
Go to the Settings > Add my payment (or Manage my payments if you already have one configured)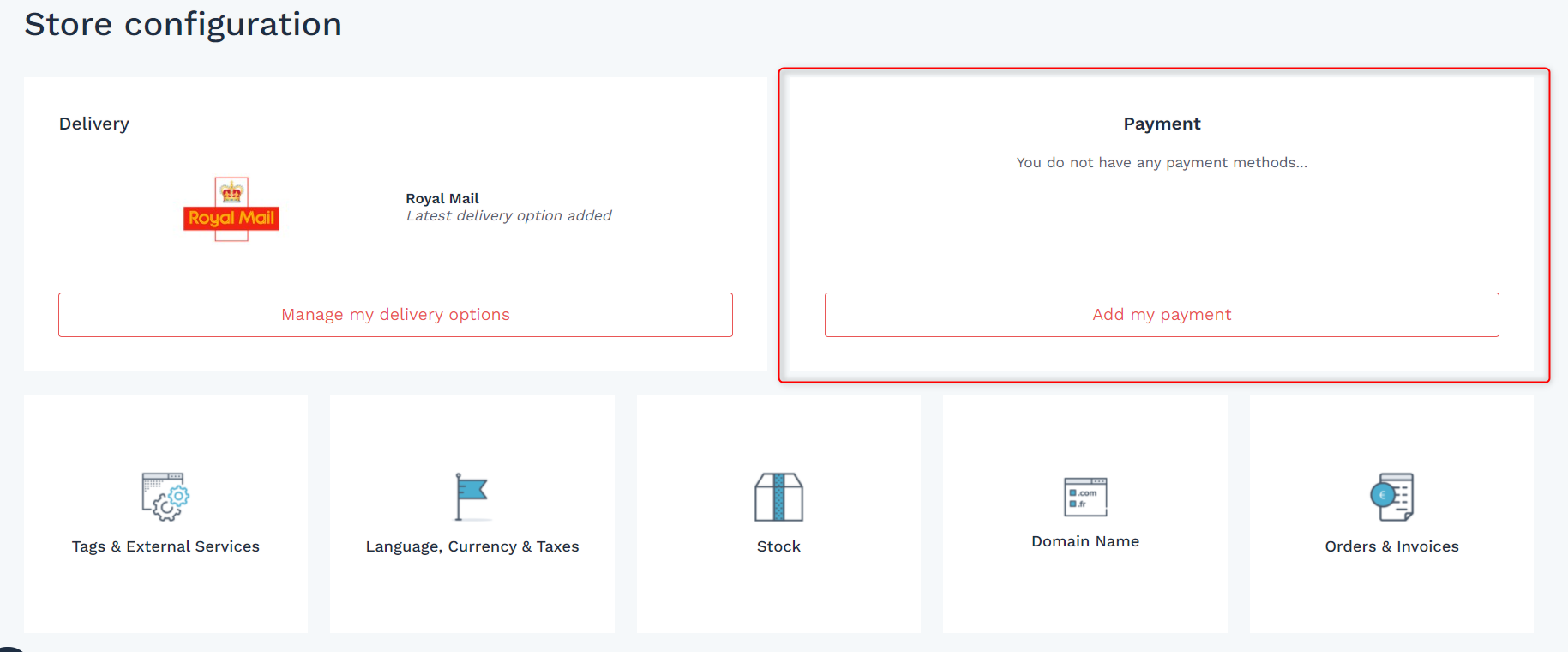 You will find here the payment methods recommended by WiziShop/Dropizi ( 1 ) and the ones you have already configured, if already configured ( 2 ) :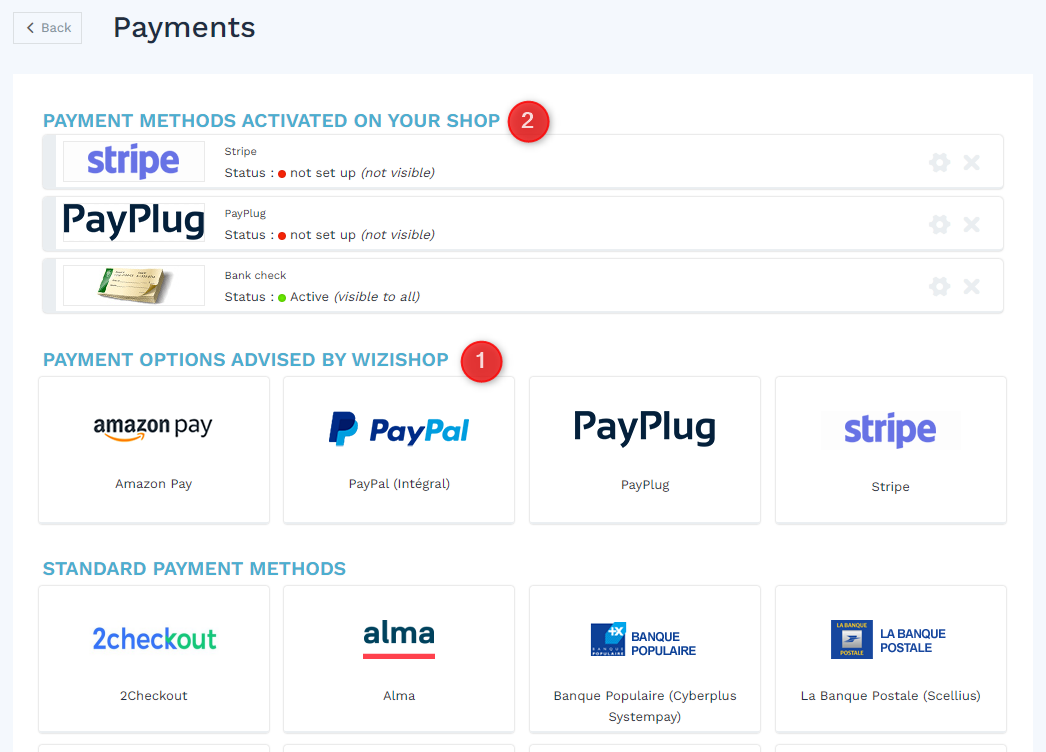 In each module, you will a blue box with the information to proceed to the payment method configuration:


The information requested below the box (secret key, API keys, etc.) will be communicated to you when you take out your contract with the payment solution you have chosen.
💡 Some payment methods may ask you for direct access to your store to perform tests. If your store is not yet open, you can give them specific access to your administration area: 👉 How can I give specific access to a partner?

For this tutorial, we will use the payment method Payplug, a French credit card payment solution, as an example. (You can view the list of our other payment modules 👉 here)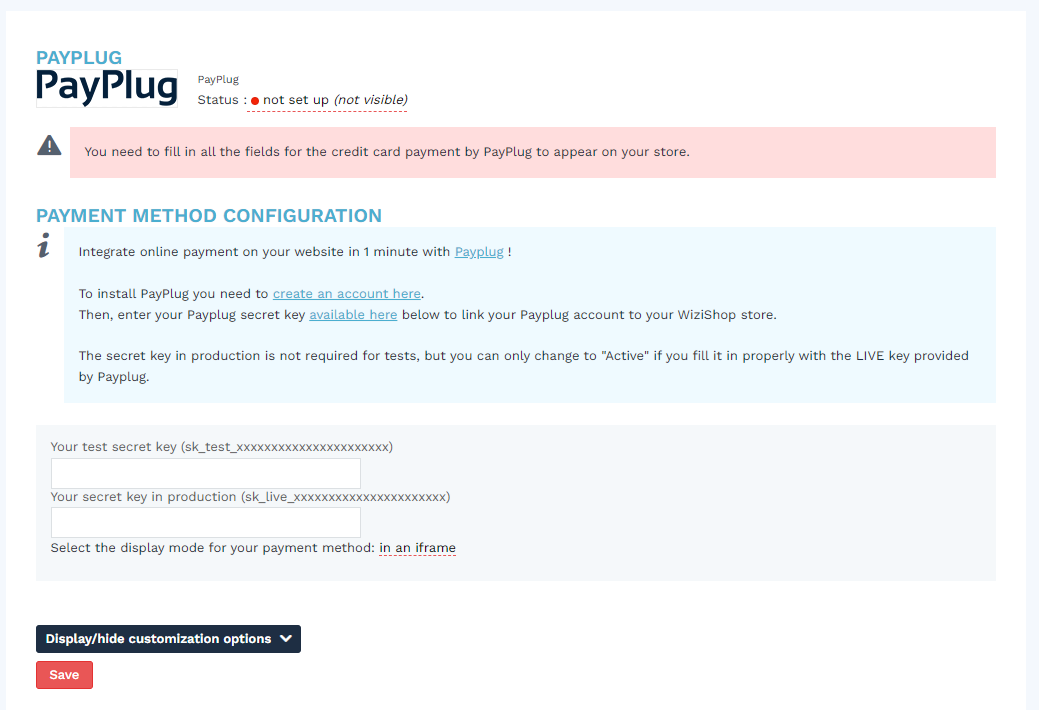 Each payment method has 3 statuses:


active (visible for everyone)
under test (visible only to you when you are logged in to your administration)
not set up (not visible)


Once your payment method has been configured, it will automatically switch to test status. Once your payment tests are done, you will then have to manually switch it to active status.

⚠ Please note, if you have not activated your payment method, your customers will not see it and will not be able to use it to order.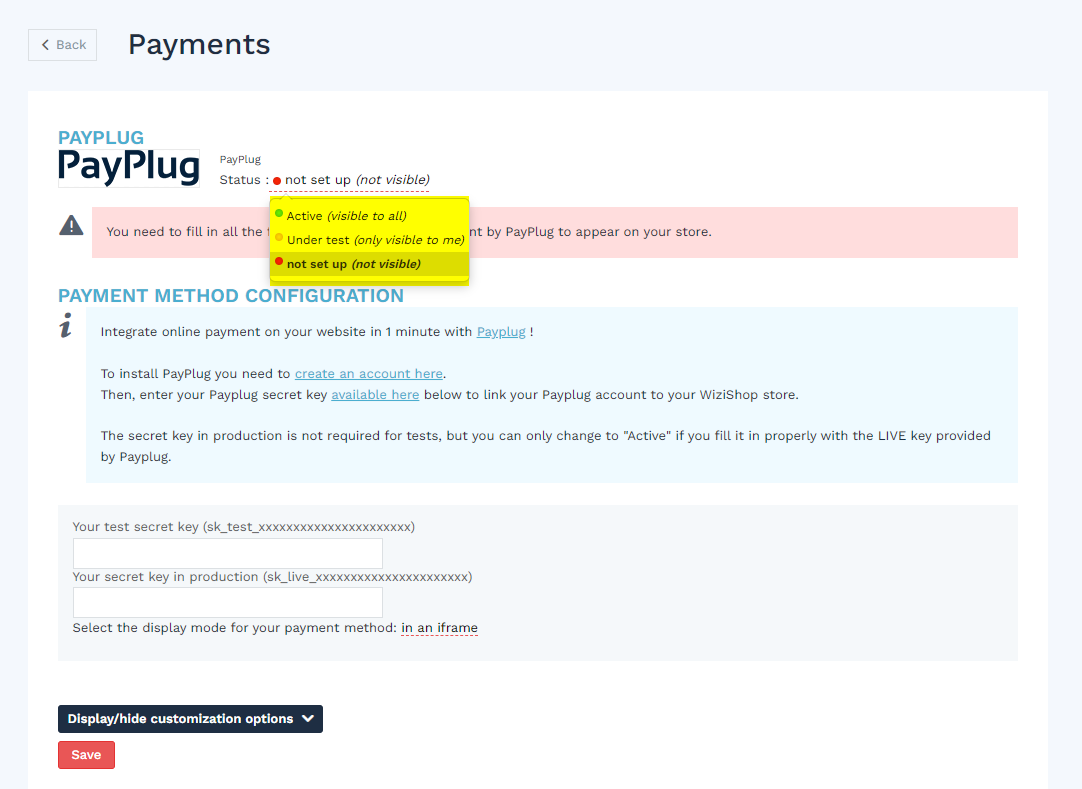 In each payment method, customization options will allow you to:


1️⃣ Modify the title of the payment method in the ordering process
2️⃣ Add an image to illustrate your payment method (such as bank card logos: CB, Visa, MasterCard, etc.)
3️⃣ Add an additional message (optional) in the order confirmation
4️⃣ Define a specific cost for using the payment method (overcharging). This can be used in case you want to favor your other payment methods.
5️⃣ Define a range of amounts to display this payment method (example: between €100 and €500)
6️⃣ Choose which countries to apply this payment method to
7️⃣ Choose the status that will automatically apply once the order has been confirmed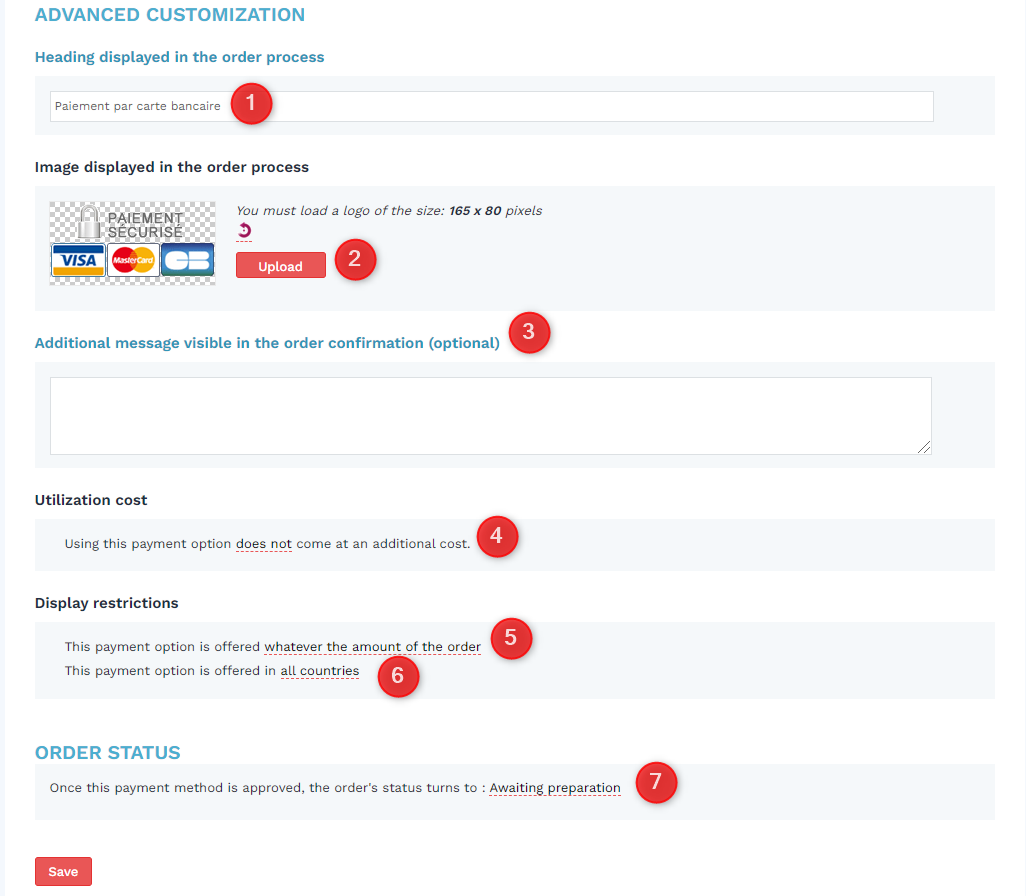 Customer side (front-office)
Upon confirmation of the shopping cart, we find the information 1️⃣ previously configured in your administration area, i.e. the title of the payment method, and the information 2️⃣, the image entered for this payment method.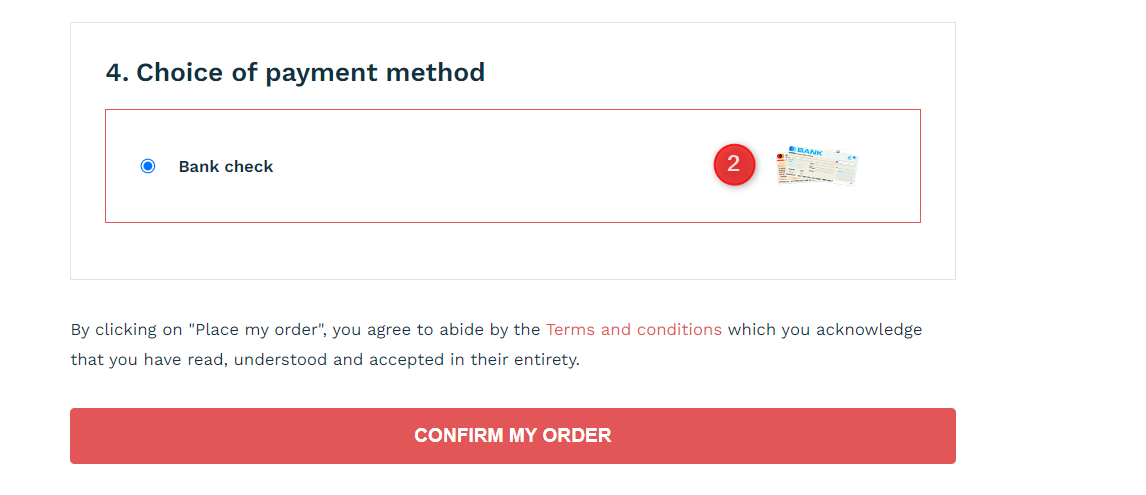 ✋ Smart Checkout payment methods (PayPlug and Stripe, in particular) will only show your logo when the module is collapsed (not selected by your customer):

When selected, the logo will not be apparent: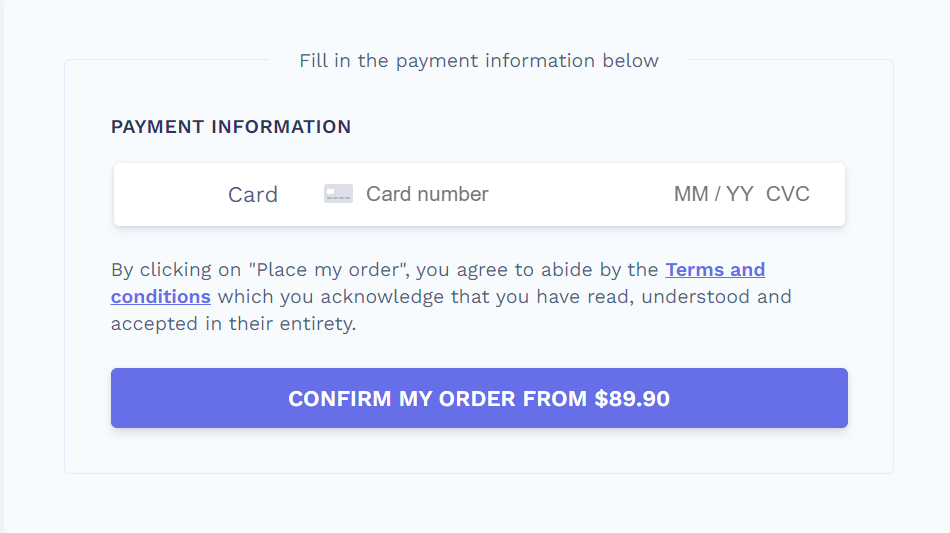 The information 3️⃣, i.e. the additional message, will be found in the order confirmation that your customer will receive, once their purchase has been finalized.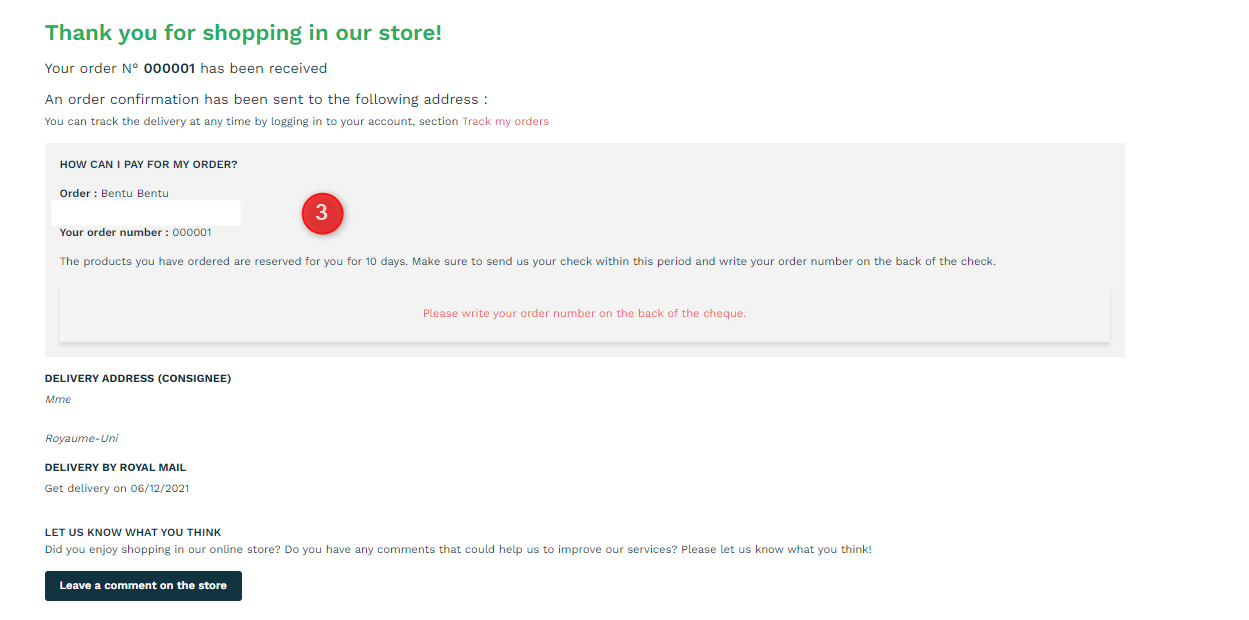 In Configuration > Manage my payment options, you can 1️⃣ put in order, by dragging up or down, 2️⃣ edit or 3️⃣ delete a payment method (see image below):


Note that in addition to these payment methods mentioned in this tutorial, you can find all our available payment methods such as Paypal and Hipay in your payment methods.

💡 I add Paypal as a payment method
💡 I add Hipay as a payment method

FAQ: How do I receive the money for my orders?

When you receive an order, you can check which payment method has been used:



In this example, the order was placed via Payplug.
You must go to your Payplug account, to which the order money has been credited.
👉 Find the list of all the proposed payment methods

💬 Don't hesitate to contact your Business Coaches if you have any questions!