Viva Wallet is an entirely cloud-based European neobank that allows you to accept credit card payments and payments via Google Pay and Apple Pay. The solution welcomes many types of online businesses, from clothing stores to CBD shops.
Useful links
👉 In which countries does Viva Wallet operate?

Setting up Viva Wallet
To set up your Viva Wallet module, the first step will be to create an account on the solution. Fill in all the information requested in the signing up process :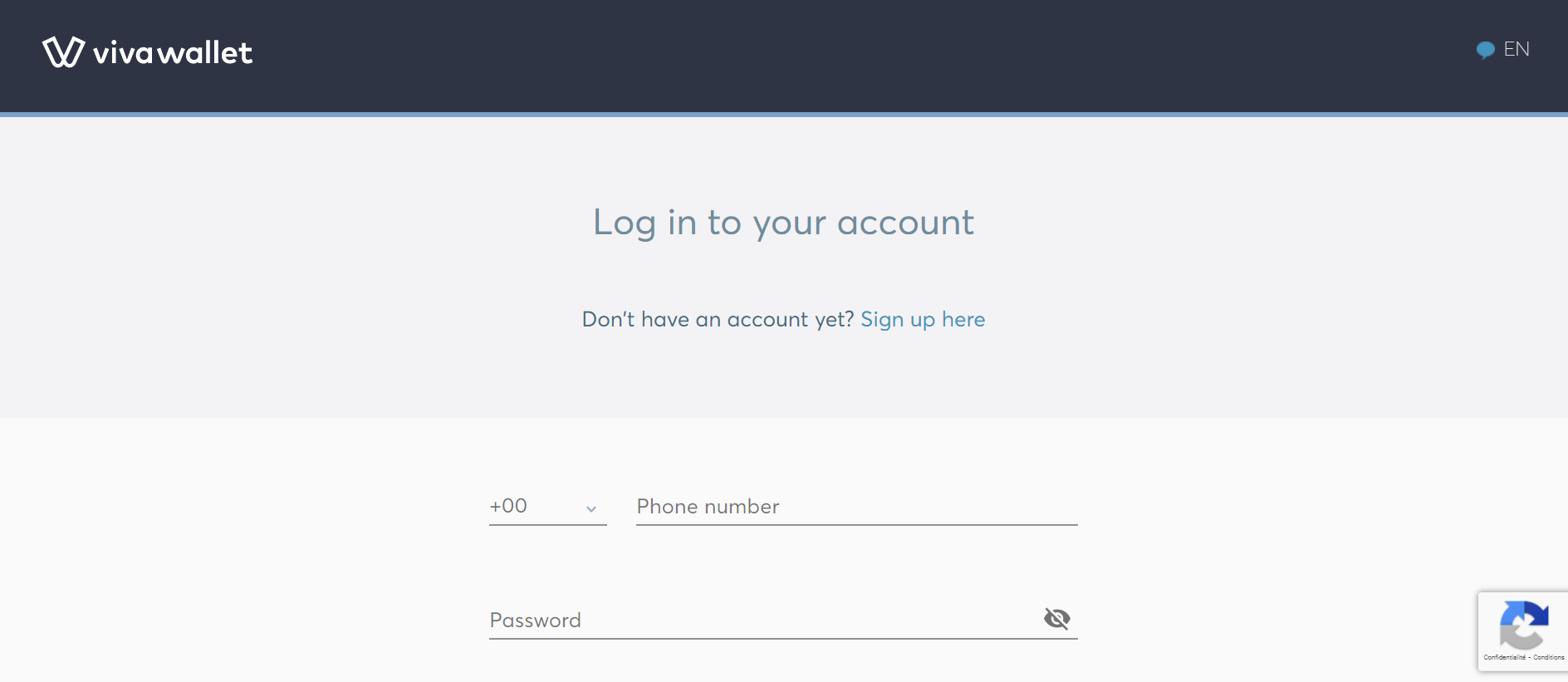 Once your account is created, you receive a confirmation email: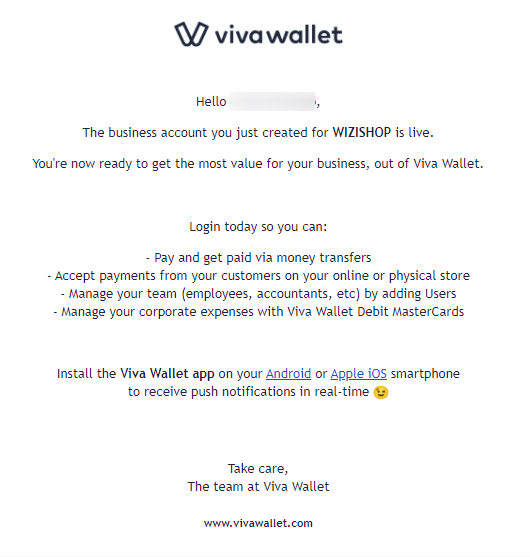 To set up Viva Wallet more easily, we recommend that you open 2 tabs on your browser: one tab with your Viva Wallet dashboard, and another tab with your WiziShop administration area. On WiziShop (second tab), go to your Viva Wallet module: Settings > Manage my payment options > Viva Wallet, and keep it open.
Go back to the first tab, and in the side menu of your Viva Wallet dashboard, go to the Sales > Online payments > Website / Apps section.
In the top right corner, click on Add Website/App :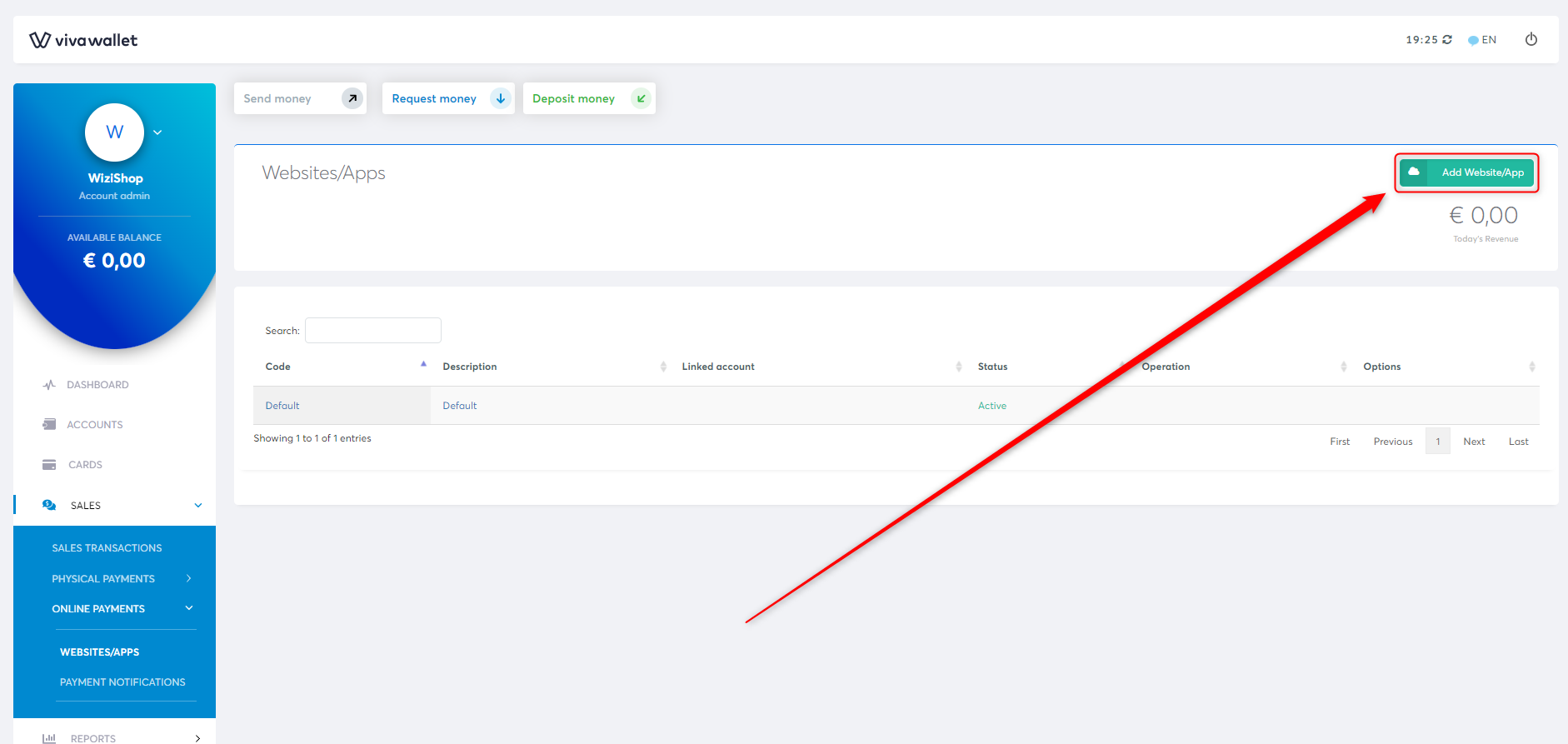 Fill in the information as follows:
Code: Do not edit it, but write it down. It will be used in the next step.
Source name: Name of your store
Protocol: HTTPS
Domain name: ssl.wizishop.com
Integration method: Redirection/Native Checkout v2
Company logo: Your logo, in PNG format
Success URL: see on WiziShop *
Failure URL: see on WiziShop *
* To find your success and failure URLs, go to WiziShop in your second tab. Your URLs are in the blue box (be sure to remove the space before the URL in your copy-paste):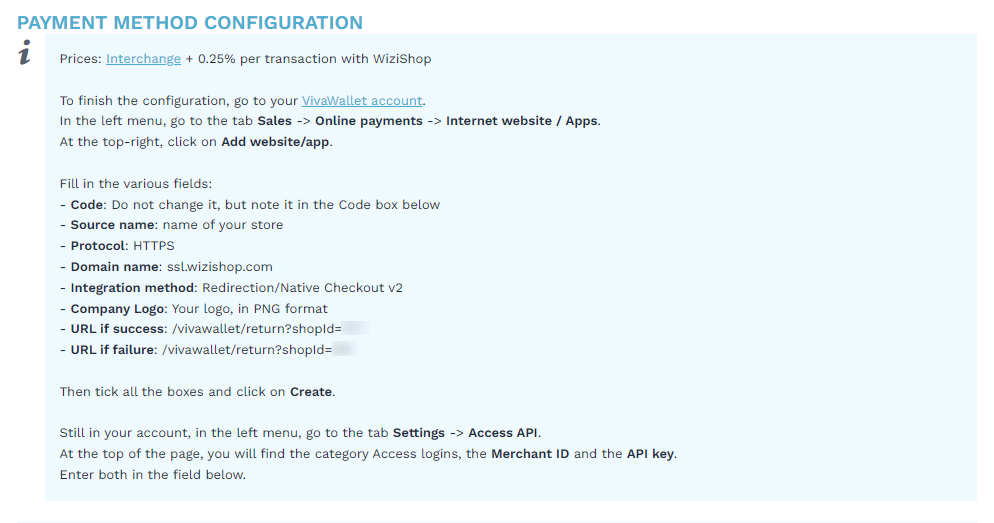 Once your URLs are pasted in Viva Wallet, check all the boxes of the form and click on Create.
Now in the side menu, go to Settings > API Access at the bottom of the page:
In the General tab, Access Credentials section, copy your Merchant ID and API Key.

Now go to your Viva Wallet module in the WiziShop administration area (Settings > Manage my payment options > Viva Wallet). Paste your merchant ID, your API key and the code given above in their respective fields:

Once your module is Under test (visible only to me), you just have to switch it to Active (visible to all):

That's it! Your payment module is now live on your store!
☝️ Good to know
Viva Wallet does not offer any testing environment on its production accounts. This means that once set up, your account is immediately active and ready to receive payments. If you want to perform payment tests on your store before setting your Viva Wallet module as Visible to all, it will be necessary to create a dedicated test account on Viva Wallet. Once your payment tests are done, you can switch back to your production account.
Setting up local payments with Viva Wallet
You have the possibility to adapt the payment methods according to the location of your customers.
This payment method will be suggested to your customer and will be based on their billing country.
There are several benefits to integrating local payments with Viva Wallet.
First, it can help simplify and facilitate transactions for your customers by offering them a range of popular and commonly used local payment methods.
It can also help improve the overall customer experience, by allowing them to choose the payment method that best suits them. In addition, integrating local payments can help you increase sales by making your products and services more accessible and attractive to local customers.
To configure local payments, you need to create a webhook on your Viva Wallet dashboard.
Here are the steps to follow:
In Settings > API Access, go to the "Webhooks" tab.
Click on "Create a Webhook".
In the text field, fill in the following URL: https://ssl.wizishop.com/vivawallet/notif-IDSHOP remembering to replace IDSHOP with the ID of your store that you can find on your administration space in the blue box of the Viva Wallet configuration: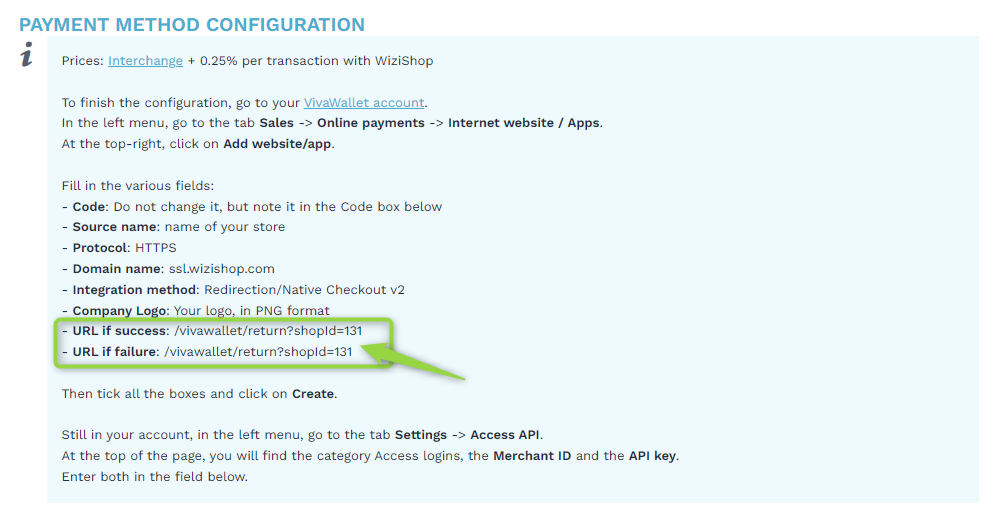 Then check the "Active" box and choose "Transaction Payment Created" for the event type and click "Save"
Here are some examples of the payment methods offered for each country:
BitPay: All countries
EPS: Austria
Blik: Poland
Giropay: Germany
iDEAL: Netherlands
Klarna: Austria, Belgium, Denmark, Finland, France, Germany, Greece, Italy, Netherlands, United Kingdom, among others
Mutlibanco : Portugal
Do not hesitate to contact the Viva Wallet customer service for more information on the different payment methods offered.

💬 Feel free to contact your Business Coaches if you have any questions!