What is an enhanced menu?

The enhanced menu is a function that is exclusive to WiziShop. It enables the creation of comprehensive browsing menus that combine categories, images, links and information pages.
To set up your enhanced menu, go to your administration area in Appearance > Enhanced Menu and activate it.



The enhanced menu will enable you to format your menu with tabs. You will be able to simulate up to three levels of categories.

The advantage of having three-category levels

Let's take a kitchenware store as an example. With an enhanced menu, you can create three category levels.
1st level (tab): Boxes
2nd level (category): Bento boxes
3rd level (sub-category): Kids boxes
Your menu remains light, and your visitors are able to browse easily.


Setting up the enhanced menu
Start by adding your various tabs one by one using the button provided.
Give the tab a name
If you wish, you can make the tab clickable and link it to the URL of your choice

Example: You want to make your tab clickable and group all the products in your Boxes categories in one tab :
Select all the products associated with the desired hierarchy
Couple them with your new "Boxes" category
Create a tab with the name of your category and enter its URL




Setting up the enhanced menu tabs
In each of these tabs, you can create up to 4 columns to :
Add a category and its existing sub-categories
Add a previously created information page
Add an image from your image manager
Add a link


If you add an image, you can choose to make it clickable by adding a link :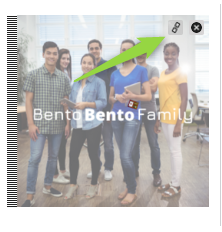 💬 Feel free to contact your Business Coaches should you have any questions!