The quality of your visuals is essential for your store to be attractive. Beautiful and well highlighted visuals will make your visitors want to stay longer on your store.
How do I find copyright-free stock images?
It is essential that the visuals you publish on your store should be copyright-free (if they are not your own). There are numerous banks of copyright-free images where you can find pictures to create your visuals.
⭐ Pixabay
⭐ Unsplash
⭐ Pexels
⭐ Negative space
⭐ Foodiesfeed
⭐ Picjumbo
⭐ Splitshire
⭐ Gratisography
If you are looking for icons, Flaticon is what you need !
👉 Read also : Finding great ecommerce images for your online store in 2021: top 5 methods
How do I customize my images and create visuals for my store?
Visuals on your homepage
Canva is a free online tool that helps you customize your visuals (👉 Canva : create a custom visual).
For an optimal display on your store, be sure to follow the recommended sizes given in your administration area.
Photos of your products
Photos of your products are also very important as they show your potential clients the products you are proposing. 👉 Your product must be highlighted.
Your logo
Your logo represents you. It is your visual identity and should be carefully thought out. 👉 Here is a tutorial to create your logo.
How do I know the correct sizes for my visuals?
With WiziBlocks, you have numerous options to highlight your visuals on your homepage.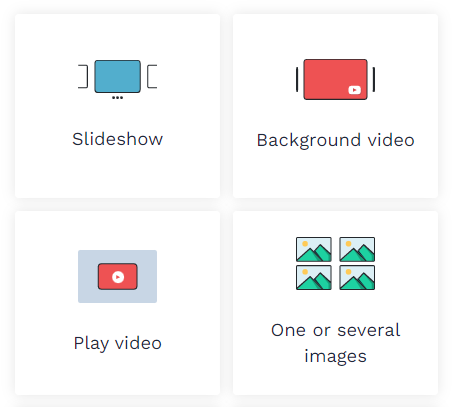 Every time you add a block with an image, the recommended size is given in pixels :

When you create your personalized visual with Canva, you can define the exact size of your block so that the visual perfectly fits. Be creative!

💬 Feel free to contact your Business Coaches if you have any questions!