Simply and quickly increase conversion on your store by offering promotional codes!
To create your first promo code, go to Marketing > Manage your promo codes in your WiziShop administration area, then click on Create a promo code.
3 sections will allow you to adjust every parameter of your promo code : main information, code settings and common options.
The sidebar on the right recaps the settings of your promo code and its statistics: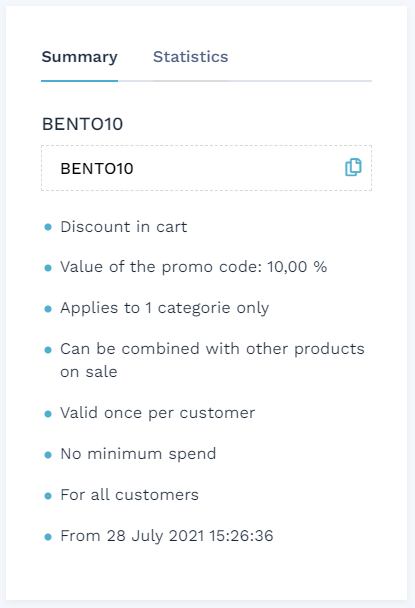 A button will also allow you to copy it in your clipboard: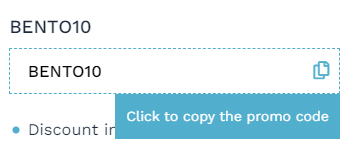 Set up your promo code
Main information:
The first section allows you to set up your promo code's main information: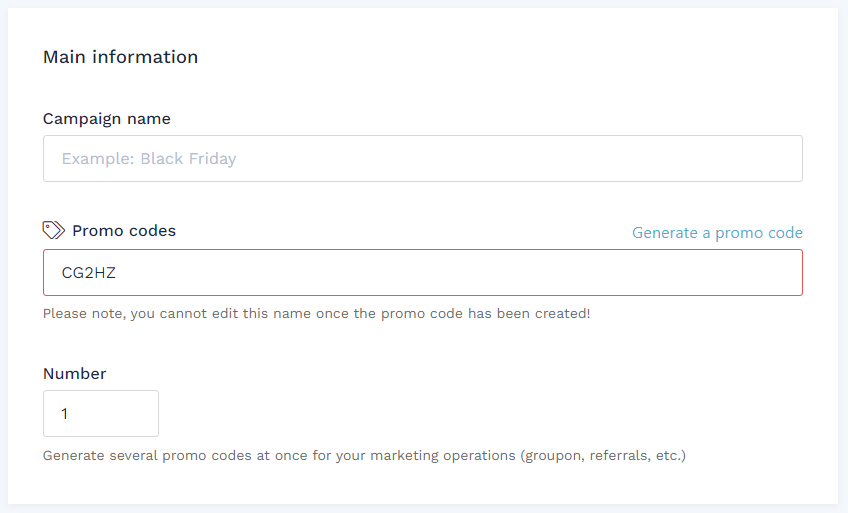 Here, you will enter the Campaign name of your promo code, or set of promo codes if you are creating several. Only you will see this name. You can name it after the occasion for which you are creating it, for example (winter sales, Mother's Day, etc.). This name will only be visible for you.
The next field is the name that will show on your store (Promo codes), the promo code itself that you will communicate to your clients. If you lack inspiration, feel free to use the automatic code generator on the right side of the field.
You will then decide on the number of codes you want to generate if you wish to create more than one.

Code setup
The second section allows you to set up your code or set of codes:
In the first section, you decide what type of promotion applies to your code: a discount on the cart or free shipping :

If you apply a discount on the cart, you can decide if it is displayed in € or in %, and the amount of the discount:



Then, decide on the products the discount will be applied to: all the products or a selection of products: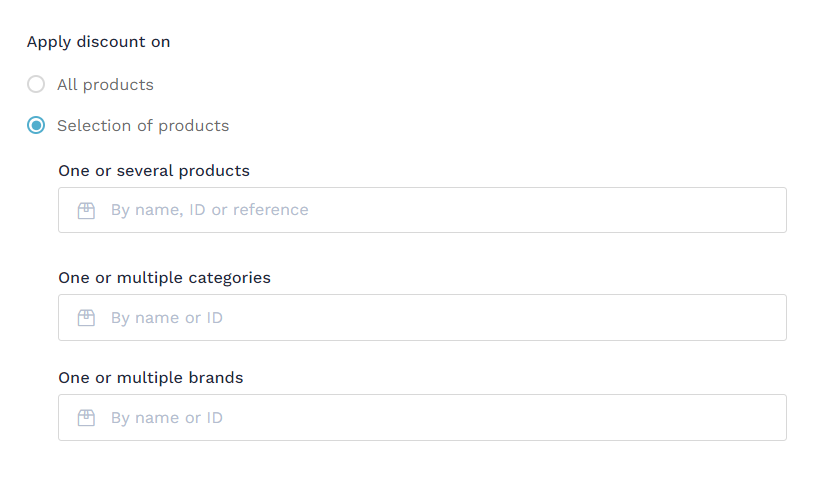 Finally, decide whether your promo code is cumulative with products on sale:



If your promo code offers free shipping, decide on the carriers it will apply to:

Common options
The last section allows you to set up the common options of your promo code:


Validity : once, once per customer or always




Minimum purchase:





Whether it applies to all customers:




Length:


When the setup of your code (or set of codes) is complete, save it with the button Add a promo code at the top of the page:



Here you are, you have created your first promo code, now you can share it with your customers!
Quick tip: save your customers' time by sending them the link to your promo code: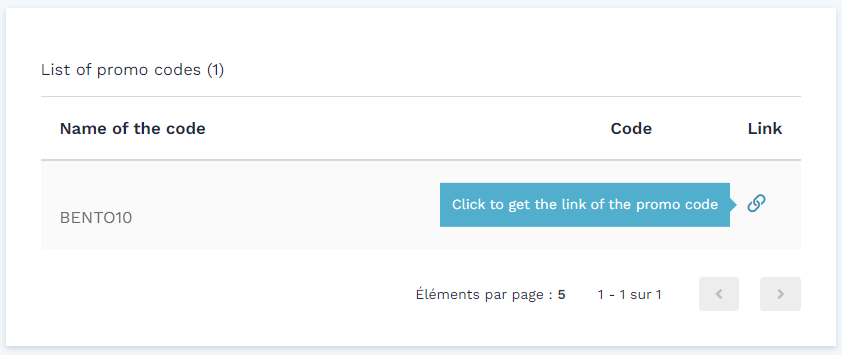 When your clients will use this link to order on your store, the promo code will already be applied to their cart!
👉 Find out more about the features on the promo codes list!

💬 Please contact your Business Coaches if you have any questions!