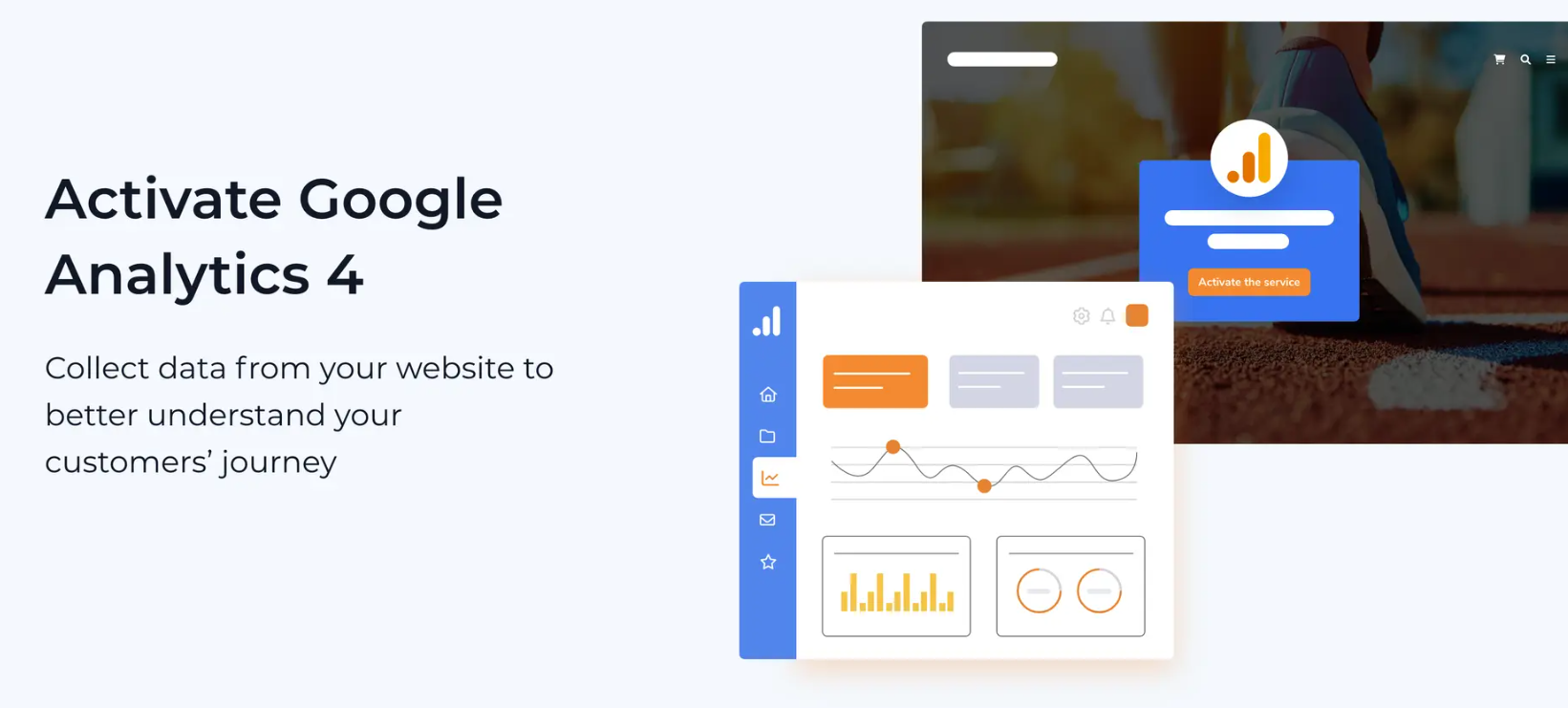 Google offers the Analytics tool for free. This tool allows you to have many detailed statistics on visitors and sales on your online store.
To follow the steps in this tutorial, log in to your Google Analytics account, or create an account with Google if you don't already have one.
👉 Access your Google Analytics account
Validate your store property on Analytics
Step 1: Create your property on Analytics
Once on your Google Analytics account, in the Property column, click Create Property (the Enable data collection using existing tags box can remain checked).
Step 2: Get your Analytics tracking ID
Once you have created your property, now click on View GA4 property, then on Google Analytics 4 Property Setup Wizard, then on Tag Setup.
In the Web stream details tab, copy your measurement ID "G-..."
Step 3: Activate Google Analytics on your administration space
Now go to the administration space : Configuration (cogwheel) > Tags & external services > Google Analytics 4.
Activate the service, then paste your Analytics G code -...
☝️ Good to know
In order to prevent internal traffic (your own visits to your store) from affecting your data, we recommend that you set up a filter based on your IP address. This filter will allow you to get more accurate statistics about your actual traffic. You can find instructions on how to set up this filter in the Google Help Center.
Link your Analytics account to Search Console
In order to get accurate visit and conversion statistics, it is essential to link your Google Analytics account to your Search Console account.
👉 I set up the Search Console data in Google Analytics
Link your Analytics account to our solution's statistics system
To access your statistics tool on our solution, go directly to Orders > Statistics > Sales Statistics.
Here we will link your Google Analytics account to your store because it is from this account that we will get all the data necessary to establish your statistics.
Click on the "Connect to Google Analytics" button and enter your Google Analytics credentials
Then choose the right project/account concerned, the right store and click on "Select"
💬 Feel free to contact your Business Coaches if you have any questions!