What is Google Analytics G4?

Google Analytics G4 is the new version of Google Analytics. This new system is based on tracking "events" and no longer "hits" (page downloads). Thanks to artificial intelligence and machine learning, it's now the user who is at the center of the tracking and analysis. As each step taken by a user may lead to a conversion, Google allows you to analyze them in more detail. For example, Analytics G4 allows you to track a user who visits your store from their mobile and finishes their navigation from their computer.
WiziShop has integrated all the key events that will enable you to track a customer's behavior on your website, so you won't even have to add conversion tags on your website, as you would have had to do with Google Tag Manager.
👉 Click here to find out more about events linked to e-commerce.

If you already use Google Universal Analytics, you can use the new Analytics G4 system, but you won't be able to manage your statistics as comprehensively as you otherwise could on Universal Analytics. An order which is paid for using a payment method external to your store (which requires your customer to leave your store temporarily) will be treated as an order that originated from the payment method used. The new version of Analytics won't tell you what actually led the visitor to your store (an advert, Google search, and so on). Google's teams are of course working on these improvements, and it should soon be possible to accurately monitor this data.
In the meantime, we strongly recommend that you activate Google Analytics G4 alongside your Google Universal Analytics account, and do not transfer all your data to the new version.

Add a Google Analytics G4 property
To add an Analytics G4 property alongside your Universal Analytics property, sign in to your Google Analytics account.
In the Property column, go to GA4 Set-up Assistant:


Click on Get Started:


Next, click on Create a Property:



Now click on See the GA4 Property:


Next, click on Tag installation:



Click on the Web stream details, and copy your G-... ID in the tab that opens:




Now go to the WiziShop administration area, then Settings > Tags & external services, Google Analytics 4.





Activate the service, and then paste your code: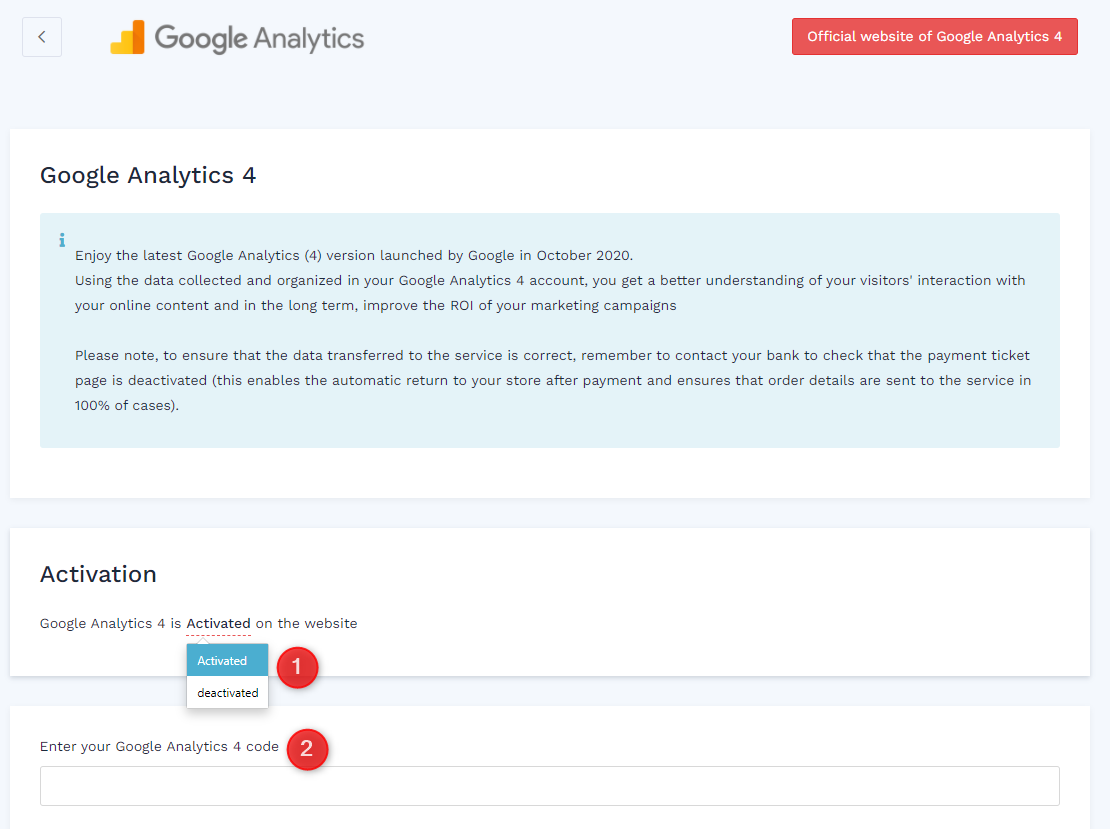 You can now start to collect data through the new Analytics tool!

💬 Please do not hesitate to contact your Business Coaches should you have any questions!