Facebook often offers the Facebook pixel when you subscribe to its "Facebook Dynamic Product Ads" service. It automatically promotes of all your catalog's products on Facebook.
It has 3 main functions:
To create personalized audiences from your website for remarketing purposes
To optimize ads for conversions
To track conversions and redirect them to your ads
You will need to create a Facebook pixel before installing it on your WiziShop store. It is very easy to do.

Create the Pixel
To create your Facebook pixel, follow the detailed procedure in the Facebook Help Center:
👉 Create a Facebook pixel in Business Manager
Once your pixel is created, in the Settings > Data Sources > Pixels tab of your Business account, get your ID at the top of the page and copy it to your clipboard.
You will then just have to fill it in your administration Settings > Tags and external services > Facebook/Instagram, in the dedicated field :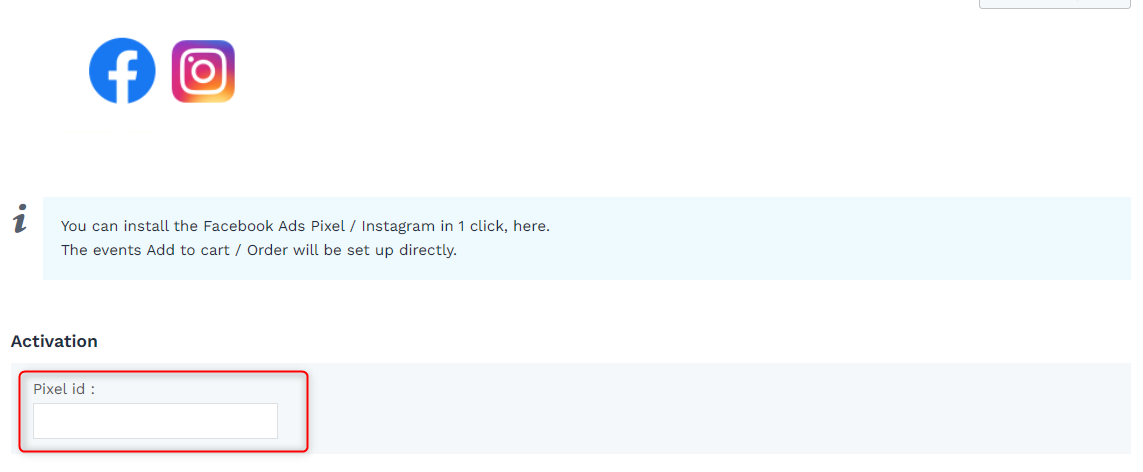 Export the catalog
Export your WiziShop catalog
Before you export your catalog, you must make sure that your products have been properly categorized. The first step is to link your product pages to the sections that correspond the best to the type of products you sell. To do this, go to the Details tab on your product page, then Categorization for shopping guides and marketplaces .
Then, enter your google_product_category in each of your product pages, in the SEO tab, in Additional details for purchasing guides.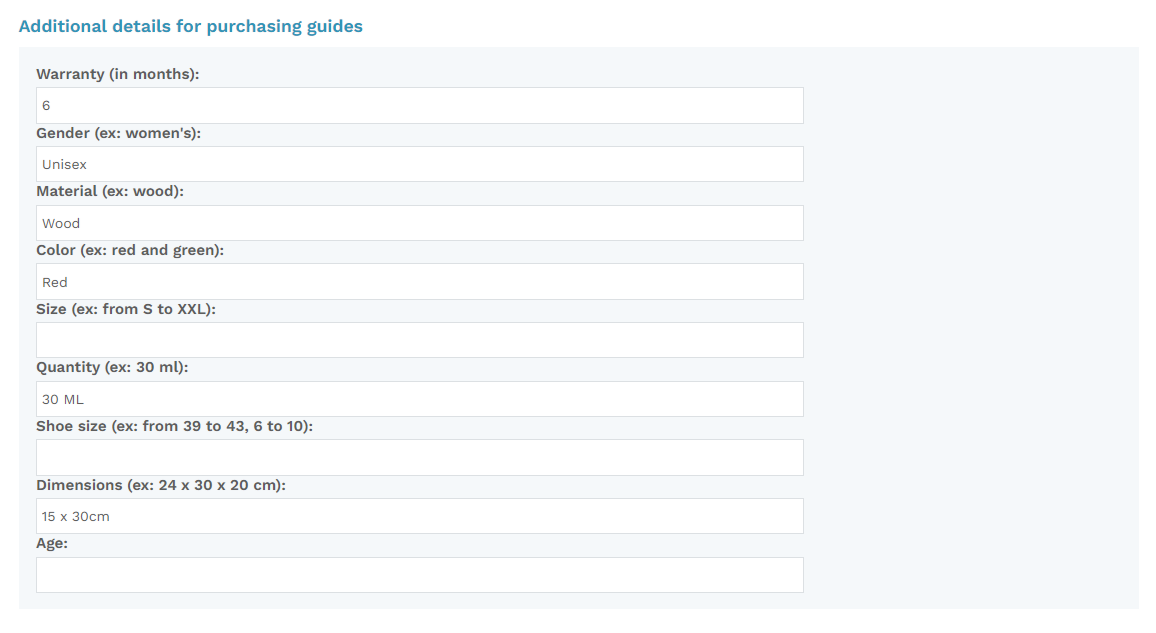 This step is essential as it will prevent Facebook from sending you an error message when you upload your catalog: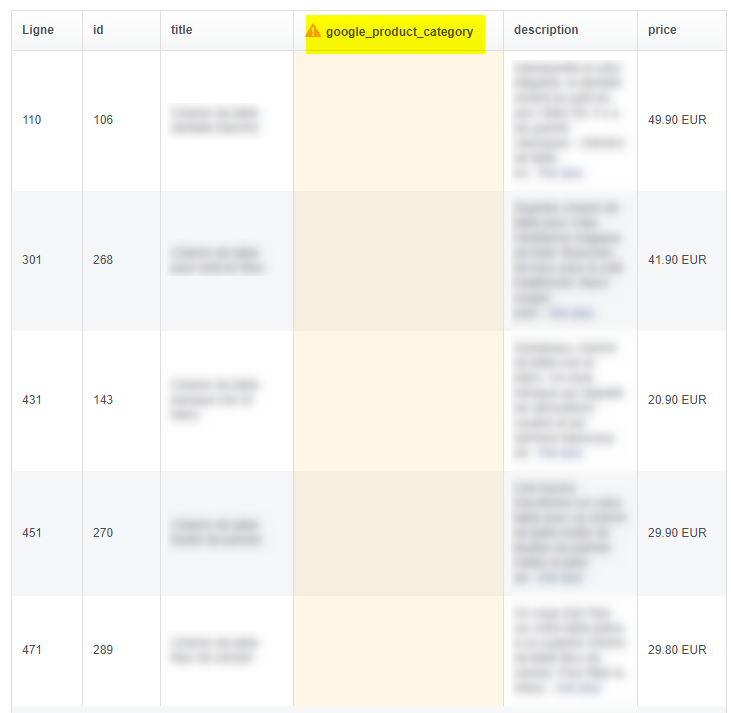 Then, activate the Google Merchant Center export and link your categories to Google (the Facebook pixel uses Google information to manage your catalog). To do this, go to Marketing > Product export tools > Google Merchant Center: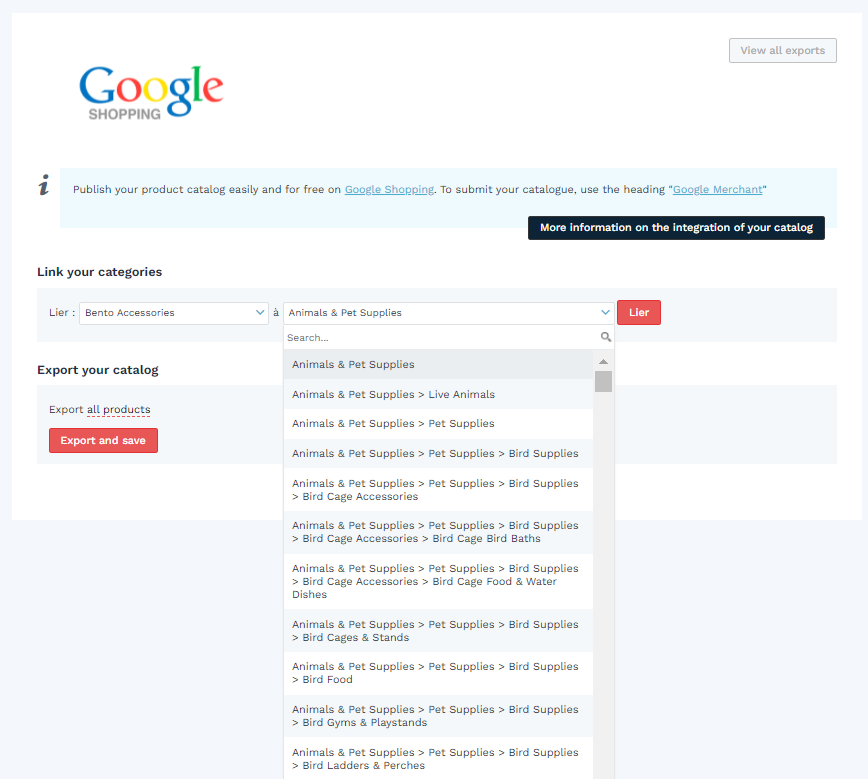 The very last step is to create your product export feed for Facebook.
Back in Settings > Tags and external services > Facebook/Instagram, click on "Export" to generate your catalog URL to send to Facebook.
Note : make sure you click on "all products" to choose to export your entire catalog, or select only certain products:



✋ Good to know: Facebook does not take product variants into account on its system. If your catalog contains products with variants, your customer will be automatically redirected to your website to view the complete product page.

Importing the catalog on Facebook
Now you just need to import your catalog to your Facebook Business Manager. Here's how to do it:
👉 Import my product catalog to Facebook store.

💬 Should you encounter any difficulty, feel free to contact Facebook assistance from your Business Manager homepage, via the "Need help? Talk to us" button in the bottom right corner. If this button does not appear, click on "Help" then "Contact support team".