With the Google Chrome Dropizi extension, you can import products from BigBuy to your store. To do this, follow these steps:


Go to the BigBuy website and click on "Create account":




When you reach the subscription stage, enter your business details and click on "Next":






Complete your subscription by completing the second step (check I want to create my own online shop through API or CSV/XML):


N.B: Information given in these 2 steps must be entered accurately, as you will not be able to correct it later.
Once your account has been created, select the ECOMMERCE pack. You can choose to sign up to 1, 6 or 12 months.


Confirm by clicking on "Activate the Pack":


How do I import BigBuy products to my store?
To start importing BigBuy products to your store, open the Dropizi extension on Google Chrome, log in and select the "BigBuy" tab ( 1 ).
Before using the system for the first time, enter your API key in the extension ( 2 ) and confirm the key ( 3 ) :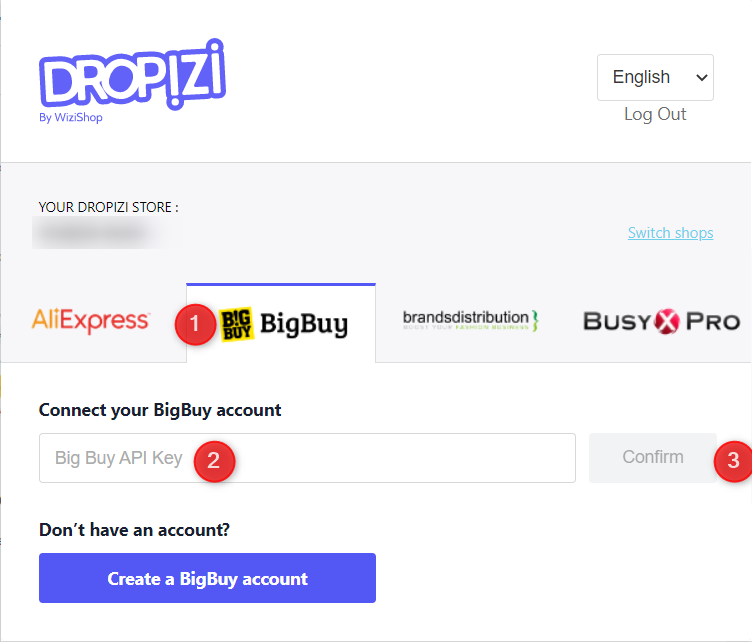 You will need to contact BigBuy's customer services in order to obtain the API key. Two keys will be provided: a Sandbox API key and a Production API key. You will need to use the Production API key.
☝️ Note that the Chrome Dropizi extension is only compatible with Google Chrome, and it works on computers only. You will not be able to import your products from your mobile or tablet.

Why is there no DropiziRank on BigBuy?
The DropiziRank notation is only applicable to AliExpress. As other product suppliers are not marketplaces, their operating mode is very different from AliExpress' (different controls, delivery times, chosen products).
Criteria taken into account in the DropiziRank scoring (number of orders placed with the supplier, average delivery times, clients' notifications on both supplier and ordered products) are only useful on a marketplace such as AliExpress.
💬 Please do not hesitate to contact your Business Coaches should you have any questions!